BLOG
Best of 2022: The top Enterprise Nation adviser blog posts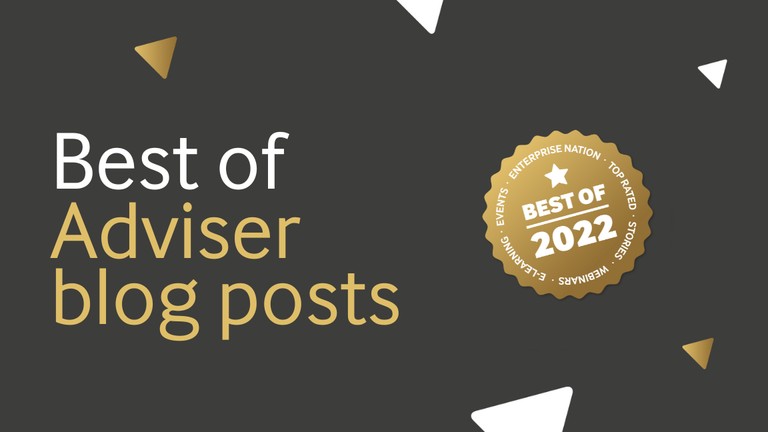 ---
Posted: Wed 7th Dec 2022
Advisers on Enterprise Nation have enjoyed another brilliant year, helping thousands of small businesses, putting on superb in-person and online events, and creating wonderful content & services targeting every sector and industry under the sun.
One particular way advisers successfully connect with Enterprise Nation's community is through blog posts, and today, Ryan Elliott picks out five of his favourite adviser-written articles over the last 12 months, which have gone a long way to helping numerous entrepreneurs start or grow their businesses.
If you are a business expert with knowledge to provide hungry and ambitious individuals, you can become an adviser now.
While it's perhaps not the most flowery topic to kick off with, Susana's seven-step plan to help businesses prepare for a recession has never been more important to read.
Susana is an SME business consultant who has over 25 years of hands-on experience, and though it's fair to say she's no stranger to providing bespoke support to businesses across Enterprise Nation, she is still one of the most active writers of blog posts on the platform, which we love!
Enjoy more from Susana
Connect with Susana on Enterprise Nation here.
Another regular Enterprise Nation contributor, Dakota specialises in a number of areas, not least employee wellbeing and retention, and her blog on high-value perks is a brilliant place to start should you want to reward those within your business.
With the importance of hanging onto top talent more acute than ever, Dakota has you covered!
See more from Dakota
The personal touch: Why it is essential for business growth
Are you making these cyber security mistakes in your business?
Connect with Dakota on Enterprise Nation here.
This is one for the prospective entrepreneurs out there who are looking for that extra slice of inspiration. Short of ideas? Get stuck into Cecilia's far-reaching list and find the perfect fit for you!
Cecilia's experience of helping entrepreneurs create, improve and utilise business tools to focus on scale-up and growth strategies has proven immensely popular amongst many Enterprise Nation members.
See more from Cecilia

Connect with Cecilia on Enterprise Nation here.
Here to guide you through the thorny world of GDPR is Michael Buckworth, whose comprehensive-yet-simple guide has attracted eyeballs from across the small business community.
As a qualified solicitor of the Supreme Court of England and Wales, it's little surprise Michael is seen as one of the go-to legal advisers on Enterprise Nation.
See more from Michael
Connect with Michael on Enterprise Nation here.
Last but not least, we bring you Natalie's supremely popular monthly series looking at all things social media - particularly their monthly tweaks and software updates.
When it comes to social media marketing, it's imperative to stay on top of every platform's smallest detail, and Natalie doing the dirty work and providing such regular, in-depth round-ups has saved entrepreneurs countless hours.
See more from Natalie
Connect with Natalie on Enterprise Nation here.
I'm Enterprise Nation's content manager! If you're an adviser who would like to write a blog post and feature on our website, please get in touch.