BLOG
Best of 2022: The top Enterprise Nation adviser stories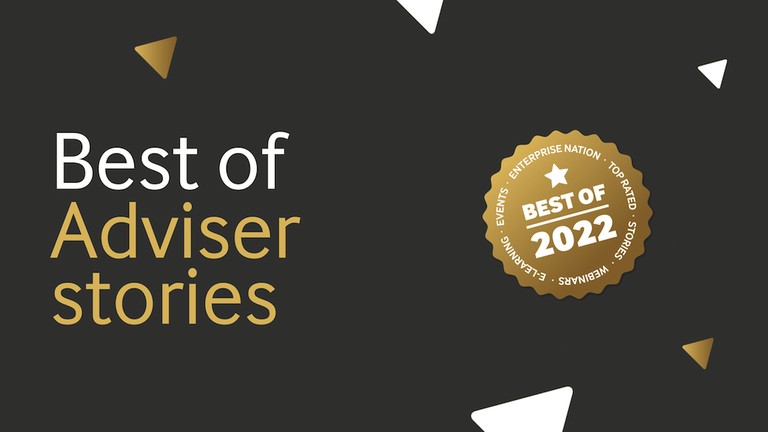 ---
Posted: Wed 14th Dec 2022
It's been yet another super year for Enterprise Nation's fantastic community of expert advisers!
With current or prospective entrepreneurs hungry as ever to absorb knowledge, guidance and inspiration as they look to kick-start business growth, you can be sure Enterprise Nation's advisers are on hand to provide all of the above in spades.
Fortunately, over the last 12 months, we've had the opportunity to speak directly with many of Enterprise Nation's most popular and vibrant advisers, providing them with a platform to share their backgrounds and experiences.
Have a look at five of the very best adviser stories of 2022, selected by Ryan Elliott.
We kick off with Minal Patel, founder of Marketing by Minal, who specialises in, yep, marketing!
Minal's interview takes the reader through her background, her struggles and successes as a business owner, as well as the impact Enterprise Nation has had in super-charging both her and her company's growth.
See more from Minal
---
As the co-owner and director of Beacon Business Commercial Services in Cork, Ireland, Susana knows a thing or two about building a business.
The wisdom she imparts during this adviser story – ranging from quick tips to business owners to dissecting the ultimate struggles many face in terms of scaling – is unmissable.
See more from Susana
---
David Tan simply loved cooking. What started off as the embers of a business idea for David turned into 8pron, a marketplace and networking platform for foodies.
Furthermore, David also decided on becoming an adviser on Enterprise Nation after attending StartUp 2022, and has become remarkably popular for somebody so new to entrepreneurship.
See more from David
---
Catherine Erdly is an award-winning adviser on Enterprise Nation who is also the founder of The Resilient Retail Club.
As someone who has helped countless entrepreneurs through a vast number of programmes, most significantly School of Sales, Catherine's story is one that's truly inspiring for retail entrepreneurs and beyond.
See more from Catherine
---
Another award winner to finish with, and this time it's Aarti Parmar, who specialises in branding and design.
Aarti's story is something of a globe-trotting extravaganza, and shows that your entrepreneurial spark can emerge from the unlikeliest of places.
See more from Aarti
---
Inspired by these adviser stories? You can become one yourself here!
I'm Enterprise Nation's content manager! If you're an adviser who would like to write a blog post and feature on our website, please get in touch.