MEMBER STORIES
'At Enterprise Nation's Festival of Female Entrepreneurs, everything changed': The outspoken slogan-led brand for yogis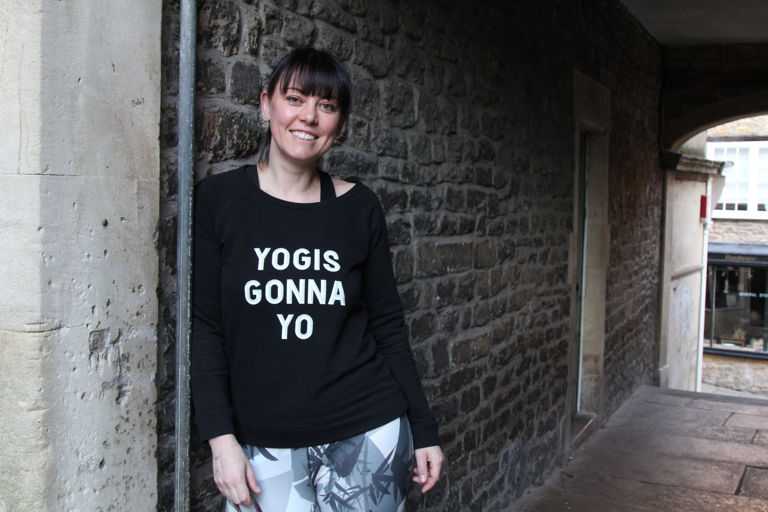 ---
Posted: Thu 8th Mar 2018
Kate Foster came to last year's Enterprise Nation Festival of Female Entrepreneurs with her copywriting hat on. But a conversation about her side hustle idea to sell t-shirts for yoga lovers changed her focus.
She went home, worked on the idea and five months later, Badd Karma is a real-life business that crowdfunded over £5,000 last month.
Kate, an Enterprise Nation member, picks up the story.
Join us at 2018 Festival of Female Entrepreneurs in Bristol on 19 October.
Describe your business in one sentence.
Outspoken slogan-led tees and sweats for real-life yogis.
How did you come up with your idea and turn it into an actual business?
It was meant to be a side hustle, just a fun idea I wanted to explore to see if I could make a bit of extra cash and have some fun with it. But the more I talked to people about the idea, they more they encouraged me and the more the idea took shape.
It was actually at Enterprise Nation's Festival of Female Entrepreneurs in Bristol last October that everything changed.
I'd gone along in my capacity as a copywriter, but when people asked me what I did, I found myself talking more about Badd Karma.
One of the women I met said to me, "this is a great idea but why aren't you taking it more seriously? You really need a business plan."
I knew she was right. I went home and worked non-stop on a five-year plan and really, that was the moment it went from side hustle to the real deal.
What start-up challenges have you faced and how have you overcome them?
Funding was a big challenge, because I honestly hadn't planned to set up another business so I had no savings put by for it.
I worked around it by asking for help and favours from people.
Then I decided to fund the production of the first collection with a Kickstarter for a few reasons other than just the funding.
1. It would act as a kind of barometer to test the appetite for what Badd Karma was selling and 2. It would also be a chance to create some buzz and start building a community before I even start trading. I've learned so much from the process already and we're not done yet!
What has been your biggest achievement with your business so far?
Aside from exceeding my crowdfunding target, I think it's how much I've managed to make happen in such a short space of time, while holding down a day job!
Two months after the Enterprise Nation event, I had a five-year plan, a sample collection made up, a website, a professional video made and the beginnings of a community.
What is your next big business goal?
I've realised even this early on that Badd Karma is about so much more than just apparel.
The brand is based on empowering people in their yoga practice and encouraging people to give it a try and that's a message that's already striking a chord with lots of people.
So my next goal is to really strategise again to define exactly what I'm building here in the long term and to make sure I'm not limiting myself and others by thinking too small.
What do you think will be your biggest challenge getting there?
I still have such a lot to learn about building this kind of business which is essentially an ecommerce brand with a social conscience.
There's all kinds of things around manufacturing, marketing a scale and at speed and community-building that I'm new to.
That said, I'm at a stage in my life where I'm really savouring the 'not knowing' and enjoying learning new skills and new ways to use my brain.
How has Enterprise Nation helped your business?
The Festival of Female Entrepreneurs was a massive turning point for me and I'll always be grateful for that day!
In more practical matters, I've definitely enjoyed using the resources available on the member site. I followed the business plan guide to the last letter.
Which other entrepreneur inspires you and why?
There are lots. I loved hearing Geeta Siddhu-Robb from Nosh Detox talk at the Festival event.
I was so inspired by her story and in awe of how she grew something so brilliant and successful from her kitchen table at a time when she didn't exactly feel like she was ready to conquer the world!
I'm also inspired by the entrepreneurs who've grown really engaged communities around their brands, like Mel Bound from This Mum Runs.
What are your three tips for business success based on your experiences so far?
1. Hone your idea until it's really tight so that when you tell someone about it, they just get it. It's really worth the work.
2. Ask, ask, ask. I've been amazed by how much help people have been willing to give me, often for free and with lashings of encouragement to boot.
3. Never underestimate the power of community. I hadn't given it all that much thought until I got started and realised how important it actually was. Now it's growing at a rate of knots and I even have nine Baddassadors (brand ambassadors) who are like an amazing little Badd Karma marketing army!
Anything else you would like to share?
I think when you start a business it's inevitable you'll be challenged in ways you never expected, so you need to take care of yourself and stay robust.
For instance, I'm naturally an introvert, so the Kickstarter (it's a non-stop hustle) was very challenging for me.
But on the other side of that are nice surprises: so far, about six people have told me they've been inspired to take up or re-start yoga as a result of Badd Karma.
That means the world to me and proves that your impact can go way further than just sales and business stuff. What you do as a business affects real lives.
Join Enterprise Nation and we might tell your story!
Enterprise Nation has helped thousands of people start and grow their businesses. Led by founder, Emma Jones CBE, Enterprise Nation connects you to the resources and expertise to help you succeed.