ANNOUNCEMENTS
How the new Enterprise Nation will get you quicker answers to your business questions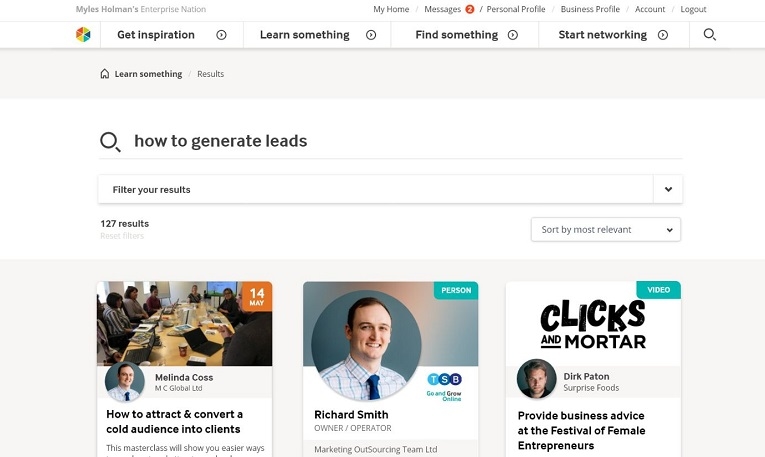 ---
Posted: Mon 9th Sep 2019
Enterprise Nation is launching a new business support platform in October and in the build up to it being unveiled we're highlighting what you can expect to see on the revamped website and how we've designed it to solve your challenges as a small business owner.
I've spent the past few months talking to lots of Enterprise Nation members about their challenges and I wanted to start with the one thing which came up in every single conversation I had: "There just doesn't seem to be enough time in the day to get everything done."
When you're strapped for time it can be difficult to make time to work on improving your business rather than just focusing on the day to day tasks. That's why we wanted to make sure that the support we can offer at Enterprise Nation is as quick and easy to access as possible.
You will have seen a sneak peak in the image from last week's post that a search bar will be appearing on our homepage. We've been doing a huge amount of work behind the scenes to make the most of this so that you can use it to access every piece of content, business adviser and money saving offer on the Enterprise Nation website in just a few clicks.
Need to write a press release for your business? With just one search you can access a webinar about how to find the right story, a PR adviser to connect with, a workshop they're running and a 20% discount on press release distribution from JournoLink.
You will have the full breadth of support available to you right away without having to spend time trawling around the web.
And if you're after something a bit more specific, just search within the one of the pillar categories such as finance or marketing to make sure your results are targeted to find just what you're looking for. You can also use the new improved filters to narrow down your results and just see the type of support you're after.
Time management tips
New features such as the improved search have been designed with the life of a busy small business owner in mind.
But of course there are still a couple of months whilst we test and improve until this feature goes live. Here are a few time management tips from the Enterprise Nation team to keep you going:
"Think hard about setting up a meeting and whether it is worth it or is an email or quick call enough."
Lauren Malone, events and campaigns manager
"Put your phone on 'do not disturb' and turn off your on screen notifications when you're working on something important to avoid distractions." 
Myles Holman, head of UX
"Take three things that have to be achieved that day and focus on them rather than writing a list of 10 and feeling overwhelmed."
Emma Greenfield, head of events