BUSINESS NEWS
A second referendum on Brexit: Small business owners argue for and against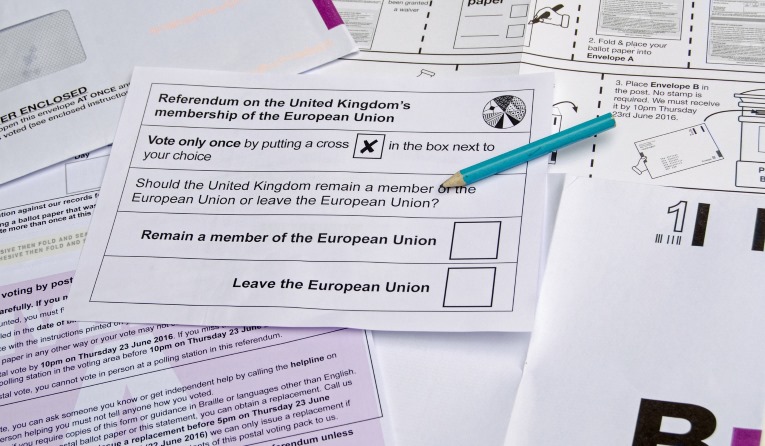 ---
Posted: Wed 7th Nov 2018
Debate is raging over whether or not there should be a second referendum on Brexit. We wondered what small business owners think so we asked two Enterprise Nation members to argue for and against the so-called People's Vote. Read their arguments and let us know what you think in the comments.
In favour of a second Brexit referendum: Fin Wycherley, Supersize Media
A week or two ago, I was asked if I could write an article about whether there should be a second vote on Brexit, from the small business community perspective.
"Make it between 500-800 words, if you can," said Dan.
"I can do it in three," I replied.
"No s**t, Sherlock!"
In fact, it has been called "the dumbest thing any country has ever done" by almost every sector in the small business community, never mind senior businesses and billionaires.
Brexit is already one of the most unpopular disasters ever to befall the small business community. Extracting ourselves, in some shape or another, by securing a second vote, would seem a sensible first step to reverse the incredible damage it has already caused.
Even Putin scoffed: "This will be hilarious to watch the property owning classes of Britain extricate themselves from their democratic responsibility."
Sir Richard Branson, another billionaire, said it could be "the biggest shot in the foot the British people have ever done to themselves". Goldman Sachs head, Lloyd Blankfein, has suggested it would make sense to have a second vote on "a decision so monumental and irreversible".
In any climate, it is always best practice for business to do a PEST and SWOT analysis to see how trading will fare over the coming months and years ahead.
Normally, it would look like this: "With the predicted 5% extra tax on Brexit departure …, our business will have to…"
Unfortunately, with only six months to go before Britain heaves itself off the economic white cliffs of Dover and makes a dash for economic minnowhood, there are no such plans in place.
If there's one thing business hates more than recessions and drops in profit, it's uncertainty and chaos.
80% of the CBI members were against Brexit even before the referendum and the latest indication is that the numbers have increased. All other trade bodies that have canvassed their members are showing the same results.
Nobody in the small business community with a decent knowledge of basic business and economics wants any truck with Brexit. Even the agricultural and fisheries folk that seemed dead set on voting like turkeys for Christmas are starting to realise their error in judgement.
Anybody with a trading arm in Europe will watch in dismay as their costs of sales soar once they lift off the trade freedoms we have basked in for so many years.
Everything about the Brexit crisis is destined to make trading worse for small business. A massive toxic deficit as the government digs deep to fund the transition will make trading conditions even more difficult than usual.
What is curious is the lack of vocal opposition from the business community. Every single meeting at the IOD, or networking groups or sector groups you can hear the deafening silence of the Brelephant in the room.
As more and more large businesses come out to warn of the impending disaster and of their plans to relocate, the government and the Brexiteers are suddenly starting to listen up.
As the March 2019 deadline for Brexit is nearing without a deal on precisely what trade rules lie ahead, I have lost count of the conversations I have had with Scottish small business heads who privately despair of the uncertainty.
There are unprecedented numbers of people tracing their ancestry to find someone with an Irish passport so that they can continue to be European citizens and maybe even relocate if the worse comes to worse.
In my own family, 50% of of them have already done this and the rest just refuse to believe Brexit will happen because it is "utter madness".
So why aren't more businesses going public? Many fear a backlash from the electorate but in Scotland there would be no backlash.
I'm based in Edinburgh and from the Scottish small business perspective, there is zero appetite for Brexit.
It could even be argued that it is every small businesses' fiscal and civic duty to stand against this economic suicide with every zero in their balance sheet.
If we tolerate this Brexit economic nightmare, then our small businesses will be next.
---
Against a second Brexit referendum: Rebecca Yates, Rebecca Yates London
From the London bubble, it looks like everyone is calling for a chance to undo the decision we took in 2016 to leave the EU. And when I told a lot of my friends I was going to write the counter argument to another referendum there were a lot of raised eyebrows to say the least.
Personally, I didn't vote for Brexit in 2016 and running an e-commerce business I worry about the potential barriers to trade and growth a lot. That said, a second referendum would mean more uncertainty and be the wrong way to resolve the situation we're in.
A vote on the deal
Exactly what a second referendum would look like is not agreed on. One option would be to hold a vote on the Brexit deal which is agreed upon in Brussels.
Arguably if Parliamentarians cannot decide and continue to be divided it should be up to the people. I do have some sympathy for this argument, with both Labour and the Conservatives divided on the issue.
However, if we are to take the decision away from elected representatives, we have to be sure that we are equipped to take such a decision ourselves.
Are any of us really ready to know whether the deal Theresa May comes back with is better than a no-deal scenario?
This is certainly not to question anyone's intelligence but can we all say, hand on heart, that we have read and fully understood the Chequers proposal? Or that we totally understand the consequences of a no-deal Brexit? And would we even be equipped with trustworthy information to make that decision if a vote takes place?
Probably not, But that's ok because that's also not our job.
We are entrepreneurs, we run businesses and we're great at it. It's not our job to understand the complexities of how the withdrawal agreement will work, or the implications for every sector if we leave without a deal, even if we know what these would be for our own sector.
We elect politicians to make these decisions for us. It's how a representative democracy is supposed to work. These are the people who have the time and resources to scrutinise these issues, and whom we hold to account for these choices.
It's not for politicians to run businesses and not for us to have to make specific decisions which effect how the country is run.
My point is not that we can't make the decision, it's that we shouldn't have to. We need to be able to trust the people we elect to make the right decision.
My second concern over the idea of voting on the deal is that the information we would be given to make that choice wouldn't be reliable but false or misleading.
From project fear to saving £350m a week for the NHS, referendums tend to bring out the worst in campaigning.
In 2016, each side took their arguments to the extreme, leaving us questioning which side (or which of the many campaign groups) could really be trusted.
With each side so desperate to win, referendums see the worst campaigning tactics which can also get pretty nasty. Political campaigns aren't subjected to advertising standards either, so it's easy to say anything and not be held to account.
Because after the vote is won, it doesn't matter anymore. If the decision is the wrong one then it's the public who take the blame, not the politicians or often unelected campaigners.
So how about three options?
Some have suggested that rather than a vote on the deal we need another chance to say if we want to leave the EU. This could take the form of three options of the ballot paper; take the deal, reject the deal or remain in the EU.
Realistically how would this work and where would the battle lines be. This could end up an even more confusing option for voters. Having to understand exactly what all the different options would mean and making a decision on preferences. I can imagine a total mess of a campaign.
There is also a practical question to all of this. Is it even feasible to hold a referendum between now and March 2019?
Referendums need legislation and this can't be rushed. The bill to establish the 2016 vote was introduced around a year before, there were debates over the wording of questions, the number of options and so on. With so many options on the table for a referendum there is no way such legislation would be nodded through both Houses of Parliament with no debate.
Even if Article 50 could be extended to allow more time (requiring all 27 members to agree) for a referendum to take place, would this get us any further forward?
Another referendum would be the only way to completely undo Brexit and it's very easy for us to look at the thousands of people who descended on the capital to call for another vote as a rising tide in the country against Brexit. But we have to be careful to not confuse this with the feeling in the country as a whole.
The outcome of another referendum may be the same or leave us in an even worse situation.
As businesses we have faced years of uncertainty over what Brexit will mean for us. Another referendum would at best extend that uncertainty. Although there is a slim chance Brexit could be reversed, in the end we could be in the same place we are now or face crashing out with no deal at all.
Time for politicians to step up
It's true that traditional political party alignments do not hold the answer on Brexit. Each of the main parties is as divided as the other.
But passing the buck to the people is not the solution either. It's time for MPs to step up and take a decision in the national interest. We have heard some talking this way, such as Labour MP Caroline Flint who said she would Theresa May's plan if she thought it was better than a no-deal.
This is exactly the way MPs should vote, for what is best for the country.
The prospect of crashing out of the EU with no deal would be bad for everyone, especially business. The hope that Brexit could be reversed with another referendum however is a candle in the wind, which adds more risk, uncertainty and delay to knowing what the future will mean.
And who knows, maybe, just maybe Brexit could even end up being a good thing.
---
What do you think? Comment below.
Enterprise Nation has helped thousands of people start and grow their businesses. Led by founder, Emma Jones CBE, Enterprise Nation connects you to the resources and expertise to help you succeed.