MEMBER STORIES
A lightbulb moment on the street to victory on Dragons' Den: The Enterprise Nation member putting adverts on lorries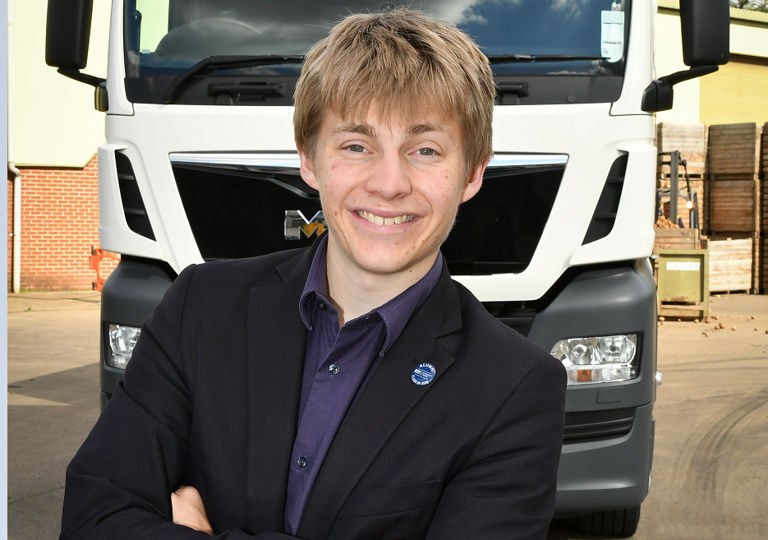 ---
Posted: Sun 11th Feb 2018
Ed Hollands is the 23-year-old founder of DrivenMedia, a company that puts advertising on trucks. The Enterprise Nation member secured funding on the latest episode of BBC TV's Dragons' Den from entrepreneur Jenny Campbell.
How did you come up with the idea for the business and how did you turn that idea into a business?
After dropping my fiance at work, I was walking back along the A38 when I spotted a row of blank trucks at the lights in rush hour traffic. I thought to myself if I had a business that's where I'd be advertising. I dawned on me that wasn't such a stupid idea.
From there I sat on the A38 taking down truck firms and the day after I rang them up. One turned around and went I have a 100 trucks, what I have I got to lose go for it. (That was the easy bit).
The hard bit was selling the space. I started with the sides only but quickly learnt that advertisers wanted the whole space.
What key start-up challenges have you faced and how did you overcome them?
Lack of awareness around the medium.
My plan was and still is to get household bands onboard and use their success to attract other clients.
LinkedIn is a powerful tool to raise awareness. I now have a strong network who are interested in helping me succeed. I post regular content and keep connecting with the relevant people.
Telling people is by far the easiest way, so I get out there to network and get calling.
Lack of knowledge around the industry was also a challenge.
I spoke to people in the know and absorbed what they were saying.
I'm doing it the hard way and learning from mistakes!
Has your age been a barrier to business growth or have you actually used it your advantage?
It's a bit of both. Some people are in awe and others require a lot more convincing.
Being called 16 in a meeting and then asking for your boss wasn't the easiest way to start a meeting.
Why did you decide to apply for Dragons' Den?
My reasoning behind applying was two-fold.
It's been a lifelong ambition to appear on the show that I've been watching since it started and a dragon would bring some amazing contacts and experience that I can use to better myself and my business.
Raising awareness was the second reason. Where else can I get the eyes of the UK on my business on national TV?
Networking was a key part of getting my arse into gear and actually applying.
Describe the experience of taking part in the show
The crew and support teams where fantastic. It was a long, exhausting day and a bit of whirlwind.
After getting the investment, I didn't know what to do. I was on my own in a dressing room and I couldn't sit down or stand up! My mind was racing. emotions everywhere! It was a long wait to meet Jenny after.
I got some fantastic feedback from all the Dragons which I've implemented into the business.
Why do you think the Dragon decided to back you?
I believe she invested in me rather than the business, she could see the passion I had for truck advertising and the work I was doing. I was going to do anything to make the business work, in my eyes that's who you want to invest in people with drive.
What do you plan to do with the investment and how much contact have you had with your new investor so far?
The investment is mainly focused on building awareness and a brand in the Uk as well as driving sales.
Using Jenny's investment we've launched our own fleet of branded trucks that travel across the UK, about half our trucks have a sticker on the back advertising the potential for them to have advertising on. A new website also forms part of this which is amazing!
I mostly speak to Jenny's investment director. He is my day to day contract and knows my business inside out.
It's incredibly useful to bounce ideas off him or when I'm in need of specific help.
He feeds information back to Jenny who I email on average once a week, mostly with updates on our pipeline and pending campaigns.
We've had one board meeting, and another one planned after Dragons' Den airs.
We have a good dynamic and working relationship, I can't wait to learn more and develop DrivenMedia with jenny's assistance.
What's your advice for other entrepreneurs?
Don't be scared, if it was easy everyone would be doing it.
Market research is worth every penny.
Never be afraid to stand out!
Enterprise Nation's Show me the money! campaign offers content and events to help you better understand the finance options open to your business and to meet organisations with the funds.
Events take place in London on 19 June, Birmingham on 17 July, Manchester on 18 July and Edinburgh on 21 November.
Show me the money! is supported by:
Enterprise Nation has helped thousands of people start and grow their businesses. Led by founder, Emma Jones CBE, Enterprise Nation connects you to the resources and expertise to help you succeed.