BLOG
A catch up with Enterprise Nation's Female Start-up of the Year 2015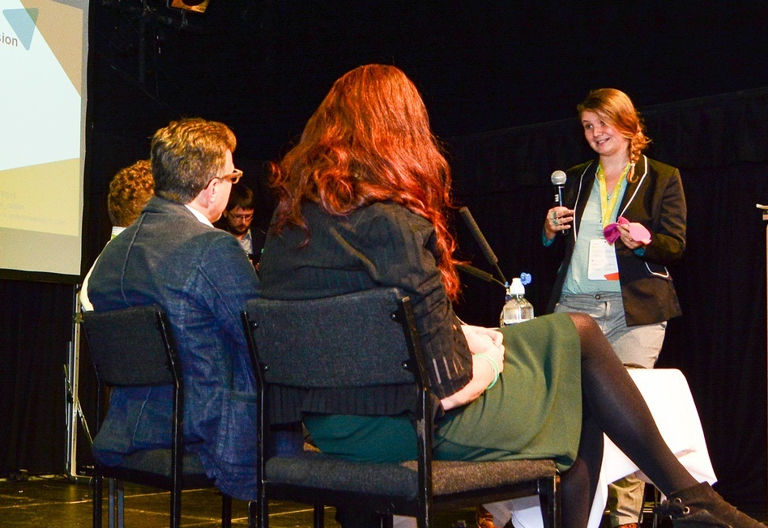 ---
Posted: Tue 20th Sep 2016
In October 2015 we ran the Female Start-up of the Year pitching competition at our Festival of Female Entrepreneurs in Bristol. The winner was Chloe Tingle, founder of No More Taboo, which sells sustainable female sanitary products, runs education programmes for young people, and organises charitable projects on breaking taboos.
Chloe has had a great year since she won her title including successfully launching a £7,000 crowdfunding campaign. We caught up with her to find out more.
Festival of Female Entrepreneurs returns on 21 October and applications for the Female Start-up of the Year 2016 are now open. The prize includes mentoring, a free website, £300 worth of Facebook ads to promote your business, a specially designed necklace and more.
How did you come up with the idea for No More Taboo and turn that idea into a business?
I've volunteered and worked with charities since being a teenager and the most challenging aspect is always ensuring there are enough funds particularly to cover overheads. I was fascinated by the idea of social enterprise and that you can support charitable aims or social causes, without having to rely on donations and grants, as you have a revenue stream through sales.
After my degree, I wanted to gain international development experience and went to work with Fundacion Sodis, a Bolivian water and sanitation charity. They were very excited to have a female engineer join the team and said 'we have the perfect project for you'. They had been wanting to do a menstrual hygiene project for years but never had the resources. The more research I did the more the topic fascinated me. Having travelled quite a bit and always taken my trusty Mooncup with me I had never even considered the impact menstruation can have on your life if you live in poverty.
I spent time with a group of Bolivian teenage girls who were eager to learn more having never received any education on menstruation. They believed amongst other things that if you ate onions whilst on your period you would get cancer. However, these same girls who were using dirty floor rags as their only form of sanitary product had great concern for 'Pacha Mama' (Mother Earth) and the damage that using disposable pads could have on the environment. That made me think 'why are we not doing more in the UK?'
On my return to the UK, I started No More Taboo hoping that alongside helping women living in poverty to manage their menstruation we could also educate people about the impact disposable products have on the environment and that there are alternative products available.
What key start-up challenges have you faced and how have you overcome them?
The biggest challenges I think all start-ups face are time and money! Being able to balance starting your own organisation and keeping yourself afloat is really hard. For the first year I have had lots of other jobs meaning my time working on the enterprise was restricted. Since February this year I have been working on the enterprise full time but unsalaried. Luckily I have great friends and family who have been putting me up rent free but it's not easy traipsing from sofa to sofa. I think making sure you look after yourself and ensuring you have people around who make you take time off to enjoy yourself occasionally is really important.
What was it like pitching at the Festival of Female Entrepreneurs and why do you think you won?
The Festival of Female Entrepreneurs was very inspiring. Coming from an engineering background which is a heavily male dominated and archaic industry, it was great to be in a room full of female role models.
The pitch itself was daunting with so many amazing people in the audience and panel but I wondered why would they be interested in me and my little idea? As I started to pitch though I was encouraged by the smiles of the panel and nods of agreement which gave me the momentum to finish exactly on time without a slip-up! I was terrified about the questions they would ask me but luckily, I was prepared with my numbers and facts and wasn't stumped by them. I think remaining calm and being able to recall the numbers helped me gain the winning position. Everyone who entered had fantastic ideas and plans and I'm looking forward to hearing about how they have developed and grown at this year's festival.
The best thing about being an entrepreneur is getting to be part of a community and network who are all doing such varied and interesting things and have such passion for what they do.
How did the prizes benefit you and your business?
The most fantastic prize for me was getting an all singing all dancing website from 123-reg. Although I had launched a website already, I was running it myself through Wordpress and knew it needed to look more professional so was really pleased with this prize.
The mentoring I received as part of the prizes has been invaluable. It has been very varied and interesting especially getting new perspectives on where No More Taboo could go in the future. One of my mentors, Kirsty from Ideasquares, has helped me to prepare for my crowdfunding campaign and Alison Edgar from Sales Coaching Solutions even took me to 10 Downing Street with Enterprise Nation as a representative of small businesses in the South West.
The competition has opened so many doors for me.
What have you done since winning the competition at Festival of Female Entrepreneurs?
It has been a bit of a whirlwind eight months. We have launched the full online shop which stocks six different types of reusable menstrual products. We have conducted our first official research into homeless menstruation and the issues women in Bristol and Leicester face on their period each month. We have conducted research on period taboos in Nepal and found our first international partner there, as well as starting our pilot education programme in secondary schools. We even held our first 'Period Party' in celebration of Global Menstrual Hygiene Day on 28 May involving tea, cake, quizzes, improv comedy and conversation about menstruation. We've had two interns and 12 volunteers join our team and raised £7,000 to get our charitable projects off the ground through a crowdfunding campaign.
Why did you decide to crowdfund and what will you do with the money?
Crowdfunding is a scary process. You are laying your plans out for everyone to scrutinise and it takes a lot of preparation and momentum, to prepare the pitch, video and rewards. The best thing about launching crowdfunding though is being able to reach new audiences and market test some of your ideas and products. This was the main reason why we decided to go for crowdfunding over traditional capital raising methods.
Many of our supporters are interested in our charitable work and want to support us like a charity (on a purely donation basis) but as we are a business too we wanted to ensure we raised the £7,000 we need as part of our business plan for the next year. This will enable us to deliver our first international project, g row our UK education programme, d eliver our homelessness and refugee projects in the UK, e xpand our UK product range and reach new markets and p rovide 'Period Parties' for all.
What strategy do you have for promoting the opportunity to backers?
We had a reward to suit everyone, from smaller rewards for individuals some of which are the products themselves as well as t-shirts, mugs, calendars and hoodies.
We also had opportunities for corporates and businesses to get involved, because menstruation can effect motivation. We can create bespoke rewards around equality and empowerment in your workplace to suit your budget and requirements,
What three tips do you have for business success based on your experience so far?
Talk to people and get your business out there. Celebrate your successes and don't belittle them.  Just go for it and see what happens.
Festival of Female Entrepreneurs returns on 21 October and applications for the Female Start-up of the Year 2016 are now open. The prize includes mentoring, a free website, £300 worth of Facebook ads to promote your business, a specially designed necklace and more.
Enterprise Nation has helped thousands of people start and grow their businesses. Led by founder, Emma Jones CBE, Enterprise Nation connects you to the resources and expertise to help you succeed.