INTERVIEWS
A £1 bet to millions in revenue: The incredible growth story of AO.com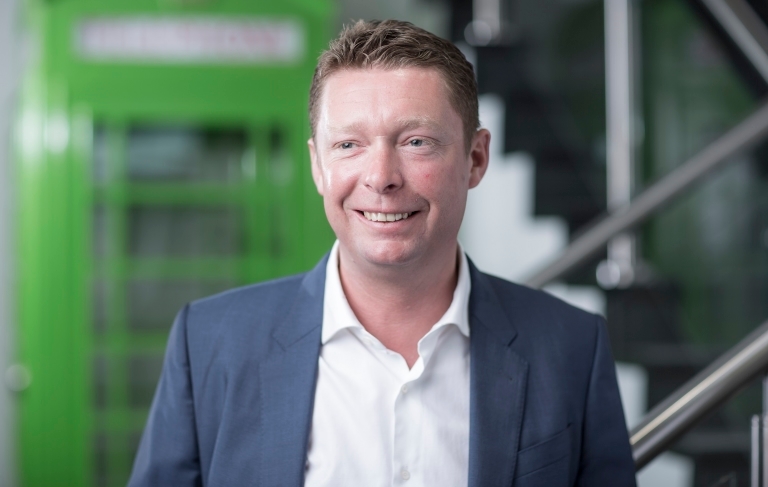 ---
Posted: Mon 25th Jun 2018
A chat in a pub led to John Roberts starting online electricals retailer AO.com. 18 years on and that business has floated on the London Stock Exchange and is turning over millions of pounds.
Ahead of speaking at the Scale-up Series in London on 12 November with O2 Business, the entrepreneur shares some insights into his inspirational story.
We hear you started your business after a bet with a friend. Tell us more about how that happened and how you turned the initial idea into a business.
Back in Christmas 1999, I was sitting in the pub with a good friend of mine talking about the internet and what it could be used for. I wasn't a very tech-savvy person, but it struck me that it could be used to sell things, specifically white goods.
My friend Alan bet me £1 that I wouldn't give up my day job, which at the time was selling kitchens, and have a go at doing something with it.
I spent that Christmas holiday going through manufacturer brochures and putting products, prices and descriptions into a spreadsheet before launching a website to sell them on.
What start-up challenges did you face and how did you overcome them?
Cheek, fun and imagination: three things you really need when you're starting up a business.
At the start, we had a small operation but we thought big and were never afraid to try something. I often tell a story about how we used to play 'call centre noise' on a tape recorder before we answered any customer calls, so we sounded busy and big, rather than the three-man team we actually were.
Eighteen years later, we continue to experiment, to refine and to celebrate failures because they're how you learn.
Get tips on turning business challenges into opportunities from a previous speaker at the Scale-up Series on the O2 Business blog.
How did you ensure you recruited staff with the most relevant skills as your business grew and how did you maintain a positive working environment?
I've always placed a lot of emphasis on the importance of building an amazing team full of outstandingly good people. They really are the foundation for everything else.
I think of us a big family and always talk about AO as our business. If our people care about AO, live and breathe our values, are empowered to make their own decisions and have a real sense of ownership, then I find they come to work every day trying to do their best.
How did you fund your business growth and what's your advice to other entrepreneurs look to fund for scale?
We raised £105,000 from some angel investors to start the business and then we raised more money on the journey as we needed it.
My advice would be to raise more than you think you are going to need to. Building a business is an uncertain journey and you need to be focused on the business not on continually raising money.
Always remember that things will never go and you expect and they rarely cost less than you thought they would which is a lesson you will learn over and over!
Why did you decide to list on the London Stock Exchange and what benefits did that bring?
At the time of the IPO we were a single category, single country business with only one type of delivery service. Our ambition was to go into new product categories, to vertically integrate and invest up the supply chain and to expand internationally, broadening the business we had built in the UK.
Roll on four years and we are now a multi-category, multi-territory business with an eco-system of businesses that both ensure we are pushing the boundaries of service and proposition for our retail customers, as well as creating distinct businesses in their own right to create significant resilience and long term structural advantage.
How have you used technology to help grow your business?
We use technology to solve problems and points of friction in the process.
We want to focus everything on making it amazing for the customer and so we need to know what problem the technology is solving. We don't want technology for technology's sake because it is very easy to get distracted by shiny new things and forget about what the customer thinks is important.
It has always been our ambition to change the world of retail; to get customers to become intolerant of poor service and realise that they don't have to accept it.
As a result, we're relentless in our search for new markets, new ideas, new technologies and new and better ways to serve our customers.
For example, we're currently looking at how the next generation will shop and how we can better understand what they'll want and need from their experience.
We're also examining how our brand partners are developing their technologies to stay relevant in a connected world and how we, as a business, can use innovative techniques to stay ahead of the competition whilst remaining true to our core values; harnessing technology, AI and digital channels to enhance the customer experience.
Share your business tech challenges or ambitions with O2's Digital Advisors here and they will be in touch with a solution.
What key factors do you think are the main reasons behind your success?
Two simple rules: the nan rule and the mum rule.
Treat your customers like you would your nan and make decisions that your mum would be proud of. And surround yourself with a tribe of amazing people that live those rules.
John Roberts is one of several entrepreneurs speaking about how they've scaled hugely successful businesses at the Scale-up Series. Find out more and book your ticket here.
Enterprise Nation has helped thousands of people start and grow their businesses. Led by founder, Emma Jones CBE, Enterprise Nation connects you to the resources and expertise to help you succeed.