BLOG
10 services on Enterprise Nation to get your small business started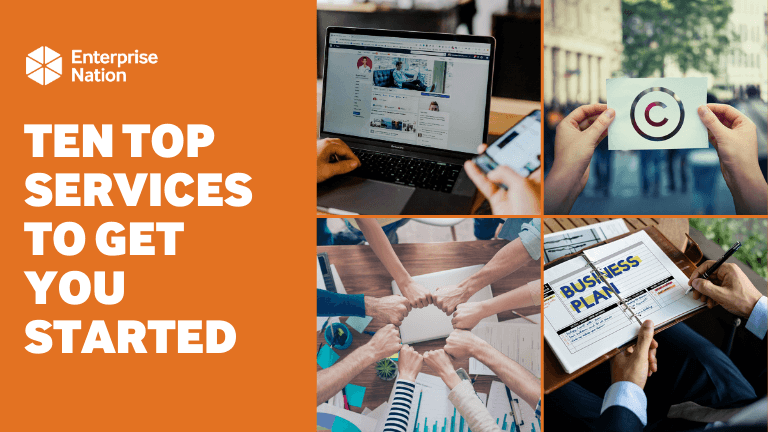 ---
Posted: Thu 18th Mar 2021
If you're a budding entrepreneur, eager to take the plunge and start your own business, you'll already know that there's lots to think about. That's where we come in.
We've put together a list of 10 top services to help get your new business up and running.
Business plan
As the old saying goes: "Failure to prepare is preparing to fail." Writing a business plan helps to keep you organised and focused during the critical development stage of your business. Let Bradley Walker help.
Choose a name
What you name your business can have a huge effect on how it's received by your customers. Book an interactive workshop with Hayley Spencer to land the perfect name, fast.
Secure funding
Turning your ideas into a business reality requires hard work, planning, a little luck and, of course, money! In these extraordinary times, there are many issues to consider and many funding options available. Nigel Farren can help you to decide which option is best for your business and make sure you obtain it.
Choose a legal structure
Sole trader or limited company? Every new business must have a legal structure and deciding which model suits your business is very important. There are pros and cons to each one. Farid Gasanov can help you decide.
Master your social media
With over two billion users worldwide, social media is a crucial part of your brand's marketing strategy. Knowing where to begin is easier said than done. Let Melanie Boylan show you the ropes with her beginner's guide to social media for business.
Build your website
Your website is one of your most important assets for sharing information, building credibility and standing out in crowded marketplaces. First impressions are everything. Wow your customer with a website created by Isla Wilson.
Learn from your peers
Finding a place where you feel comfortable sharing ideas can really help when launching a business. Ollie Collard invites you to connect and collaborate with like-minded founders, and to grow your network in The Engine Room.
Protect your ideas
Having a business idea stolen can be crippling for an entrepreneur. Intellectual property is vital to the business process. Whether it's an invention or a brand name, Joanna Tall can help to protect your idea.
Hire a mentor
A mentor can help you develop business skills, build confidence, maximise your business performance, support you in making important decisions, solve problems, and expand your network. Contact Ian Newbold to find out more.
Find your tribe
One of the biggest barriers for start-ups can be finding the right employees to help launch your new venture. Not having the right people, in the right roles, at the right time can hold you back. Christopher Taylor can help you make smart, strategic hiring choices and ensure your employment policies are legally compliant.
Have you booked a service through Enterprise Nation that's helped you achieve business success? We want to hear about it.
Enterprise Nation has helped thousands of people start and grow their businesses. Led by founder, Emma Jones CBE, Enterprise Nation connects you to the resources and expertise to help you succeed.