MEMBER STORIES
Yasmine ElGhamrawy: 'business.connected has been great at opening my eyes to areas of business I was unfamiliar with.'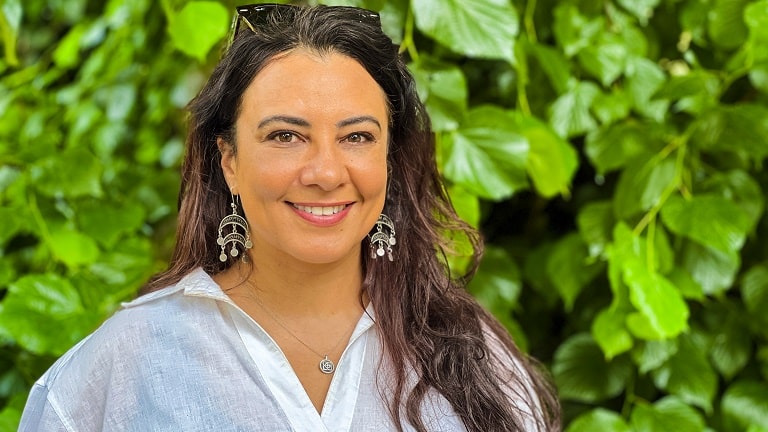 ---
Posted: Mon 10th Jul 2023
We partnered with Vodafone to launch business.connected, helping 800,000 small and medium-sized businesses take their digital skills to the next level over the next three years.
Business owners can take part in e-learning modules, digital workshops delivered by business.connected advisers and Lunch and Learn webinars, and have a free consultation with a Vodafone V-Hub adviser.
The business.connected programme covers a range of core digital topics, from SEO and e-commerce to cyber-security and connectivity.
We're catching up with some of the business owners who have been taking part in the initiative to find out about how it's benefited them so far. Here, we talk to Yasmine ElGhamrawy, founder of Yatlina, an award-winning aromatherapy company.
How did you learn of business.connected? And what resources have you used so far?
The Lunch and Learn series has been great at opening my eyes to areas of business I was unfamiliar with. It also made me realise the areas I need to learn more about to move forward with setting up a business instead of struggling with it as an expensive hobby!
Where did your idea come from and how did you turn it into a business?
When you're stressed and overwhelmed with work but can't take time off or commit to a lengthy routine, making small changes can still have a big impact.
That's why I created Yatlina – to share my passion for essential oils and aromatherapy in a convenient and beautiful way. With effective products that appeal to your senses, you can easily incorporate wellness practices into your daily life.
I care for sourcing and sustainability in the background, so all you have to do is choose the products that resonate with you. It's a step towards feeling better.
Watch this webinar on digital wellbeing and the importance of mental wellbeing when it comes to engaging online:
What are some of the key challenges you've faced on your business journey?
Time! Finding the time to juggle different departments in a small business as a sole owner and manager can be challenging. Knowing where to turn for help can be invaluable.
Is there a specific part of the business.connected programme that has inspired you the most?
All the resources that deal with the technical and legal aspects of business, the practical side of retail, and the invisible tasks that make a big difference in business but are generally not "sexy" enough to shout about.
The support around SEO is an excellent example of how making some simple alterations can be the difference between being on the first page of a Google search or buried on page 200!
I've also enjoyed the insights into how retailers and buyers work. It's good to know what you're getting into, who will look at your products, and from what perspective. It makes you adapt your plans and expectations.
Learning about copywriting and trademarks has also been important, as it's an area that's usually underestimated when setting up a new business or launching a product.
What's the best advice you've received while taking part in business.connected?
Be adaptable and open to opportunities that weren't in your initial plan.
Finally, what advice would you give to anyone who's considering starting a business?
Remember your passion and ask for help when needed.

Maintain your drive during tough times and stick to your plan and budget.

Try different business areas to identify your strengths and weaknesses before investing your money wisely.

Copywriting and packaging design require expertise gained through years of experience. Avoid relying solely on technology like ChatGPT to create content, but instead focus on authentic interactions with clients.

Celebrate small victories and acknowledge your progress on the path from idea to business success.

Educate yourself and continue being curious in all fields related to your work.

Plan ahead for the unexpected.

Be patient. Success stories you hear didn't happen overnight – when you look closely, they were usually years in the making. 
Free video training, exclusive offers and workshops
The business.connected hub is a free online training programme of workshops, webinars and e-learning modules designed to help businesses go digital, adopt new technology, and stay safe online. Take me to the hub now
Enterprise Nation has helped thousands of people start and grow their businesses. Led by founder, Emma Jones CBE, Enterprise Nation connects you to the resources and expertise to help you succeed.