BLOG
Why your business needs a staff training scheme (and how to create one)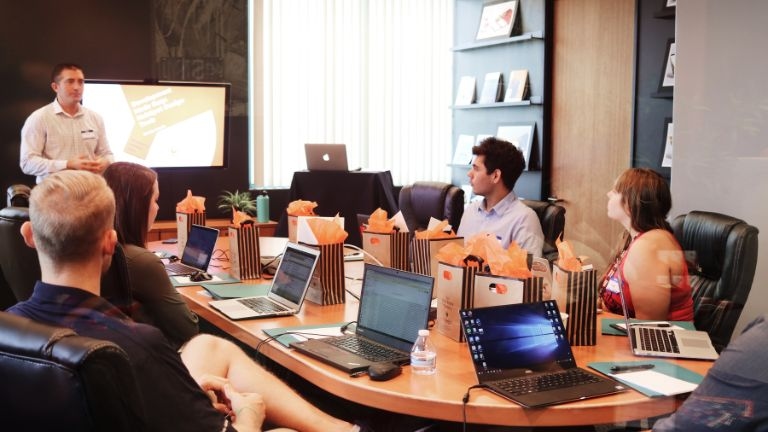 ---
Posted: Wed 22nd Jun 2022
As far back as 2018, research showed that two out of three workers quit jobs due to a lack of available learning and development opportunities.
Fast forward to 2022, the year of the 'Great Resignation', and new research claims that 70% of the nation's employees want to upskill over the next twelve months.  
LinkedIn's Workplace Learning report 2022 shows that skills for the same occupation changed by about 25% from 2015 to 2021. At this pace, it expects this will increase to 40% by 2025.
Developing and training staff should now be one of your top priorities - not only to retain existing staff but to attract good candidates. 
Keeping your staff fully trained not only ensures they have up-to-date skills and knowledge but also demonstrates your commitment to them – boosting retention.
Training no longer needs to be a one-off annual workshop (which is soon forgotten) or purely a tick-box exercise.
There are numerous options and ways in which you can keep your staff learning and developing continually.
Here are five steps to creating a training scheme and making it a success.
1. Start with an audit
In order to understand the type of training your employees need, you must understand where the gaps lie.
Take into account what they should know, and where you would like them to be ideally.
Assessing the overall picture will give you a great starting point, rather than sending individuals off on random training courses - you gain a bird's eye view of how skilled your staff are, and where you can go next.
A staff survey is an excellent way to gauge the development needs of your workforce.
You can use it to find out where they see their skills lie, and where they would like to take them. Use the results to set up a strategic programme.
2. Set goals
Once you have identified where the gaps lie, you can then set the goals (with timescales) on where your staff need to get to.
This will help you to understand what type of training they will need, and for how long. Tie in the training with their performance development review or appraisal so that they can see the path that is mapped out for them as your employee.
Be sure to review along the way and don't be afraid to change direction if one approach is not suitable or not working.
3. Explore different types of learning
One size doesn't fit all when it comes to training.
Each staff member may prefer to learn in different ways. Luckily, there are many options available so you should be able to tailor training plans to the staff individually.
Do they prefer online/distance learning or would they like to attend a session in person? Does some training need an overlap? Can you combine some of the training to save on cost?
Here are just some of the trends in workplace learning to be aware of:
Gamification
Although not a new concept, gamification has been a buzzword in learning and development.
Some believe the hype will die down, whilst others see it as the future of learning.
It is driven by the concept that employees will be motivated by online rewards (such as leaderboards, badges and the general competition against colleagues).
This method of training is seen as particularly useful for the younger generation of workers, typically classed as having shorter attention spans and an appetite for technology.
Virtual reality
For some sectors, particularly healthcare, the use of virtual reality in training scenarios can be extremely useful.
Think of care workers and nurses using the VR set-up to allow them to step into the place of a dementia sufferer to truly understand how their patients experience life.
AI
The use of AI in predicting the training needs of staff (based on their experience and past behaviour) is also on the rise.
This can help to create personalised, automated paths for learners.
Likewise, AI can be used to teach staff soft skills to overcome the fear of public speaking, communicating with colleagues and First Aid training.
Mentoring/employee-led training
Many businesses are realising the value in using the existing experience and expertise in the company to train others.
Mentoring or buddying staff is nothing new, but can be an extremely valuable resource where both parties will benefit from cross-mentoring (learning from each other's very different experiences).
There has also been a rise in employee-led training whereby staff design their own plans, motivating them and helping them shape their own career path within the business.
4. Train continually & accessibly
One of the top challenges for learning and development is always a lack of time.
Finding the time for training is a challenge in itself.
Therefore, continuous training in chunks, and from the phone or desktop, which fits in with schedules may work better, depending on your business.
By providing continuous and accessible training and development opportunities you will in turn boost engagement. 
5. Use your training scheme as a recruitment tool
A robust and innovative training and development programme should be a massive selling point for your business.
Include it within your job advertisement, job description and during the interview process.
Gather testimonials from existing staff on your training and promote them. Shout about your successes and what you can do differently.
Measuring success
Staff training should be linked to the performance review process.
Make sure that you are reviewing training needs and outcomes each time you catch up with your employee.
This will help their long-term development but also highlight any areas where they need additional support.
Finding training courses
There are so many options available to managers.
These range from accredited training courses for your profession (for example CIM for marketers) or you can create a bespoke training package.
This typically involves an external trainer coming into the business with a session specifically tailored for your objectives.
---
Connect with Alison King on Enterprise Nation for further support in this area.
We offer flexible outsourced HR services, delivered onsite or remotely.   As little or as much HR as you need, when you need it. As a small business ourselves, we understand the unique challenges you face. Our services include: Appraisals, performance reviews & development. HR documentation. Disciplinaries Employment law advice Recruitment Redundancies Settlement agreements Sickness and absence management. Whether you have a one off project, would like regular assistance or just want to call us on a ad-hoc basis, we have a cost effective solution for you either on a retained or pay as you go service. Each of our clients are treated individually and our services can be adapted to suit your specific needs and requirements. We work with companies who employ just one member of staff to several hundred employees.