BLOG
Why you need a barcode (GTIN) for your product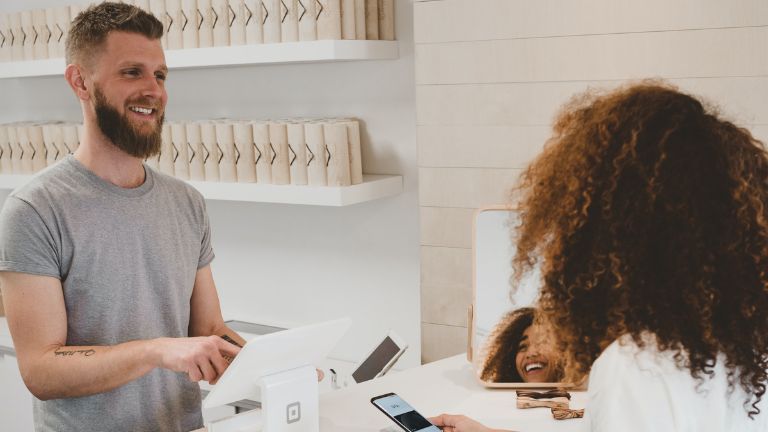 ---
Posted: Mon 13th Jun 2022
For all businesses, both large and small, one of the first steps to trading, both online and offline, is to assign unique identification numbers to your products in the form of a Global Trade Item Number (or GTIN for short).
GTINs allow you to unlock all relevant product information to your items, allowing you to successfully list and sell your product, barcode your stock, leverage search engines, manage inventory and even monitor customer satisfaction.
This small but powerful number is a sure-fire way to ensure a seamless sales transaction for any product.
GTINs in the physical world
When making a purchase in-store, items must be scanned at the point of sale.
A GTIN is required to identify the product, displayed as a barcode on the product price tag or package. This barcode is known as a 1D barcode or linear barcode.
A 1D barcode containing the GTIN number is often connected to a database, allowing users to readily access other data about an item or asset with a single scan.
The main purpose of having the barcode with the GTIN is to enable the correct product and price to be charged at the physical checkout.
This is true for online checkout, too. Listing a product and uploading inventory and pricing also helps accurately connect the correct product with the relevant price and stock levels.
Customers are also able to use the barcode to scan and discover more information.
This also saves the hassle of having to manually type a GTIN into the cash register system each time a product is purchased. Scannable barcodes save time, reduce in-store queuing, improve efficient inventory management, and reduce the risk of errors.
QR codes - The future of commerce?
In the future, it is likely that 2D barcodes, similar to QR codes, will replace one-dimensional linear barcodes.
They can be encoded to hold far more information, such as where an item has come from, URL links and product details, to name a few.
Another advantage of 2D barcodes is that the information links can be changed at any point, without the GTIN being affected. Not only does this save printing costs, but also allows brands to correct errors and update data as required.
This is called the GS1 Digital Link.
The GS1 Digital Link standard extends the power and flexibility of GS1 identifiers by making them part of the web.
Where a URL typically points to a single, specific website, GS1 Digital Link enables connections to all types of business-to-business and business-to-consumer information, providing a gateway to information that strengthens brand loyalty, improved supply chain traceability information, business partner APIs, safety information and more.
However, until in-store scanning technology is made compatible with two-dimensional barcodes across the whole industry, we are likely to see linear ones remain in use.
GTINs for e-commerce
Today, most marketplaces insist on having a GTIN when listing products on their platform as a marker of trust and authenticity.
This standard is also being increasingly adopted by direct-to-consumer platforms, such as Google Shopping and Shopify.
Therefore, it is imperative that if you are selling on these platforms, you understand how to use GTINs to meet the marketplace requirements when creating product listings.
Why GTINs are important online
Unlike in the physical world, where you can pick up a product and guarantee what you are putting in your basket is exactly what you want, the age of e-commerce means shoppers have to trust the information displayed online is correct.
But what if the product information is incorrect? What if one GTIN has been used across multiple product types? What if no GTIN has been applied at all? How can you guarantee which product will arrive at your customer's front door?
By uniquely identifying your product online, you are linking all the relevant product information via the GTIN.
This can include basic product information on weight and dimensions, marketing information and reviews. The GTIN also allows warehouse and logistic providers to accurately track and trace your products throughout the supply chain, ensuring that the right product reaches the right customer.
That is why keeping product identification truly 'unique' and persistent in both the physical and digital world is essential to supporting today's omnichannel consumer experiences.
What are the benefits of using GTINs online?
GTINs are used online to:
Provide a rich customer experience - connecting the marketing elements and product information to better inform the consumer

Improve supply chain data exchange across systems

Increase product transparency

Build better brand visibility online

Enhance product traceability with uniqueness of product history and provenance

Deliver more efficient after-sales consumer uses of GTIN (warranty, maintenance, repair)

Improve sales analytics
---
Are you unsure of how to apply GTINs to your products? Take a look at this guide: How to manage your GTINs properly.
To find out more about using GTINs online, take a look at this guide: Harnessing the power of the GTIN for your business.
In partnership with Enterprise Nation, GS1 UK are pleased to offer new members a 20% discount on their first year's membership. Please click here and use discount code EN20 at the checkout.