BLOG
Freight forwarders: How to use them for importing and exporting goods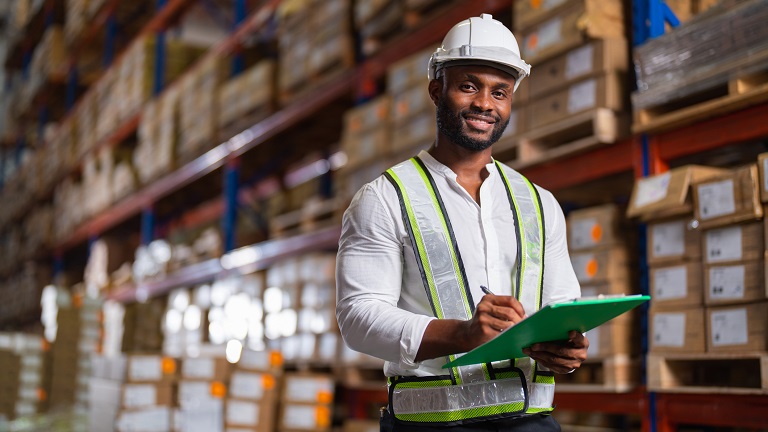 ---
Posted: Mon 8th Aug 2022
If your business imports or exports goods overseas, you may already have heard of freight forwarders. Thinking of shipping your products abroad in the future? Then perhaps you'd like to know what a freight forwarding service can do for you, and whether it'd be worth the outlay.
Like any small business owner, you're very busy, and to save time you might want to outsource managing your customs declarations to a third party. This is where a freight forwarder would come in.
Here, we explain what a freight forwarder does and what benefits (and drawbacks) there are in paying to use one. We'll cover what such a service costs and how to go about finding a suitable freight forwarder for your business.
What is a freight forwarder?
The process of shipping goods between countries can be complex, involving transport over land and sea. There are also lots of different customs requirements to consider.
Simply speaking, a freight forwarder handles the arrangements, working with shipping companies to transport goods from suppliers, producers and manufacturers to the eventual customer.
Although they don't physically move the goods themselves, they do all the behind-the-scenes logistics work to make sure your goods can cross international borders safely, efficiently and speedily. And, importantly, they complete the customs declarations for you.
How does freight forwarding work?
When the time comes for you to bring goods into the UK from overseas, or send goods to customers abroad, you hire a freight forwarder. They manage the whole process of getting the goods from their place of origin to their final destination, including:
arranging for your goods to be transported from where they're made, stored or housed (a factory or warehouse, for example) to the port or airport, for shipping

preparing all the relevant paperwork (including customs declarations at the UK side)

booking sea or air freight

setting up insurance and tracking delivery as needed

arranging delivery to your UK location
Some freight forwarders also provide services such as warehousing and storage.
Download our free Go Global guides
Export to the US / Export to China / Export to India / Export to Singapore
What are the pros and cons of using a freight forwarder?
Pros
Cost-effective
Freight forwarders transport goods in very large quantities, which helps keep unit costs down. If you're a small business with little budget to devote to freight charges, freight forwarding can be an affordable option.
Highly experienced
You want to know that your goods are in safe hands. Professional freight forwarding companies have the expertise to take care of your shipments and deliver them efficiently and on time.
They are also well versed in the often complex customs process and have the connections to negotiate shipping with their contacts across the world.
Convenient
You're dealing with just one company, rather than a number of different haulage and freight providers, which should lessen the chance of any logistical complications arising.
Peace of mind
When you use a freight forwarder, they'll give you a guaranteed time for when your goods will arrive at their destination. They'll tell you which routes the goods will travel, and what measures are in place if problems occur. And they'll make sure you pay the correct customs duty and taxes.
Cons
Can be expensive overall
Despite the lower unit costs, freight forwarding services can still be costly, charging unexpected fees that eat into your finances. You may be able to find a better deal keeping the process in-house. If you're shipping smaller volumes, it may be cheaper and easier to use a parcel courier.
Less control
Though freight forwarding companies should offer a professional service, the fact remains that you're handing the entire process over to them. There's a significant level of trust involved. And as they don't physically move the goods themselves, you're also relying on other service providers.
Not always a personal service
The major freight forwarders are huge global corporations that handle huge quantities of goods. Your shipment is only one of many and so you might not be treated as a priority.
What does it cost to use a freight forwarder?
Charges vary considerably between providers. It isn't always clear to see how much you're paying for customs services because they're often built into the freight forwarder's other costs.
A quote from a freight forwarder will typically be itemised, including a number of individual charges for things like transportation, packing, storage, customs, insurance and so on. They cover the whole end-to-end process of moving your goods from their place of origin to their final destination.
How do I find a freight forwarder?
Some of the biggest and most well-known freight forwarding companies are:
They are huge companies and so might not be fully suitable for your needs. They are, however, a useful place to start if you want to learn more about what moving your goods is likely to cost.
There are lots of free freight calculators online, which you can use to get a number of quotes for your particular shipment.
About Go Global
Kickstart your international trading with this free programme of support from Santander and Enterprise Nation. Take me to the international trade hub
Enterprise Nation has helped thousands of people start and grow their businesses. Led by founder, Emma Jones CBE, Enterprise Nation connects you to the resources and expertise to help you succeed.