MEMBER STORIES
This week's online masterclass host can help your build a brand that will make more sales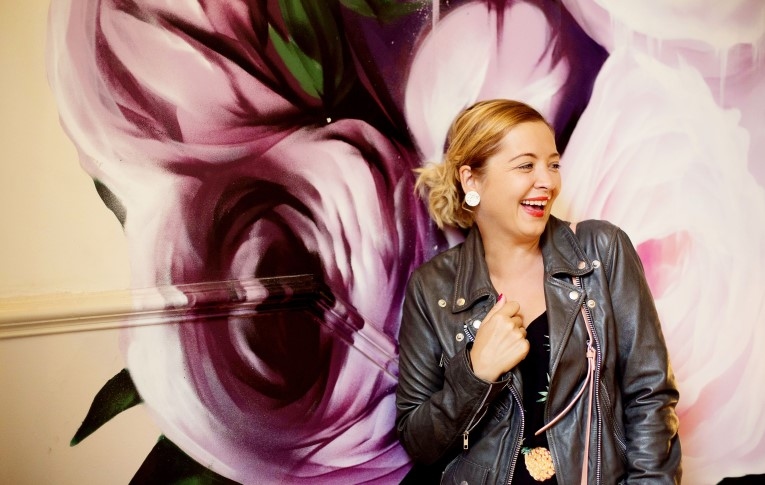 ---
Posted: Mon 28th Jan 2019
Every Tuesday at 12.30pm you can watch an online business masterclass delivered by one of our Adviser members.
This week, Lidia Drzewiecka from Visuable hosts: How to build an online brand that will make more sales.
Live masterclasses are available for free for Enterprise Nation members or £10 for non-members. Register for this week here.
If you're not yet a member, free online masterclasses and an archive of 200+ recorded masterclasses are just one of many benefits. Join now for only £10 a month.
Describe your business in a tweet.
We create iconic brands for experts who want an online presence that reflects real them, showcases their brilliance and helps them succeed.
What is your favourite business book and why?
I don't think there is one specific book that is my favourite. I read a lot on the topics of entrepreneurship, branding, self-development and digital business modelling.
A few books that I loved are:
24 Assets by Daniel Priestley. A brilliant book explaining what assets you need to develop in your business in order to build sustainable success. It really opened my eyes and got me thinking about what kind of business I want to run.
Design is a job by Mike Monteiro. This book explains that design is not just pretty colours and logos. It teaches new designers how to manage clients well, how to sell their work and how to build a successful business as a designer. I only read it last year, I wish I knew about it in my early days as a designer.
Crushing It by Gary Vee. This book is a really brilliant manual to building a personal brand online. Gary's social media marketing techniques are easy to implement and will help you get your business out there in digital world.
Who is your business hero and why?
Mary Portas, the retail brand transformation expert.
I watched Mary Queen of Charity Shops about 10 years ago and was inspired by how she rebranded charity shops into must-stop-shops on the high street and turned their success around as a result.
This was when my passion for branding was born and ever since, I wanted to work in this exciting field. I am currently reading Mary's latest book Work Like a Woman and I am inspired by how she challenges outdated workplace rules and alfa culture by creating a much more flexible, open and friendly culture at her agency Portas.
Flat structure, inclusivity, and flexible working are initiatives that I cultivate at my company too, so this time Mary is giving me a reassurance that that I am on the right path with the way I am building my brand.
What has been your biggest challenge?
The fact that I started Visuable without a plan. In fact, I used my skills in photography and web design to create a personal brand website as an "out of the box" form of an online CV.
I got active on linkedin, hoping that I could secure a job for myself. Before I knew it, I started attracting coaches, consultants, public speakers, wellness practitioners and creatives who were asking who created my brand and website.
They had never seen a website that would convey the essence of a personality in the same authentic way as mine did. I created something very unique that stood out in an oversaturated marketplace and they wanted this for themselves. Within few months, I was fully-booked for websites and brand photo-shoots and I could not keep up with demand.
"A great problem to have" I hear say. It sure was, but because I had no systems and processes in place, it left me feeling overwhelmed, overworked and burned out.
Today, we have all the necessary systems and processes and I have built a support team around me, but believe me, at the time when it was just me my laptop and my camera, delivering a great customer experience and exceptional quality work was a real challenge.
What has been your greatest success?
I believe that my greatest achievement is that I was able to use my own imagination to create a unique personal brand building methodology that helped me turn my passion into profession and succeed. A methodology that now powers-up everything that I do and allows hundreds of my own clients to do the same. We call it Define-Create-Grow.
We're living in such amazing times right now. Anyone, anywhere in the world can start a business using nothing more than a laptop, a phone and a wifi.
I am excited to be working with passionate, talented and driven individuals, injecting 'Visuable Magic' into their brands, and helping achieve their dreams and goals.
That's what gets me out of bed every morning.
What piece of advice do you wish you had known when starting out?
Work on your mindset.
"An entrepreneur is someone who jumps off a cliff and builds a plane on the way down,"  says Reid Hoffman.
Entrepreneurial lifestyle is not for faint-hearted. You are responsible for your own success. You are your own boss. You are your own biggest asset, but you are also your own biggest obstacle.
Your mindset is powerful and you can train it to support you on your entrepreneurial journey that will most likely be paved with some great highs but also many lows and setbacks. Your mindset needs to be strong in order to carry you through the toughest of times.
I have had many setbacks during my time as an entrepreneur. But I've learned is to turn every setback into a valuable lesson and learn from it.
Setbacks are there to warn you, and to teach you so you should look at them as stepping stones to the next level of your business success.
Through overcoming setbacks, you develop mental endurance so welcome them with a can-do attitude and extract valuable lessons.
Why do you consider long-term strategic advice important to business success?
Coaches, mentors and advisers are people who have been there and have done what you're trying to do, therefore can share their own life lessons and expertise with you and help you succeed faster with less costly mistakes.
My mentors have played a crucial role in my success, I don't think I could have done it without their support.
Running a business on your own is a tough, lonely and emotional journey. A mentor or a strategic advisor is someone who will be there for you on an ongoing basis, hold your hand and show you the way when you're cruising in the dark and feeling really lost.
I didn't have a mentor in my first year of business and experienced many difficulties that I had to deal with all by myself. I wish I accessed support much earlier on.
If you had a superpower what would it be and why?
I believe I have a superpower. I transform brands from bland to brilliant to help them succeed ;)
Register for Lidia's online masterclass, how to build an online brand that will make more sales, here.
If you're an Adviser member and you'd like to host a masterclass, log in to your member dashboard and go to the content section to apply.
Lidia is a passionate, inspirational and transformational Creative Director. Her clients rave about her ability to extract a clear vision, turn that vision into a reality and create an online identity that they are proud to show off. From an extensive career in marketing, photography and web design to a successful business owner, Lidia is synonymous with innovative, insightful, high-quality work. Lidia created Visuable in early 2015 and has worked with 100+ brands, transforming their visual identities in a way that has not only lead to business growth but also inspired personal and business confidence.