MEMBER STORIES
The social entrepreneur empowering children with learning difficulties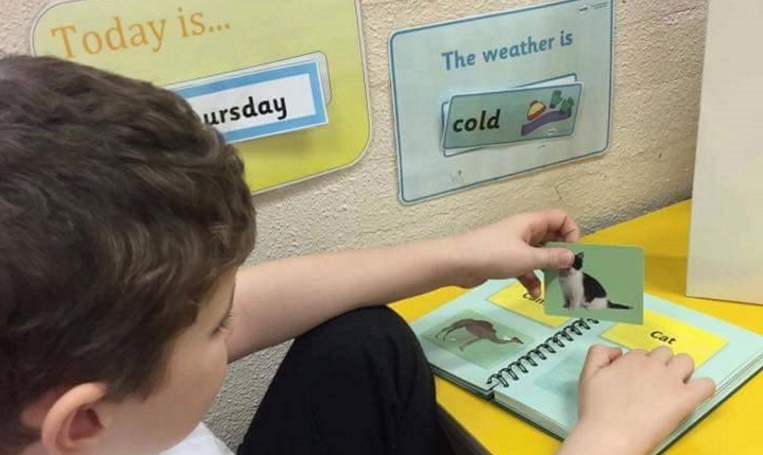 ---
Posted: Fri 8th Mar 2019
Andrea Campbell is the social entrepreneur behind The Pocket Learner, an award-winning innovation that empowers children with learning difficulties to build vocabulary, learn to read and count.
The Enterprise Nation member shares her inspiring story.
![Andrea Campbell, ACT Training](https://enterprisenation.blob.core.windows.net/enterprisenation/9df62993a141e911a97300224807251a/andrea campbell.jpg)How did you secure funding for your business?
The company started as social enterprise with a lottery grant from Awards for All in 2006 and has continued to secure funding in order to run free training for local people.
Over the years we have written numerous bids and secured monies from a wide range of entities including the local authority, philanthropists, grant-making organisations and individuals wishing to support local people.
More recently the organisation has diversified into creating innovative resources for educating children and adults with special educational needs and their families.
The resources are on sale and we also seek funding in order to run workshops and distribute the resources free of cost to families who need them.
How did you come up with your idea for your business?
As the mother of a child with special educational needs, I became somewhat frustrated at the absence of progress of my little girl at school. I was also disappointed with the range and prices of materials available as well as the attitudes of people who clearly feel that these children cannot learn, or that they must aim low.
I am an employability skills trainer as well as a linguist and so I was familiar with principles of teaching adults. I was already passionate about supporting vulnerable people so with these skills and the passion I started to develop materials to help my daughter.
I was pleasantly surprised when I saw how quickly she grasped the concepts and I realised that the more I gave her the more she was prepared to take. Thus the Pocket Learner was born.
My company ACT Training Services is a training company, a social enterprise established in 2006 to empower people who are out of work and seeking to upgrade their skills and find employment or start enterprise.
The Pocket Learner is created under the umbrella of this social enterprise, a company limited by guarantee.
What start-up challenges have you faced?
When we started 12 years ago we faced the usual barriers - new kid on the block, no track record, not much money and very few contacts.
We had a passion for what we wanted to do and the need was clearly there. We secured our first funding and delivered excellent service, learning all the time and collecting feedback and testimonials.
We launched a robust campaign to contact intermediaries who outsourced contracts on behalf of government. Slowly we started to make an impact and we became known.
We overcame by keeping our costs low, offering the best possible service and by forging relationships with key stakeholders such as the local Jobcentres.
What has been your biggest achievement with your business so far?
Thus far our biggest achievement has been the sheer number of people we have trained and enable to secure employment.
We have never had more than three core members of staff while we outsourced most of the training to specialist trainers but during the period we have trained close to 7,000 people and helped over 70% of them to move into employment.
For two years running we were shortlisted on the mayor's list of 10 best Hackney companies for service to the community and for creativity in our training.
The development of the Pocket Learner resource has revolutionised our training and enabled us to reach even more people who struggle with basic skills and English.
Our company is now totally focused on this training; working with parents, carers and educational practitioners who support children with special educational needs.
What is your next big business goal?
The next goal is to access partners who are willing and able to work with us to scale and distribute the Pocket Learner to a global market.
We recognise that children in developing countries particularly, lack resources and in most cases the opportunity to aspire higher and we believe that by introducing the Pocket Learner to key personnel will make an impact in this regard.
What do you think will be your biggest challenge?
The biggest challenge is finding those people who can share our vision. It is impossible to go it alone. The Pocket Learner has a whole range of resources most of which are not yet on the market.
As a social enterprise we are very much keen to ensure that we are reaching the most needy among our target group.
We therefore are seeking to find partners who simply want to make a difference and who can fund resources for targeted individuals.
It is a challenge to find such partners. Organisations with available CSR budgets or individuals who are in a position to do this.
Which other entrepreneur inspires you and why?
I am inspired by Les Brown, renowned inspirational speaker who hails from the USA.
Les had humble beginnings and was even written off as unable to learn.
He inspires me because I am the mother of a child who has been written off and when I look at Les I know that all things are possible. I have now entered the space of inspirational speaking because I am keen to inspire others.
I recently published my third book called Empowered which consists of 120 of my original inspirational quotes. I use these quotes in my training and I also use them in my corporate workshops to stimulate creative thinking and decision-making.
What are your three tips for business success?
1: Do what you love. It's the passion that will keep you going when things get tough.
2: Do a good job and always aim for win/win outcomes.
3: Under-promise and over-deliver. Surprise your clients with your efficiency and effectiveness.
Anything else you would like to share?
One of my quotes in my book is: "Look behind you and reach out; the hand you take may be your very own".
Some years ago I had a student in my sessions who was extremely shy. He spoke very little English but he was a naturally talented individual who had completed university in his country and had come to the UK in search for work.
Portuguese is the weakest of my three foreign languages but I was able to engage with him and I found a work experience opportunity for him.
He flourished at the placement and later they closed the branch and laid off most of the staff. However, they hired him and sent him to manage another branch.
Recently he reached out to me to say 'thank you' and to inform me that he had now moved to a bigger organisation. I had been trying to penetrate the said company for some time. This was a major surprise but I realised that having reached out my hand to him all those years ago I was setting the stage to take my own hand and now I have a door opened that I couldn't access before.
As we go through life, we have to recognise that we have to help people. We all share one space and it is in our interest to be good to people for in the end we are being good to ourselves.
We're proud to have entrepreneurs like Andrea as members of Enterprise Nation. Join Enterprise Nation today and become part of an amazing community of small businesses.
ACT Training Services is a London-based not-for-profit organisation founded in 2006 to offer bespoke and certificated training to people seeking to enhance their personal and professional repertoire.