BLOG
The power of positive influences: How creating a network can help you thrive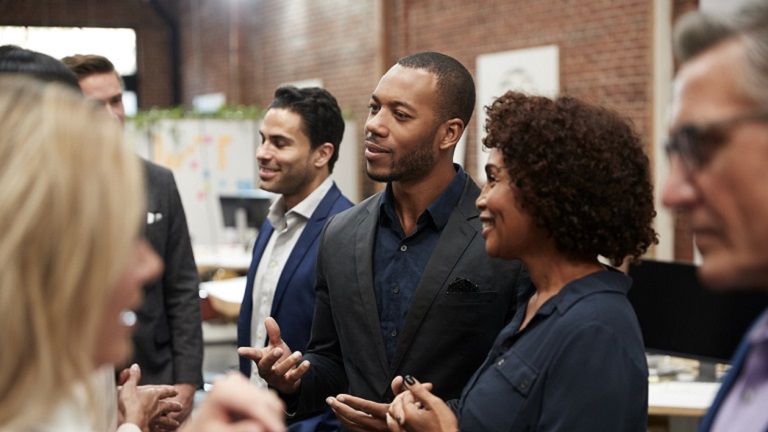 ---
Posted: Wed 5th Feb 2020
The tribe you build is critical to being a successful and fulfilled business owner. Do you have people you can share your challenges with? Peers that can support and inspire you?
Running a business means confronting a unique set of challenges. Family members and existing friends can help, but it's essential to build relationships with people who can relate to what you're going through.
"It's hard work when you're just starting out," said Tuck Shop Flowers owner Carole Patilla. "Those days you think you are just the lone nutter. Those days would have got the better of me if it hadn't been for my network."
Like Carole, building a professional network can help your business grow and ensure you have the resilience to keep going.
Finding professional networks
Carole didn't take business courses in the beginning because it felt like procrastination. For her, joining co-operative Flowers From the Farm made her feel like the idea of owning a flower business was more than just an idea. She felt like she was going to start building the business she dreamed about.
At that point, the network had about 150 members. She became the West Midlands co-ordinator and it has since grown to over 700 members, helping raise the profile of British-grown flowers in the process.
Carole takes a huge amount of satisfaction from the impact it's had, but it is the personal bonds that really resonate - she doesn't think she would still be growing flowers if she hadn't met "the gang".
"It keeps me sane. There's a thriving online community which always provides a space to share experiences, successes, tips, trials and tribulations," she said.
Mariko Broome didn't have any business connections when she started Mariko Broome Photography. She didn't know exactly what she was looking for when she began networking, so she tried lots of different events.
Looking back, she recommends not having a specific idea of what you want to get from it because it's hard to know who you're going to meet and how they'll help: "It is about being consistent because you want to make friendships. Don't just go once and expect amazing results," she added.
The value of peer mentoring and support
Sharing challenges with other business owners helps to provide context and identify solutions. Having people in your tribe that are at a similar stage in their business means it's easier for them to relate.
Carole met the owners of funeral directors A Natural Undertaking early on. The two businesses were thinking about things like taking on staff and premises at the same time, so could learn from each other.
It started when Carole would pop over to deliver flowers. The owners would have a cup of tea and a chat and it evolved from there.
New Kings Coffee founder Jason Nichols has established a monthly meet-up with other product-based business owners. They met in a NatWest accelerator and have been meeting for over a year since they graduated.
They discuss generic things like optimising Facebook ads and problems that are specific to product businesses, like how a fashion brand could deal with stock that didn't meet their standards.
"For him, it was an end of the world issue. He couldn't send them back and he couldn't sell them. In the end, he offered a discount and they all went. It wasn't as bad as he thought.
"Being product businesses, we're the same but different. We have some commonality, because we're all trying to sell products via the same channels," Jason added.
While it's great to have people that are experiencing similar struggles to you, it can be helpful to have mentors that are more experienced too. People who have grown their business to a significant size can provide inspiration and a long-term perspective.
Using your tribe to build accountability
It's easy for business owners to procrastinate. To spend too much time thinking about an idea rather than implementing it, or concentrating on the tasks they enjoy the most.
One solution is to build accountability through your tribe. Try setting up a regular meeting with a small group of business owners where everyone shares their goals and challenges. Reviewing people's progress every week will help you stay on track.
Jason tried the approach with his product-based business group but found that monthly check-ins were too infrequent. He found meeting weekly, whether it was with a mentor or people from his co-working space, worked better.
Networking for business development
Your tribe is a great place to get referrals, whether it's ad hoc recommendations or a steady stream of clients.
Getting involved in the organisation of Flowers From the Farm led Carole to organise an exhibition stand at BBC Gardeners' World Live, building Carole's confidence and providing an opportunity to work on a bigger scale. Credibility was further bolstered by PR, with the business getting an article in The Telegraph.
Looking after your mental wellbeing
Spending time with your tribe creates a space away from the day-to-day grind of running a business, giving you a chance to think about things and recuperate.
"I felt really alone," Mariko said. "Sometimes, when you work by yourself you need to have a conversation with someone in a similar position. My husband's really supportive, but he has no idea what it's like to run your own business and do everything from HR and admin to marketing."
Mariko's a convert - a year after she started networking, she has seven events booked in February, including Ladies Who Latte, Freelance Mum and Enterprise Nation's monthly meet-ups.
Mariko added that the relationships that have come from these events have evolved into friendships. There's people she knows she can call or message with any questions, whether it's personal or business.
Enterprise Nation has helped thousands of people start and grow their businesses. Led by founder, Emma Jones CBE, Enterprise Nation connects you to the resources and expertise to help you succeed.