MEMBER STORIES
The education entrepreneur inspiring a love of maths through movement and dance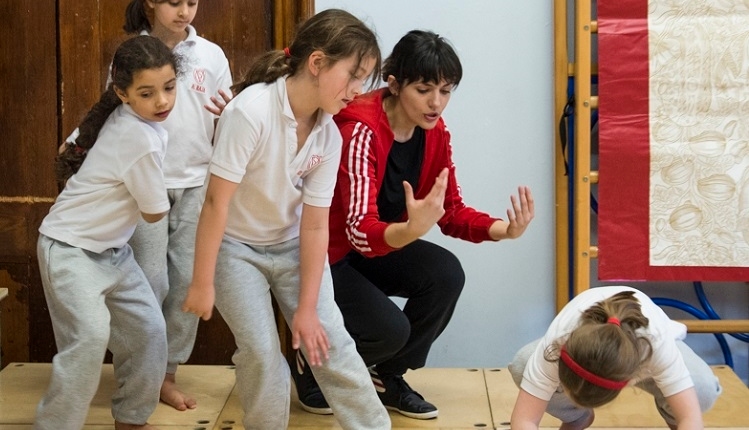 ---
Posted: Fri 12th Jul 2019
Maths Dance is an award-winning, educational provider dedicated to the creative, imaginative, and self-expressive teaching of maths through movement. Enterprise Nation member and founder Panorea Baka shares her story.
How did you come up with the idea for your business?
The Maths Dance concept was born in 2009 when I explored the idea of fusing maths and movement during my biomedical engineering studies in Greece. Excited about the possibilities, I then moved to London to study an MA in maths education and investigate the concept further.
I began by testing my ideas teaching maths through movement at Coopers Lane Primary School and was amazed by how quickly children developed confidence in everything from maths concepts to team building - all while experiencing real childhood glee in the classroom!
Not only that, teachers were thrilled with the impact it was having on their pupils. So often maths is seen as abstract, complicated, unrelatable. My vision was to bring in the concrete and reliable nature of body movement to foster creativity and make maths thinking accessible yet inspiring.
In 2013, the first Maths Dance after school club was launched in Richmond and classes steady multiplied across the city in the years that followed. Soon after, more facilitators were added to the Maths Dance team - each sharing my passion for embodied learning and placing a focus on creativity, innovation, imagination and teamwork.
What began as a creative curiosity while I was studying engineering in Athens has grown into a transformative educational journey I'm always proud to share with schools and parents alike.
Explain how you secured the funding for your business.
Maths Dance is self-funded. The first Maths Dance after school club ran in the school I was already working as a maths teacher. I invested the first money I made to hire a dance photographer specialising on capturing movement so that I have some good quality photos of my classes on my website and promotional material.
I have grasped every opportunity that has been given to me to build my brand and grow. For example, a dad of one of my first students who is a digital consultant offered me to trade a few sessions on Wordpress with maths tutoring for his son. This is how I learnt how to use Wordpress and made my first website myself.
I didn't quit my school job until I felt the timing was right to make that transition from being an employee to being a freelancer. I have a diverse skill-set ranging from education and child development to biomedical engineering and have always made sure that I have multiple sources of income as a professional.
Not relying entirely on Maths Dance has taken the stress out me to feel that it must perform well financially from day one. There has always been a long list of needs for my company. Instead of feeling negative and disappointed for not having the funds straightaway, I have focused on becoming very creative with problem solving, patient and kept myself motivated to work towards specific targets each time.
I think that my background in maths and engineering have helped me a lot with all of these. I am naturally good with numbers and have always been honest with myself in terms of the company's finances.
I really want Maths Dance to become a profitable business rather than an expensive hobby. Everything I have done has paid for the next step. Having no initial funds but a positive mindset about money and a clear vision about where I wanted my business to go, have enabled me to help Maths Dance grow.
What start-up challenges have you faced?
One of the biggest challenges has been to learn to do everything myself! I have worked on all aspects of Maths Dance: creating the content of the creative learning programmes, researching and developing the idea further, reaching out to schools and setting up collaborations, networking, teaching and delivering the classes, training my team, doing the finances, doing the marketing and managing my company's online presence, day to day admin, HR…the list goes on and on!
Having all these different hats on can be overwhelming and exhausting. However, getting experience on all the different parts of my business has helped to understand it in depth.
Once I managed to have a steady stream of revenue, I started saving so that I could hire other professionals to help me grow such as a business mentor, a copywriter, a digital marketer and a legal adviser. I am glad my team has now grown with a committed, part time admin assistant.
I am also grateful for the very talented facilitators who have joined my team to date as they have contributed highly to build up the company's excellent reputation. However, finding new teaching staff who have the magic combination of skills and the willingness to stay with Maths Dance long termly is still one of the hardest challenges for my business.
What has been your biggest achievement?
My biggest achievement is that I have overcome the obstacle of breaking age-old educational beliefs. I have set up a business from scratch which didn't exist before and no one thought possible when I started this journey 10 years ago: teaching mathematics through movement and learning it through fun activities and play.
The pupils are encouraged to challenge and discuss their understanding of maths in ways previously impossible in the classroom. Tables are pushed aside. Chat, laughter, and shouts of childhood glee are accepted rather than stifled. Learning is inescapably fun!
What is your next big business goal?
My next business goal is to set up a licence scheme which will allow schools to receive training on the Maths Dance teaching approach, have access to our original resources (packs with lesson plans and videos) and enable them to incorporate the Maths Dance activities in a flexible way in their curriculum at their own time.
It will be an innovative professional development programme for those schools and organisations who want Maths Dance to become a staple of their education provision. This will obviously mean that Maths Dance will gradually expand outside London and will reach schools in the rest of the UK and abroad.
What do you think will be your biggest challenge?
To scale up Maths Dance, my biggest challenge will be to find those people/partners who share my vision for education and work with them together to take the business to the next level. Another challenge will be to retain my business' core values while scaling up.
How has Enterprise Nation helped your business?
It's great to have access to so many great resources and knowing about events and conferences is invaluable.
I recently attended one of the #SheMeansBusiness events in London and enjoyed learning about the use of Stories on my Instagram account.
I also regularly read the member stories. It's fab to read about other entrepreneurs' inspiring business journeys!
Which other entrepreneur inspires you?
I am truly inspired by a fellow Enterprise Nation member, mother and former teacher Claire Russell of playHOORAY! She is a great example of how determination and consistency can help you grow a community around your business.
Teachers are creative, open minded and use what's around them to help them create innovative ideas and teaching strategies for their classroom. Claire is a real-life example of how much entrepreneurial talent is hidden inside our schools.
What are your three tips for business success?
1. Have a vision and be clear about where you are going but at the same time be flexible, open to changes and adaptive.
2. Have a positive and growth mindset: turn your mistakes and failures into opportunities to learn and grow. Dream big!
3. Be patient. Growth is an organic process taking time and success does not always come overnight. Especially if you are a small, self-funded business, like Maths Dance.
Anything else you would like to share?
There have been two teachers in my life that have inspired me to create Maths Dance: a mathematician and a dancer/choreographer.
 
The first one is Prof George Makrakis, University of Crete. In a meeting I had with him before moving to London, he told me "there are and will be many talented engineers solving problems and making our lives easier, but it is only you having this brilliant idea of exploring mathematical concepts using the principles of modern dance". His words echo in my head every time I doubt my decision of leaving a career in engineering.
The second one, Ana Sánchez-Colberg, one day during a rehearsal in Athens told me: "you are a dancer". Hearing this from an acclaimed professional dancer and choreographer has given me the confidence to believe in myself. I am fully aware that I am not a dancer in the common sense of the term but since that day I feel like a dancer when I work, when I teach and when I communicate my idea.
Her words have inspired me to call my students "mathematicians" - especially the ones that are not confident in Maths - and watch the positive transformation in their confidence and learning.
They both most likely don't even remember having said these but their words still have an impact on me.
We're proud to have entrepreneurs like Panorea as members. Join Enterprise Nation and become part of an amazing community of small businesses.
Panorea studied Applied Mathematics (BSc) and Biomedical Engineering (MSc) in Greece before moving to London to study an MA in Maths Education where she began to fuse her love of maths with her love of movement and Maths Dance was born. Alongside Maths Dance, Panorea works with schools and families as a Maths Education specialist – devising enrichment projects, delivering creative family workshops and developing personalised learning plans for children as well as adult learners. In June 2019, Panorea received the Highly Commended MPower Business Award in the Courage Category. In 2014, Panorea was presented with the Roehampton Award for innovating in the sector of education. She has been invited to talk about Maths Education, Creativity in Education and Maths Dance in several conferences and has shared her enthusiasm about embodied learning with audiences in Greece and the UK. In November 2014 Panorea gave a TEDx talk "Setting Mathematics Education in Motion" at TEDx University of Macedonia.