BLOG
The brands that showcased in week two of the Hello, World shop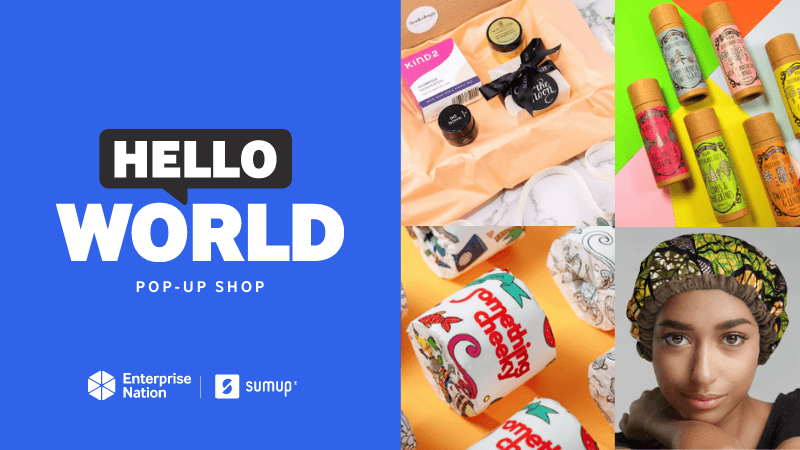 ---
Posted: Wed 21st Apr 2021
As part of our Hello, World campaign, in partnership with SumUp, we are delighted to announce the opening of a pop-up shop at 58 Oxford Street to enable small businesses to say 'Hello' to the world by meeting customers in person and testing physical retail. Meet the showcased in week two:
Monday 10 - Thursday 13 May
Seekology
Seekology is the destination to shop independent beauty and wellbeing brands. Seekology work with over 80 brands and pride themselves on supporting small businesses, predominantly female-led brands and cover categories like soy wax candles, natural beauty, activewear, motivational stationery, supplements and more. Seekology will be in the shop from Monday - Thursday.
Lava Cap
The team at Lava Cap love healthy hair and know that Afro and other curly hair types need regular deep conditioning and steaming. The Lava Cap conditioning booster kits are a great way to look after your hair at home. The durable cotton flaxseed-filled deep conditioning hair cap is microwave-friendly and easy to use - with this bold, colourful hair steamer cap you'll be sporting a healthy scalp and head of hair in no time! Lava Cap will be in the shop from Monday - Thursday.
Monday 10 May
Bobbi | London™
Bobbi | London is a tech products collection which is compact, lightweight, travel-ready and aesthetically designed with women in mind.
Tuesday 11 May
Flowery Whiff Ltd.
Flowery Whiff make gentle skincare products with as many natural and organic ingredients as they can find. The brand use recyclable and biodegradable packaging, that is still fun and colourful.
Wednesday 12 May
Something Organic
Something Organic is reimagining everyday essentials with sustainable alternatives. Big on removing single use plastic and reducing reliance on wood pulp wherever possible. The first product is bamboo toilet paper and they have more products in the kitchen cleaning and accessories space. They wanted to create a way for people to have an impact simply with the everyday essentials we use.
Thursday 13 May
Talolo Boots
Talolo Boots are fashionable all-weather cowboy boots made from biodegradable rubber, with stunning designs, ideal for looking elegant whatever the weather. Move over wellies, here come all-weather cowboy boots that will make you smile!
Visit the Hello, World shop to meet the people behind the brands every Monday - Thursday across the month of May at Sook, 58 Oxford Street. You can view the brands that will be popping up in the other weeks of May here.
Marketing and campaigns manager at Enterprise Nation. Love finding independent places to eat and drink!