BLOG
The brands that showcased in week three of the Hello, World shop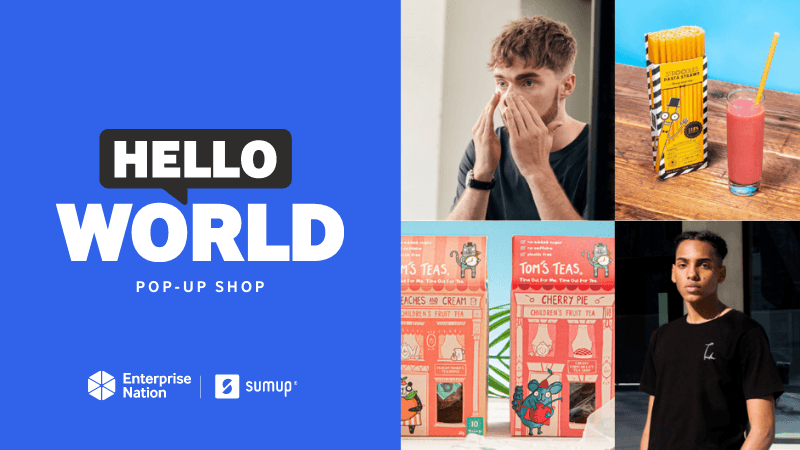 ---
Posted: Wed 21st Apr 2021
As part of our Hello, World campaign, in partnership with SumUp, we are delighted to announce the opening of a pop-up shop at 58 Oxford Street to enable small businesses to say 'Hello' to the world by meeting customers in person and testing physical retail. Meet the brands that showcased in week three:
Monday 17 - Thursday 20 May
The Painted Peacock
The Painted Peacock was created to enable a dream to become reality and is all about positive vibes and great chocolate. Being raised in East Africa and England, Yugna grew up with a deep love of playing with flavour and colour. After years of experimenting with paint and palate; The Painted Peacock was born. The Painted Peacock's entire range of chocolate bonbons are skilfully handmade and finely decorated in beautiful artwork and are available in varying imaginative flavours including Vegan options.
Monday 17 May
Candy Lab
A new bubbly confectionary business aimed at adults but also proving a range for kids. Candy Lab sell pick and mix sweets as well as a make your own range designed for families called 'candy chemistry'. The company was started in 2020 and the husband and wife team are passionate about making a difference - throughout February they donated over 1000 mini bags to key workers and the NHS in their random act of kindness month.
Very Craftea
Consciously sourced loose leaf tea and modern craft kits. Tasnime works with single tea supplier and they give 50% of their profits to address the issue of educational development in and around the under-served tea growing region of Darjeeling.
Tuesday 18 May
Trimingham
Trimingham is a luxury fashion brand specialising in creating bespoke athleisure garments, as well as exclusive ready to wear collections. Trimingham's garments are made with the finest sourced fabrics and have an international renowned, elite clientele. Trimingham have showcased collections at both New York Fashion Week and London Fashion Week.
Altr London
Mens grooming, skincare, and cosmetic brand based in the UK with all products made in Cambridge.
Wednesday 19 May
Stroodles
Stroodles waves goodbye to single use plastic, with its fun range of (edible) Eco-Tableware! The entire mission as a brand is rooted in sustainability, creating eco-friendly alternatives to everyday items and this is they take it seriously. Stroodles is therefore not just a company. Stroodles is a movement!
Tom's Teas
Tom's Teas are dessert inspired fruit teas for children, created to give them a healthy drinks choice. The blends contain no caffeine, no added sugar or sweeteners and are enjoyed hot or cold at any time of the day or year!
Thursday 20 May
Teddö Play
Teddö Play® is an award-winning family-run British brand creating high-quality play-based educational learning sets for children of all ages.  Recognised as the 'Best in Children's Development Products 2020/2021' by the England Prestige Awards, all of the learning sets are highly engaging and interactive making them a loved resource among children and adults.
Unhidden
Socially responsible adaptive fashion for people with disabilities. Luxury, minimalist stylish clothing for a range of conditions, all made from dead stock cloth.
Visit the Hello, World shop to meet the people behind the brands every Monday - Thursday across the month of May at Sook, 58 Oxford Street. You can view the brands that will be popping up in the other weeks of May here.
Marketing and campaigns manager at Enterprise Nation. Love finding independent places to eat and drink!