MEMBER STORIES
Taragh Hanley – Divine catering in Wicklow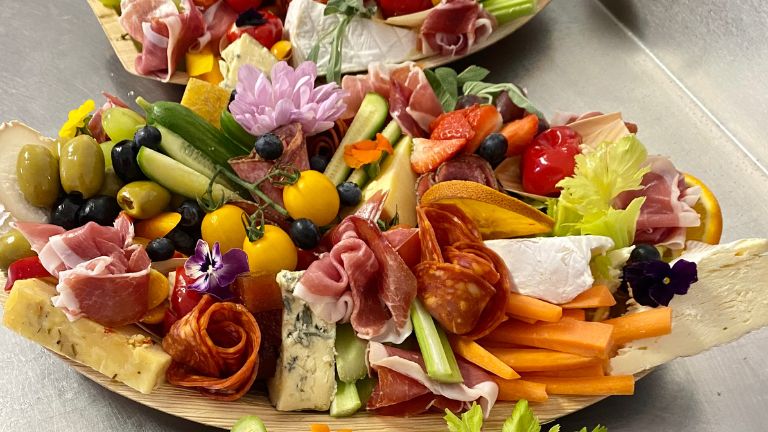 ---
Posted: Thu 1st Sep 2022
County Wicklow's The Divine Foodie has been serving up delicious platters since lockdown. Owner Taragh Hanley recently signed up to Enterprise Nation and told us about how she's expanded her business lately.
What is The Divine Foodie?
We're based in County Wicklow, and we mainly do cheese and charcuterie boards, and party catering. We've been in business for two and a half years and use locally sourced ingredients.
You have ventured into ready meals too, how has that been received?
We have wholesome, non-frozen, meals delivered fresh to the customer, or they can call to collect them - from there we've branched into the catering. It was a great progression after Covid where people were getting meals for home but now family occasions and christenings are back on, the business rotated, and we've gone mainly into catering.
Recently we catered a wedding, some garden parties, some hen parties and we've actually catered for Hozier too.
What are you offering in your catering packages?
It comes ready to serve - we can set up a full grazing table with Wicklow eucalyptus, fresh blooms and our cheese and charcuterie boards - we have a new Ultimate Grazing Board mass ultimate grazing which feeds around 25 people – and we can drop salads in between that. Or we can do a whole catering package with hot food.
We can also provide staff for your whole event if you like, so you have absolutely nothing to do, and entertaining is made easy for you.
Do you have full-time event staff?
We have a really flexible environment in The Divine Foodie, with our drivers and event staff. There is a roster in the kitchen, of course, there has to be, but not so much for the events – I just tell give details of the event into our WhatsApp group and ask who would like to work it and every single time my staff back me up and they are there. It's a really easy atmosphere and it works really well.
There are many companies in the 'ready meals' space, what makes yours different?
A lot of ready meals companies only do ready meals but because we have all the add-ons people are finding that really attractive and we've no minimum spend.
A lot of them only do a bundle, were as with us you can make your order as big or small as you like and add on any of the other things available on the site.
You are now with Just Eat. What made you decide to partner with them?
To be honest with you, the process with them was incredibly easy. They came out, they set it up, they talked us through it - my experience has been really good - the customer service is excellent. They do take a big chunk of it but look you price for that.
It's a very quick turnaround, the order comes in and it's out in 45 minutes. And the beauty of it is, you know, maybe on a Thursday or Friday when you don't have a bigger catering gig, you're Just Eat then bolsters up the business and that can help pay staff wages.
You mentioned you catered a wedding, are you aiming to target that market?
We've just recently signed up to a couple of wedding websites. People are looking for something different, they want a very casual, easy going grazing table idea that looks stunning.
What is one thing that you have learned for your business over the last couple of years?
Have a little bit of patience and believe in your product and believe in your service.
Enterprise Nation has helped thousands of people start and grow their businesses. Led by founder, Emma Jones CBE, Enterprise Nation connects you to the resources and expertise to help you succeed.