ANNOUNCEMENTS
Sustainable Small Business Awards: The nominees for the Sustainable Scale-Up Award are…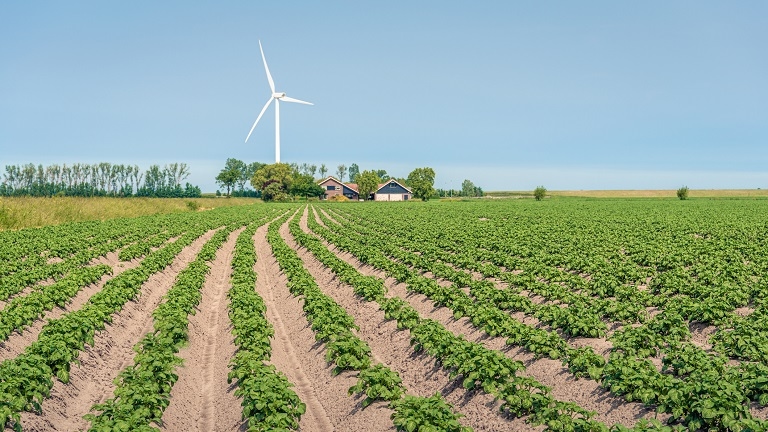 ---
Posted: Mon 22nd Aug 2022
At Enterprise Nation, we love to recognise small businesses across the UK that are making a conscious effort to be sustainable. We launched our Sustainable Small Business Awards to champion the achievements of our nation's small businesses.
Since the competition closed in early August, the judging panel has been hard at work whittling down nominations for each of the five awards categories.
The Sustainable Scale-Up Award recognises growing businesses that have been running for longer than 18 months and made significant environmental, social and economic changes in an effort to achieve a sustainable future. The nominees are:
Below, the founders of the six businesses tell us what measures they've put in place to be sustainable, and why they feel they should win the Sustainable Scale-Up Award.
What does your business do?
Tess Fitzgerald, Accelar: Accelar is a sustainability strategy consultancy, founded to help organisations grasp the opportunities associated with climate resilience, circular economy, carbon, biodiversity, and green finance.
Gregory Short, Fyto: We're Newcastle's first and only hydroponic vertical farm, set up to address the real issues with sustainability in the food supply chain. Our mission is to drastically reduce carbon emissions due to food miles and other damaging environmental issues by growing vegetables, herbs and microgreens all year round using our own, in-house developed hydroponic growing equipment.
Kiran Bhagotra, ProtectBox: Our cybersecurity comparison website/marketplace lets you find and buy all your cyber security in one place and quickly see personalised discounted bundles of solutions tailored to your office or home. By using our proprietary Net Zero score that rates cybersecurity suppliers and partners, we allow customers to gauge the sustainability credentials of the company they're buying from.
Nikkie Hewton, AXIAH: AXIAH is a micro-enterprise providing systems engineering and management consultancy and expertise. Our goal is to responsibly deliver effective and efficient solutions for the continued benefit of our customers and communities.
Paul Sheedy, Unifi: Unifi.id is designed to reduce energy consumption in the commercial real estate sector. It's a system that provides the key data businesses need to decarbonise their buildings, reduce their carbon footprint and keep to their ESG commitments.
Sarah Jordan, Y.O.U Underwear: I founded the company in 2016 when I switched careers after witnessing first-hand the problems associated with not having underwear during a trip to Uganda. We sell organic cotton underwear for men, women and girls on a Buy-1-Give-2 basis. Through this model, we've been able to donate over 23,000 pairs of underwear to support women and girls across Africa and the UK.
What have you done to build sustainability into your business?
Tess Fitzgerald: While we're well on our way to a sustainable business model, we've also strived to make our actions go even further. As a member of the Forest Carbon Club, we buy carbon credits to offset our emissions using woodland reforestation. Similarly, we bought a small area of land for rewilding, which will provide long-lasting benefits to local ecosystems. And every one of our employees has committed to a renewable energy-based tariff in their home, as part of our Pledge to Net Zero.
Gregory Short: Aside from growing locally, we only use PLA packaging, which is plant-based and biodegradable. We use e-bikes or electric transport for our deliveries, we compost all of our waste and use sustainable waste streams. We also 3D print all of our electronic housings to avoid carbon emissions from shipping.
Kiran Bhagotra: We're sustainable and inclusive not just because we're improving the process for other businesses, but because we champion our users and hire outside the norm. Sustainability is built in to everything: we show a net zero score on solutions we sell and are developing this into a UN Sustainable Development Goal (SDG) management tool. We attended Small Business Britain's inaugural Small Business Sustainability Basics programme not only to enhance our sustainability knowledge but also to network with a like-minded community of providers and founders.
Nikkie Hewton: We fully support hybrid-working arrangements to reduce carbon emissions from transport. We provide easy-access recycling facilities and make sure all staff receive sustainability training. We encourage clients to buy used equipment wherever possible. We've achieved carbon-neutrality through Carbon Neutral Britain, which implements a number of sustainability projects with our contributions, including reforestation, wind-farming, and hydro-electric power generation.
Paul Sheedy: We help businesses hit sustainability goals by focusing on simple-to-implement decisions based on clear insights through advanced AI. Building managers know exactly how much energy their building is using and where it's being wasted. Growing from a company offering data insights for more efficient retail, we're now focused on the desire to decarbonise the built environment. We're always challenging ourselves with what data we can gather to continue to make the built environment one that's more sustainable and less carbon-intensive.
Sarah Jordan: Our mission is to operate in an ethical, kind and sustainable way that has a positive social and environmental impact. We use profits from the business to donate underwear to women and girls across the world. Our underwear is Fairtrade, PETA-Approved Vegan and made from 100% GOTS Certified Organic Cotton. We work with one of India's leading ethical and sustainable manufacturers and we recently became the UK's top-scoring B Corp and top fashion brand worldwide.
What have been the main challenges?
Tess Fitzgerald: Events such as the pandemic and increased digitalisation have disrupted workplaces and industries across the world. Navigating a changing working landscape while striving to uphold our sustainability principles has come with its own challenges. To tackle this, we've come up with some innovative approaches to monitor sustainability as a business.
Gregory Short: We started the business in 2020, when low-volume, local vertical farming hadn't been proven as a profitable concept. Our main challenge was to show that this method of growing food can be economic and sustainable without compromising our values and desire to make positive change. We strongly believe that enabling local, small-scale vertical farming gives communities in cities and urban environments the chance to work closely with suppliers.
Kiran Bhagotra: Our proprietary net zero score is based on publicly available data, data provided to us directly by suppliers, and other data sources including energy efficiency ratings. However, some important data isn't openly available to us. So, we've engaged with leading experts – the Climate Disclosure Standards Board and the government's High Level Climate Champion, for example – to gain access to the best data sources.
Nikkie Hewton: As a micro-enterprise, we face a number of challenges, such as a lack of resources and funding, as well as a low cultural perception of our organisation's impact. We confronted them by setting sustainability and corporate social responsibility as key principles that steer everything we do, which encourages all personnel to seek sustainable options.
Paul Sheedy: One of the biggest challenges we've faced is the lack of awareness about the current climate crisis. We operate in the commercial real estate sector, where, unfortunately, many have been asleep at the wheel for far too long. Buildings are responsible for over a third of global carbon emissions and, if the world is to have any hope in achieving net zero targets set out for 2050, the industry needs to rapidly decarbonise.
Sarah Jordan: One main challenge is that our underwear is made from a blend of 95% organic cotton and 5% elastane to be durable and stretchy and maintain shape and comfort. While this means it isn't fully compostable, we've implemented a recycling scheme that accepts all underwear, socks and bras from any brands to make sure they don't end up in landfill.
Why should you win the Sustainable Scale-Up Award?
Tess Fitzgerald: Since its inception three years ago, Accelar has come a long way in its commitment to sustainable growth. Our key mission has always been to accelerate the green transition, and we strive to practice what we preach, which means taking the steps to make sure our own business practices are as sustainable as possible. Overall, we're constantly looking to push ourselves and others further to increase our sustainability legacy.
Gregory Short: We want to lead by example and to show other businesses the type of attitude we all need if we're to build a sustainable world. The award would mean so much to us on a personal level as it would justify the business's place in creating a more sustainable future. It would also give us a lot more exposure and a platform to show the world what we're achieving.
Kiran Bhagotra: Originally, we were there to help small businesses find and buy the right cyber security for them. But over time, we've adapted our product for sustainability, and we want to support small businesses with this too. We advocate sustainability whenever and wherever we can, often in forums where no-one else is doing so.
Nikkie Hewton: We want to lead by example with regards to ethical conduct, positive action and sustainable practices, and to champion our values of transparency, integrity, community and stewardship. While we continue on our own sustainability journey, the award would recognise our current and continuing work and help motivate other organisations to begin or increase their own efforts towards sustainable practices.
Paul Sheedy: We're an extremely passionate company, driven by a team that is wholeheartedly focused on sustainability. We're dedicated to taking the complications of the climate crisis and simplifying the data companies need to implement change. Delivering instantly actionable solutions is what makes Unifi.id a beacon in the climate emergency.
Sarah Jordan: As an underwear brand, we're something that people will always need, and we make sure that our product does good for people and the planet. We're committed to reaching net zero by 2030, although we're aiming to achieve this sooner. We're constantly reducing our environmental impact both in our manufacturing and in our home offices and we're working towards five of the Sustainable Development Goals.
Plan it with Purpose
A programme designed to help owners of small and medium-sized businesses develop a better understanding of environmental and social issues in the UK. Visit the Plan it with Purpose hub
Enterprise Nation has helped thousands of people start and grow their businesses. Led by founder, Emma Jones CBE, Enterprise Nation connects you to the resources and expertise to help you succeed.