MEMBER STORIES
Superfoodio's Nirali Mankodi: 'Our first stockist was Selfridges'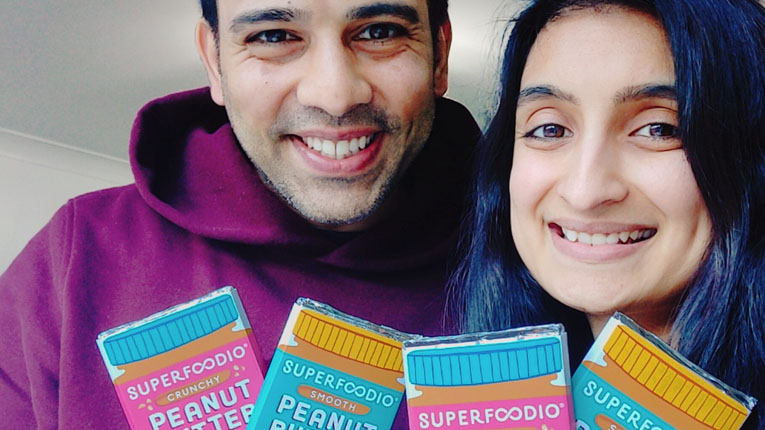 ---
Posted: Wed 9th Dec 2020
If there's one thing we've learned this year, it's the ability of small businesses to successfully pivot when all around them is threatening to crumble.
Nirali Mankodi, who co-founded plant-based snacks company Superfoodio with her husband Jag, is another shining example. After launching their business on the back of a trip to South America, everything was going perfectly. Their products were stocked in Selfridges and Planet Organic, and consumers had bought into their philosophy of pleasure, people and planet.
Then a far less savoury 'p' hit: the pandemic. Sales plummeted. They were forced to pivot. And, with a little help from a Salesforce Small Business Grant, pivot they did.
Here's their story.
Nirali, where did the idea for Superfoodio come from?
"About four years ago Jag and I decided to press pause on our corporate careers. We wanted to do something we'd always dreamed of: travel to South America. So, we planned an itinerary starting in Argentina and travelling across Brazil and Bolivia, ending in Peru with the Inca Trail.
"We're both vegetarian and on a plant-based diet, so one of our concerns was food. Argentina is obviously steak country, and we couldn't live off pizza for four months. We ended up packing as many snacks as possible.

"What we actually found when we got there is that people live off the earth a lot more than we thought. A family we stayed with in Bolivia had their own potato and quinoa farm, and we paid them back for the stay by helping on the farm.
"Our experience of food and what it's like to live off the earth was eye opening - and that's where the idea for Superfoodio was born."
How quickly did you turn that idea into a business?
"We started writing version one of our business plan while we were there. I think being out there really opened our eyes to mindful eating, and we wanted to share that with everyone back home.
"It was on the long journey from Bolivia to Peru that we started writing down what we needed to do. When we came back to London, we felt ready to give it a go. Before long, we had created our first snack range, inclusive of ingredients we learned about in South America - quinoa, cacao, nuts and different sources of protein.
"The business launched properly in 2017, and our first stockist was actually Selfridges. From there we were stocked in Planet Organic, Whole Foods, Daylesford and Ocado."
It sounds like everything happened so fast!
"There was a big process of understanding the market. When we first came back from South America, we sent boxes of snacks directly to consumers. That's how we got feedback for what people liked. There are obviously lots of snack bars on the market, but we discovered that there was a gap for a something a bit different.
"The product we initially launched was a nut cluster - like the knobbly bits you get in your granola, but in a snack format. It took probably six to eight months of recipe testing to get the flavour right. There was also the work that goes into the manufacturing - you've got this idea, but can it actually be made so you can sell it in stores like Selfridges or Planet Organic?

"Shortly after being introduced to a manufacturer we went to Food Matters Live, our first trade show. We took 30 to 50 of our snacks, just to see what would happen. It was there that we met the buyer for Selfridges, who invited us to come into their offices and pitch. The timing was great, because they were looking at bringing in healthier food that was a little bit different. Our snacks and our brand and at that time ticked all the boxes. They gave us the order at that first meeting, which was amazing."
Your brand is clearly really strong. How did you create it?
"We've learned as we've gone. When we launched our first snack, we didn't have the perfect packaging or the perfect story articulated, even though the story was always there.
"This is one of the things we've learned over time - how to communicate our story, what to put on the front of the packaging, what to put on the back, and, above all, knowing what our audience wants to hear.
"The people element is important to us. It goes back to when we were in our corporate jobs - I always remember feeling hungry at around three o'clock and thinking 'I should have brought something in because there's only the chocolate bars in the vending machine.'
"We always say 'pleasure, people, planet'. Pleasure, because our products will always taste good. You never feel like you're missing out or compromising. People, because our products nourish you. Planet, because we're a plant-based brand. We care about environmental impact and sustainability. The challenge is communicating this to consumers in one little sentence."
You received a Salesforce Small Business Grant in the summer. What did this allow you to do?
"We used the lockdown period to figure out what we would like to do. The world changed very quickly, but we found that people still wanted to indulge - while having something that was good for them.
"With the grant, we were able to focus on a rebrand in terms of being a bit more fun and youthful, and to reflect the products that we wanted to launch.

"One thing to come out of this is our Peanut Butter Chocolate range. The bars taste really good, while also having 18 grams of protein and 53% less sugar. So, you can have a treat without feeling guilty, because you know it's giving you something back."
What's next for Superfoodio?
"One of the things we've done this year is launch on Amazon. Our sales in stores and cafes dramatically dropped this year, so we had to focus on our online proposition. This is definitely where we want to grow because we can send products direct to consumers, get their feedback, and use this for new products.
"That's what we're really excited about - growing our portfolio with these peanut butter chocolate bars and introducing more products. We just want to launch the next thing now!
Check our Superfoodio's full product range, right in time for Christmas.
I'm a content and communications strategist with a passion for brand storytelling. I also happen to be Enterprise Nation's content manager – so if there's anything you'd like to see more of, or you have a story to tell, please do connect!