BLOG
Seven ways start-ups can retain talent and avoid employee turnover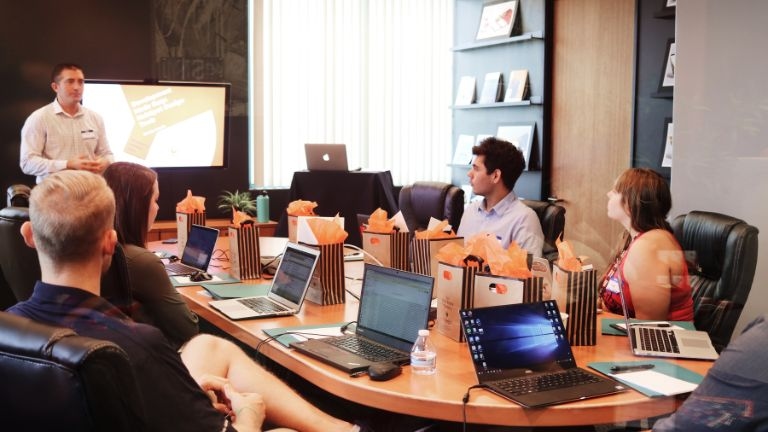 ---
Posted: Wed 3rd Aug 2022
We're all now familiar with the term 'The Great Resignation'. If 2022 had a theme tune, this would be it. Coupled with a huge recruitment challenge, it's a tricky time for employers, and start-ups are not immune to this.
Retaining your current employees is cheaper and more time-efficient than recruiting and training new employees (particularly for start-ups).
A high staff turnover can also be damaging to your company's reputation and impact the morale of other employees. So, how do you hang onto your employees when many are being tempted by high-paying salaries as employers desperately battle to recruit?
1) Build a people strategy
In busy start-ups, it can be difficult to find the time to focus on HR, but creating a 'people strategy' will protect the business in the long run and help you to recruit, retain and develop your team.
It will also allow you to understand your current position and where you need to improve in order to help the business grow.
The first step is to create an organisation chart and map out the lines of reporting. This will highlight whether the CEO and senior managers are overwhelmed with too many reports, and where gaps may lie. The five things you should include in a strategy are:
Employee satisfaction: How will you measure it? What mechanisms will you put in place to increase satisfaction levels? This could include appraisals or continuous performance reviews

Training and development: Outline how you will identify training needs, and provide training to ensure you develop every member of your team

Proactive or reactive HR? Consider whether you want to deal with HR challenges as they arise or whether you need to anticipate change

Recruitment: Get the processes right from the beginning and you will recruit the right people

Flexible working: Essential post-pandemic and many staff now expect this. Before the pandemic, a shocking 70% of women left the workforce because they found it impossible to combine their career and family life, according to training organisation Digital Mums
2) Understand why people leave your business
So many businesses don't conduct exit interviews when a member of the team leaves. This is often because they don't have the resource or the inclination to understand what has prompted the resignation.
Exit interviews are useful for business owners to identify issues and fix them. Staff surveys are another alternative to gauge the feeling amongst employees. It's always better to identify an issue and nip it in the bud before it gets worse.
Whilst some interviews are conducted online via a questionnaire, we would suggest always holding them face-to-face. If this is not possible then a telephone consultation can work just as well.
It's always better to chat face-to-face as you want to encourage the employee to open up and be honest, something that a questionnaire simply may not capture. They should be reassured that this is an information-gathering exercise and an opportunity for them to share their views, rather than a formal assessment.
Ideally, an impartial or neutral member of the team, as opposed to a line manager should conduct the interview. The employee is much more likely to relax and be honest if they are speaking to someone else from the business. HR representatives are ideal as they are not involved in the day-to-day management of the team and can encourage a franker discussion.
Consider asking questions such as:
Why have you decided to leave the company?

What is your new role offering you that the current one doesn't?

What do you value about the business?

What do you dislike?

Did you feel you had the resources available to do your job properly?

How was your relationship with your manager?

What are your views about management?

Did you receive adequate feedback about your performance and day-to-day duties?

Would you consider working for the company again?
3) Set up a good onboarding process
It is estimated that around one-third of new hires leave their job within six months. A bad experience on the first day can blight an employee's overall experience. In many of the exit interviews we conduct, we often find that a negative onboarding experience has had a big impact.
Having a good onboarding strategy can help with this issue – making staff feel motivated and welcome from day one. Planning their first week, integrating them into the team, educating them about your company history, ethos and values as well as providing them with information about their role and the business will help new starters feel valued.
They will also be your excellent brand ambassadors ready to talk about their new employer to others.
Here are our top five tips:
Introduce them to the company before they start

Plan their first week - who are the key people to meet? What training do they need?

Get resources ready

Set dates for regular check-ins and monthly reviews

Treat them to lunch
4) Recruit the right people
Research shows that more than 50% of recruitment costs are indirect and that the average cost of hiring a new employee in the UK is around £5,300.
What's more, the average interview takes 30 minutes with the recruiter doing 70% of the talking and the average time spent looking at a CV is 5-7 seconds. For many small businesses, effective recruitment is a minefield.
In a start-up, it's a good idea to hire people who share your values and will reflect your company ethos, rather than those who may purely have the skills and experience.
If you're experiencing rapid growth, it can be tempting to make a rushed hiring decision in order to fill the gap and get some much-needed resources on board.
However, it's always advisable to take your time to make sure you find the right fit, and you're more likely to retain this person.
Set up a robust recruitment process which involves:
Job analysis: Creating accurate job descriptions

Advertise in the right places to find your ideal candidates. This is also an opportunity to showcase your business so make sure you sell the role

Shortlist candidates via phone or video. Assess closely against the specification and discuss any gaps in employment history. Determine whether they can work the hours/days you require. Set a time and date to hold a screening interview – this helps filter out time wasters

Hold face-to-face interviews with questions prepared in advance
Be aware in the current climate that competition is fierce and candidates are not waiting for job offers. A slick and quick recruitment process is now essential if you want to recruit a candidate before your competitor does.
5) Invest in your team
From the start, try to find out what drives new employees. Understand what type of work they may be interested in the future and make them aware of how they can advance in your company.
Defined career paths are a great retention tool. Encourage professional development for relevant roles. This helps people understand that while they may start in a certain position, there's the potential for a successful career with your company…not just a job.
Treat candidates as more than just a number or CV; choosing a new job is a major life change. It's worth taking the time to get to know new joiners and what they want out of this career move. It all goes back to having a deeper understanding of your employees and what makes them tick.
Training should form part of every employee's personal development plan, which will help with overall staff satisfaction and motivation in the long term. But often, staff in small businesses are left to instigate their own training and development, with resistance from line managers due to time and cost.
Conduct a skills gap analysis

Allocate an annual budget

Tie in development objectives with training

Assign a mentor
6) Think about non-financial perks
Consider what specific benefits will be of interest to your staff. Can you give them a flexible benefits package where they can choose the benefits to suit their lifestyle?
A competitive package is essential but options such as flexi-time/occasional working from home demonstrate you value their needs outside of the workplace as well.
Consider offering fast-track management or promotion schemes for employees who demonstrate potential and high performance. How about a staff member of the month or year?
Consider:
Awards: These are ideal for those who are motivated by recognition and achievement. For example, 'star employee' programmes or staff awards recognising the successes of staff in particular areas

Learning and development: These include conference passes or tickets to events. Ideal for those who want to further their career or personal development. Take a look at CPD for ideas.

Time off: Days off for special occasions (such as birthdays) or dedicated days for specific tasks (such as Christmas shopping)

Volunteering: Ideal for staff who want to be able to give back. This can be motivating for an entire team to take part in a volunteering day and work together. The CIPD has this useful factsheet on staff volunteering

Social events: Including team building days, lunches or even overnight stays can help bond employees
7) Develop your company culture
Many start-ups pride themselves on the unique culture they initial create, but as they scale and take on more staff this can sometimes get lost. Your company culture is also a huge selling point when it comes to attracting and retaining your staff.
If you haven't already identified your company culture - what it is or what you would like it to be - try:
Identifying your current culture and what makes it special (thinking about core values and ethos)

Lead by example, always being open and accessible to your staff. Start-up culture centres around the founder being a key part of the business after all

Listen to your employees. Gain feedback from them and take their views into account when growing the business. Ask them to help you identify what makes the company unique
A great way to introduce new starters and attract candidates is through a company culture book. It's a great way of capturing the business journey (and less formal than an employee handbook). Typically, it contains:
Profiles of the founders and staff

Your business values

What's expected of employees
Being aware of what makes your employees happy, what motivates them and what doesn't is the key to ensuring their loyalty. If you combine all of these factors above, you should not only attract great people but keep them too.
---
Be sure to connect with Alison on Enterprise Nation for more brilliant business support.
We offer flexible outsourced HR services, delivered onsite or remotely.   As little or as much HR as you need, when you need it. As a small business ourselves, we understand the unique challenges you face. Our services include: Appraisals, performance reviews & development. HR documentation. Disciplinaries Employment law advice Recruitment Redundancies Settlement agreements Sickness and absence management. Whether you have a one off project, would like regular assistance or just want to call us on a ad-hoc basis, we have a cost effective solution for you either on a retained or pay as you go service. Each of our clients are treated individually and our services can be adapted to suit your specific needs and requirements. We work with companies who employ just one member of staff to several hundred employees.