BLOG
How service-based businesses can close deals during the crisis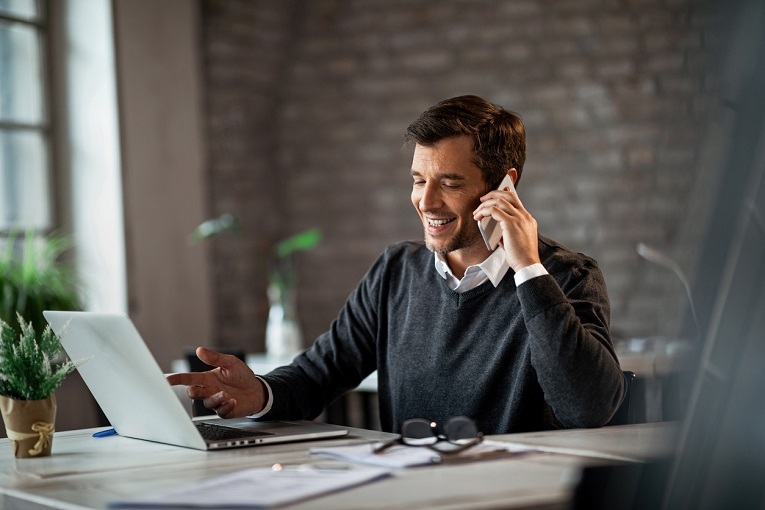 ---
Posted: Thu 16th Apr 2020
It is highly likely your clients and the people you're trying to sell to have been impacted by the coronavirus crisis. You need to adapt your sales process to take this into account.
Exsellance CEO and founder Jay Sriskanthan shared the importance of your mindset and how to update the six key stages in the sales process.
Understanding your emotional response to change
Jay recommends business owners start by thinking about their own mental state. He referenced the Kübler-Ross model, which defines how people cope with change; it starts with shock and denial before moving on to bargaining and, finally, acceptance.
"The quicker we can go through this the better. If you don't do that, competitors will come up with new ways to solve problems and customers will move on," he said.
Jay's advice for making sure you're in the right headspace is to think about positive situations and realise that you're not suffering alone. Get inspiration from other business owners, look after your health and celebrate success.
Thinking long-term helps too, so try to develop a positive vision of the future.
"You need to have a level of confidence in what you're selling. Otherwise, it's very difficult for people to buy from you," he added.
How to sell in the new environment
Jay broke the sales process down into six simple steps and made suggestions for how to adapt them to the new environment.
1. Plan: Creating an opportunity and getting a meeting
Consider what challenges your customers are facing and how that's changed. Create something of value to address that. Think about how potential customers measure success and their immediate goals.
"You need to know what their challenges are as a business owner. Ask yourself 'how can I make my message more relevant?' You need to create enough curiosity that they want to have a conversation," Jay said.
If you're selling training services, for example, think about how you can expand into new areas that have become relevant.
2. Engage: Why do they need to do this project and why now?
Step two requires building rapport, validating your research and getting some kind of commitment.
Typical business motives include increasing revenue and profit or reducing costs and risks. During the crisis, companies are holding on to cash, people and clients - and the person you're talking to might be scared of losing their job.
"You have to be mindful and know that they will get a return on investment quickly," Jay said.
Talking about the challenges you're facing helps build trust. Jay recommended sharing what you're going through and how you're innovating to solve the problems - including sharing the research and resources you've put together.
Getting people to commit is based on immediate pain points: what are the implications of the issue they're facing? You can contrast what the world looks like now and what it could look like if they made changes.
3. Propose
Once you've discussed what your customer is looking for and how their needs have changed you can make a proposal. Make sure you match your presentation with what the customer wants, the situation has changed and your offering needs to be adapted.
"You shouldn't just pick up a proposal you wrote three weeks ago," Jay said.
4. Negotiate
Look at things from the customer's perspective and consider how the crisis impacted them.
"The reality is lots of suppliers are giving free or heavily discounted services. If you're close to closing I would recommend reducing prices. In normal circumstances, I wouldn't recommend that. But you need to prioritise who you're working with and what you do," said Jay.
Try to go the extra mile for existing customers too. They're more valuable than ever, so how could you give them extra support during this time?
5. Close
It's a difficult time to close deals. You may need to delay projects or make compromises.
"This is a time when people get nervous. They start to doubt themselves. They may worry suppliers won't be around to deliver or you may get undercut by a competitor," said Jay.
6. Follow-up
Follow-up is just as critical as the sales process; the customer's experience impacts referrals and future sales.
How can you adapt the sales process to do it online?
The lockdown means relying on calls and video conferencing. Jay recommended taking the time to get comfortable with the technology, testing your internet connection and making sure your background isn't too distracting.
Good practices around planning and setting an agenda are even more important now. Remember to minimise distractions by turning off phone alerts and closing desktop windows.
"If the meeting is finished, end that call. Start another one for the debrief; it's highly embarrassing if the client hears you discussing the call!" Jay added.
There are a couple of points that will help if you're on a video call:
Good use of animation helps keep people's attention

Storytelling is always powerful, but keep to the point

Personality matters more in a virtual environment but it takes practice to get good at it

Winging it may work in person, but is likely to be a disaster online
Finally, Jay said the situation provides an opportunity to sharpen your sales messages and skills (his company Exsellance has made its sales resources available online for free if you want to learn more).
"You want to get into a productive state as often as you can," Jay summarised. "Once you're in an emotional state where you can help and support, you can look at the six sales stages and the activity you need to do to move sales forwards."
Chris has over a decade of experience writing about small businesses and startups. He runs Inkwell, a content agency that helps companies that sell to small business owners grow their audiences through content marketing. You can find him on Twitter at @CPGoodfellow.