BUSINESS NEWS
Changes making it easier for restaurants and bars in England to serve outdoors become law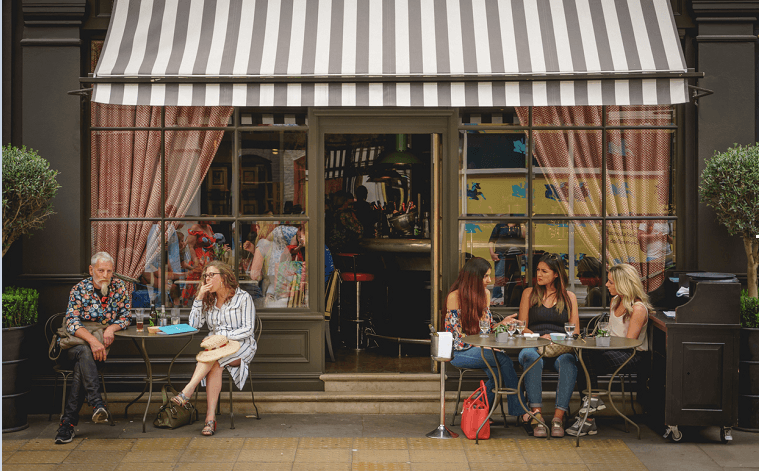 ---
Posted: Wed 22nd Jul 2020
Simplified regulations so pubs, bars and restaurants in England can more easily serve customers outdoors while the COVID-19 pandemic continues have become law today.
The Business and Planning Bill received Royal Assent which means hospitality companies are able to more quickly adapt to outside seating by using car parks, terraces and streets as dining and drinking areas.
The consultation period for pavement licence applications has been speeded up from 28 calendar days to five working days and firms will get the licence automatically after 10 working days if the council does not respond.
Businesses in England already with an alcohol licence now also have the automatic right to serve alcohol for consumption off the premises. They can do so until 11pm or the closure time of an existing outside area, whichever is earlier.
While companies don't need to get permission for off-site alcohol sales, new government guidance says "you should notify your licensing authority if you intend to start making off-sales under the new permission so that they are aware of all the ways you are providing licensable activities".
Other changes allow outdoor markets, pop-up car-boot sales and summer fairs to be set up without a planning application.
Smoke-free outdoor areas
While the Bill was being debated, Liberal Democrat peer Baroness Northover tabled an amendment which would require outdoor eating and drinking areas to be completely non-smoking.
But the government stopped short of a temporary smoking ban and instead businesses are required to provide both smoking and non-smoking areas outside.
"Since the existing ban was introduced, businesses have invested heavily in their outdoor areas and banning outdoor smoking would lead to significant closures and job losses", a government press notice said.
Ways of meeting the new condition include:
Clear 'smoking' and 'non-smoking' areas, with 'no smoking' signage displayed in designated 'smoke-free' zones

No ash trays or similar receptacles to be provided or permitted to be left on furniture where smoke-free seating is identified.

Licence holders should provide a minimum two metre distance between non-smoking and smoking areas, wherever possible.
Full guidance on changes to pavement licences and outdoor smoking is here.
Helping founders #OpenforBusiness
Enterprise Nation has resources and case studies to help small businesses of all types reopen and trade successfully during the coronavirus pandemic:
I'm a freelance content creator and event host who helps small businesses and the organisations that support them. I have 18 years of experience as a small business journalist having interviewed hundreds of entrepreneurs from billionaires like Sir Richard Branson to the founders behind brand new start-ups. I've worked for a range of leading small business publications and support groups, most recently as head of content at Enterprise Nation where I was responsible for the prolific output of content on the company's blog and social media. I'm based in Bristol where I run and host regular events with the local small business community and have strong connections to major business organisations in the south west region. In total, I've hosted over 50 events; from intimate meet-ups to conferences with an audience of hundreds including events for international brands like Facebook and Xero. I'm also a big fan of podcasts having hosted Enterprise Nation's Small Business Sessions as well as lots of online events including Facebook Live interviews, webinars and three live web chats from inside 10 Downing Street. With my partner, I co-run Lifestyle District, a lifestyle blog focused on culture, art, theatre and photography. I'm here to help. I'm volunteering free advice calls of up to an hour as part of the Recovery Advice for Business scheme, over the next 6 months. Please get in touch to see how I can help your business.