MEMBER STORIES
The Brighton art gallery owner championing social, gender and racial equality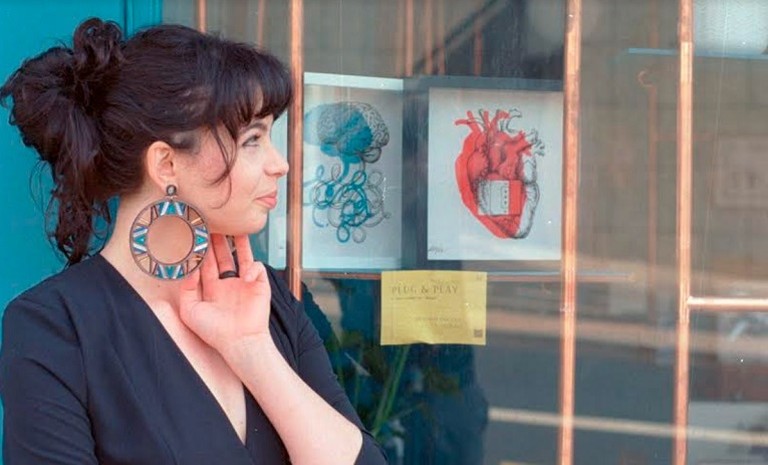 ---
Posted: Mon 20th Dec 2021
Raffaella Carillo is the founder of Metropolis Contemporary, a modern art gallery in Brighton. She was inspired to start the business after spotting the need for a space in the city that showcases emerging artists from around the world.
After finding a venue for her gallery, Raffaella carried out all the refurbishments herself and opened the doors with a successful launch event. To boost her entrepreneurial knowledge, she also turned to the Amazon Small Business Accelerator e-learning programme for help.
The entrepreneur shares her story.
The free Amazon Small Business Accelerator e-learning programme is advice from more than 30 business experts in over 200 bitesize videos.
If you're already an Enterprise Nation member, log in to your learning dashboard. If you're not an Enterprise Nation member, you can join the Amazon Small Business Accelerator for free here.
How did you come up with your business idea?
"I felt that the many art galleries around me were focusing only on the commercial aspect. There was a lack of representation for emerging artists and for marginalised communities, so I decided to open an art gallery that was inclusive, affordable and accessible.
"I previously managed an art gallery and I was confident that I could do it again even though I had been living in Brighton for just three years. I worked hard and saved as much money as I could. I thoroughly planned every expense and I started looking for a premises. This was the most difficult challenge. Commercial rents in Brighton are very expensive and many landlords ask for six months' deposit and three months' rent. I couldn't afford to spend so much money on the venue, but I wanted to stay as near as I could to the city centre. After months of research, I finally found a private landlord who was willing to accept three months' deposit and three months' rent. We also split the solicitor's bill.
"Once I got the keys, I started re-decorating. I wanted to achieve a specific atmosphere inspired by art deco so I chose colours and materials accordingly. My walls are peacock blue with copper pipes as a hanger system for the artworks.
"I did all the work myself. I painted, I installed the new floor, I tiled the counter, I put up the wallpaper and I even cut and fixed the pipes to the wall. That saved me a lot of money but it took a lot of time, particularly because I was still working my full-time job and I had to work on the shop in my free time.
"For the opening exhibition, I chose two artists that I know well. One of them sent me the artworks from Italy which was a big customs nightmare and very expensive. The other one allowed me to produce the artwork here so it was much easier. For the opening day, I advertised only through social media but 50 people attended which I considered a big success.
What other challenges have you faced?
"The art market in Brighton is very local. People are accustomed to a certain aesthetic. They are more inclined to support local artists whereas I am proposing a diversified programme that showcases local and international artists side by side.
"I am establishing my position and trying to attract an audience trust with high quality events and exhibitions.
"Since I am not in the city centre, it is harder for me to attract people so I am working on events in collaboration with other small businesses. I am also developing partnerships with other edgy and trendy venues. I give them artwork to display and provide a discount code for their customers. If someone buys something, the business gets a small percentage of the sale. Customers can enjoy the art in other places and fall in love with it and my partners are motivated to talk me up and encourage people to buy my products."
Which part of the Amazon Small Business Accelerator e-learning programme has inspired you the most?
"In the 'how to create a visual brand identity video, Lorna Bladen, Enterprise Nation's head of marketing, explains how to choose a personality for your business.
"I run a modern art gallery so I need to be edgy, fun and creative, but I must also inspire trust. I love art deco and I wanted to incorporate these elements into my brand. The name Metropolis is an homage to Fritz Lang's movie which is the essence of art deco. My logo is inspired by art deco stained glass windows but is at the same time very modern with a neat design. The logo colour palette is the same that I used to decorate the venue and to build my website. All my communication materials such as business cards, flyers, gift cards and letterheads have the same fonts and colour palette.
"Since English is not my first language, it was difficult for me to produce content for social media platforms, but the video helped me to realise that I needed to define a tone of voice and stick to it. My voice is the same across all the different channels. It is informal, friendly and focused. My target audience is young professionals who have limited time to read long social media posts.
"Another great help for me was the video by accountant Paula Tomlinson who provides great advice on how to produce an effective cashflow forecast."
What are your plans for the future of your business?
"As I said before, my struggle is to attract people to the shop. In order to do that I need to establish a presence in the city centre. I am taking a creative approach to marketing and using art to promote my brand. For example, I am developing a poster art festival with an open call for local artists to design posters. The posters will be displayed across the city and promote my gallery. People will be able to come to the gallery and buy a smaller version of the posters. This will help to develop my presence in the city centre and attract more customers to my business."
Which other entrepreneurs inspire you and why?
"Haven Coffee is one of my suppliers. It is a social enterprise founded in 2019 by refugee Usman Khalid.
"The business supports and promotes refugee communities across the UK. It provides barista training for refugees who want to develop new skills and find employment in hospitality. They also run pop-up coffee shops for festivals, events, workplaces and fairs. In addition, they promote refugee artists and organise events with visual and performing art.
"They inspire me because I can only imagine how difficult it must be for a refugee to become an entrepreneur and I love the fact that they are working to help others in need."
What are your tips for business success?
"I constantly ask myself "What makes my business special?". Answering this question daily helps me to be confident and talk about my business with passion. It helped me to propose partnerships to other small businesses and it helps me every time I speak with a customer. So, one tip is find your strength and use it.
"Communication wise, I found out that Instagram is the best channel of communication for me since I deal with visual art. I've created a specific format for my posts with images framed in a coloured square. The colours I use are the ones from my brand palette. My posts are therefore immediately recognisable and it's paying off. I would say that being original with your communication strategy is absolutely a top tip!"
The free Amazon Small Business Accelerator e-learning programme is advice from more than 30 business experts in over 200 bitesize videos.
If you're already an Enterprise Nation member, log in to your learning dashboard. If you're not an Enterprise Nation member, you can join the Amazon Small Business Accelerator for free here.