BLOG
Papersmiths' journey from a team of 33 to one person and back again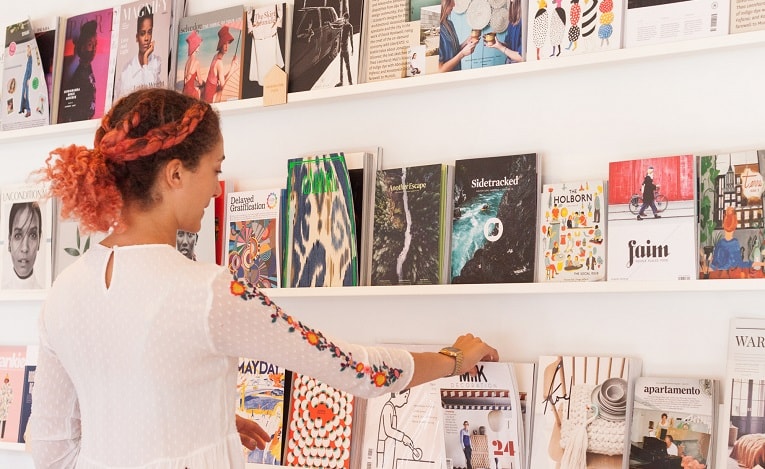 ---
Posted: Mon 15th Jun 2020
Papersmiths' sales were down in February. In March, they began to fall every day as more news was released about the virus and the importance of keeping your distance.
"To begin with, we naively thought it would be okay. We never anticipated we'd have to close shops," said founder Sidonie Warren. "By mid-March it became apparent that we wouldn't be able to keep the shops open even if there was no change in the law."
Sidonie shared what it's been like over the last few months as Papersmiths prepares to reopen.
What it feels like to be forced to shut up shop
It took four days from realising they had to close to shutting the shops. Sidonie said the lack of time pushed her into fight mode.
"I kept quite a cool head that week. It wasn't until things slowed down and my day to day became a lot simpler that I had more of a low period. The purpose was gone. I was working by myself. I was isolated in this room fulfilling online orders," she said.
While the shops are shut, Sidonie has been single handedly fulfilling online orders. She heads to one of the stores if there's anything they've run out of.
"That's great exercise. It's a 20-mile round trip if I'm going to Chelsea. Sometimes that bag is really heavy!" she said.
Orders are packed for collection at 3 pm, but it's often difficult to make the deadline. The rest of Sidonie's day is spent trying to keep up with marketing, updating the online shop and admin.
"I've probably taken on a bit much. But I'm taking the view that the more cash I can hold on to while everything feels risky, while we're waiting for this loan decision, the better.
"It's so funny because it's like being right at the beginning of the business again. In a way, it's like the old ways have to die and the new ways are what will work in this new business environment," she added.
Getting government support to stay afloat
Papersmiths furloughed all of its team members, including Sidonie's co-founder Kyle Clarke. The government's business rates relief will save them about £30,000 this year and three stores qualified for local authority cash grants.
"In March we made such a big loss. That really helped with paying payroll," Sidonie said.
They've also applied for a Coronavirus Business Interruption Loan but it's taking a frustratingly long time to get a response.
Developing routines to stay healthy
Looking after your mental health and talking to people about what's going on is really important, whether that's a mentor, friend or another business owner.
"I often feel I'm really stuck and don't know what the next right step is. Realising people are in the same boat can be reassuring," she said.
Sidonie's workload has made it hard to stick with her routines. However, she tries to do pilates in the morning and meditate in the evening. She's also using mindfulness exercises.
"Cycling with a purpose is great. Having a proper mission is really the only way I can be motivated to do cardio exercise. I'll go really fast because I want to get things done," she added.
Sidonie sent an email asking customers for support, announcing this week's reopening and sharing what the experience has been like. She said it felt like the time to be vulnerable and ask customers for help.
"Physically, it's been a challenge that I've enjoyed but mentally it's been really tough. I'm certain it has been for everyone. Thank goodness for kittens," part of the email reads.
The promotion was sent on a Friday lunchtime. It caused Papersmiths' online store to go "wild" over the weekend and she had 61 orders to pack on Monday morning.
The importance of getting an outside perspective
Sidonie's just started a 12 hour programme of free mentoring support provided by London Growth Hub. She had her first session the day before we spoke and said it's great to know there's someone she can talk to.
"Talking to someone that can look at your business from an outside perspective, that has lots of retail experience, is very helpful. It's really important. There must be so many business owners who are out there by themselves who need someone to talk to," she said.
What the future looks like and the potential for online sales
Social distancing means only three or four people will be able to go into one of Papersmiths' shops at a time. While it will impact sales - up to 30 people might be in their Bristol location on a busy Saturday - staff will be able to offer more support.
Team members are also going to help with social media and Sidonie's working with them to understand what skills they're comfortable with.
Product testers will be placed behind the till and cleaned between uses. There will be rules about how people move around the shop too.
The silver lining is that lockdown's provided a chance to improve Papersmiths' online offering, which is something Sidonie has wanted to do for some time. She's developing an incentivised click and collect system that can push people between brick-and-mortar locations and their ecommerce shop.
"Once we've reopened and have data about how the stores are doing and I know about the business loan, I'll feel it's the right time to bring someone in to help with the fulfilment of the online orders. Then I can start to do more big picture stuff," she said.
Helping founders #OpenforBusiness
Enterprise Nation has resources and case studies to help small businesses of all types reopen and trade successfully during the coronavirus pandemic:
Chris has over a decade of experience writing about small businesses and startups. He runs Inkwell, a content agency that helps companies that sell to small business owners grow their audiences through content marketing. You can find him on Twitter at @CPGoodfellow.