BLOG
Nine ideas to spice up your workshop or training and engage your audience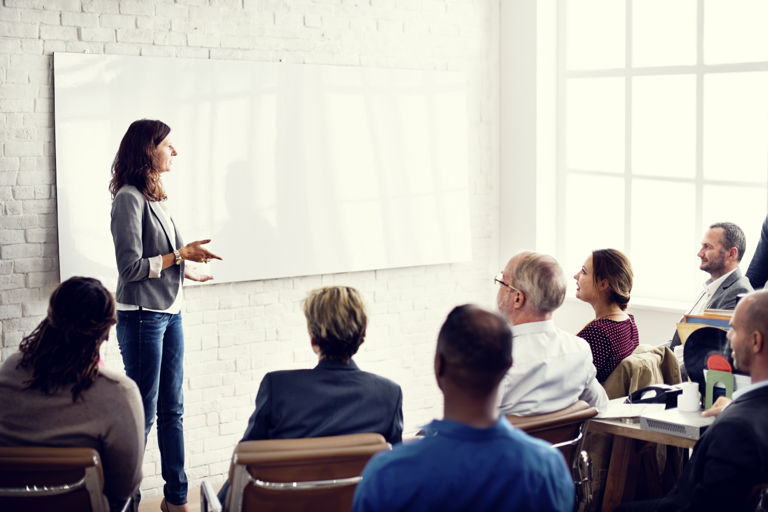 ---
Posted: Thu 26th May 2016
Teaching is an art form. Great teachers hold our attention, make us laugh, help us to fully understand complex subject matter and, most of all, inspire us.
Gaining this kind of engagement from your training audience takes practise and experience, but even if you're new to teaching, there are steps you can take to make your workshops or training as interesting as possible.
So, set aside those snore-inducing lectures and make your events fun and interactive by following these nine tips shared by Bel Booker from Eventbrite.
Make it relevant
First and foremost, to earn people's attention you need to make sure the content you are delivering is useful to them. The only way to know exactly what they want out of your course is to ask them.
Conduct some initial research with your target customers to shape your course content or send a pre-event survey to your attendees so they can pinpoint anything in particular they'd like addressed.
On the day of your training or workshop, kick off by giving a brief overview of what attendees are going to learn and how those skills will help them achieve their goals.
Accommodate different learning styles
People learn in different ways. Some of us are visual learners, preferring pictures, videos and diagrams, while others respond to spoken and written word, music, logic and reasoning or even physical activities.
Try to vary your learning by combining traditional linguistic teaching methods, with audio and visual presentations, written handouts, interactive tasks, and group work. This will provide an inclusive environment for all learning styles and ensure no one gets left behind.
Change the room layout
Training rooms are always laid out in the same way, rows of tables and chairs. Challenge the convention and surprise your attendees by perhaps providing beanbags instead of chairs, standing podium tables or tables with just a few chairs in order to encourage small groups.
Your choice of venue can also have an impact on engagement. A space full of light, colour and texture can prove far more inspiring than a bland, windowless meeting room.
Use props
To make your teaching even more visual, add in some real life props. These could be practical items such as weighing scales, an abacus, or a mannequin, or they could be just plain silly, like a rubber chicken or magic wand - anything that will help liven up the proceedings and help people to remember.
Although the nature of your training or workshop might be serious, it is important to remember that people learn best when they are having fun.
Play games
Likewise, games are a brilliant way for people to learn without even realising it. This could be 'Generation Game' style tasks, puzzles or riddles, crosswords, memory games or ordering tasks; anything that focuses the attention. You can even do it against the clock for extra excitement.
Try introducing a quick quiz at the end of each content section, helping recap on what's been learned, and offer a small prize for the winner.
Tell stories or use metaphors
Whatever you're teaching, try to make it relatable to everyday life by using real examples and case studies or even creative metaphors or parables.
By associating imagery that is left of field to what you are actually teaching (such as comparing milking a cow to the stock market) you can more easily embed it in your students' memories.
Play music
Music is a great way to get people energised before your session and during breaks. Play something upbeat to pump them up and lower it back down to let them know it's time to start.
You can also use music during the session, soothing classical pieces to help people concentrate while completing tasks or group work, or the theme tune from 'Countdown' to gear them up when they're against the clock!
Keep it short
One of the best ways to keep your audience engaged is not overloading them with information. Go on too long and the brain simply shuts off and people stop listening.
Either make your session a maximum of two hours or, if it's taking place over the course of a day, schedule in plenty of short breaks. As well as giving attendees a chance to get up, walk around and take refreshment, you should also facilitate 'downloading' of learnings.
Give them time to write and organise notes and assist them by providing pens, pads, sticky notes and highlighters.
Provide recognition and reward
Training participants will be more motivated to successfully complete the course if their efforts are recognised and they have something to show for it at the end.
Make attendees know they will receive personalised certificates to mark their participation and perhaps also consider extra incentives such as a competition or small prizes for top students. An element of good-natured competition can keep the attention of those attendees with a competitive streak!
Conclusion
Teaching is as much about entertaining your audience as informing them. Make your training or workshops lively, varied, fun and unexpected and your participants will learn quicker and better, and most of all they'll come back for more!
This article was originally published here .
Enterprise Nation has helped thousands of people start and grow their businesses. Led by founder, Emma Jones CBE, Enterprise Nation connects you to the resources and expertise to help you succeed.