MEMBER STORIES
Caitlin La, Boat People Sauce: 'Support from Next Generation has opened my eyes to so many possibilities and opportunities.'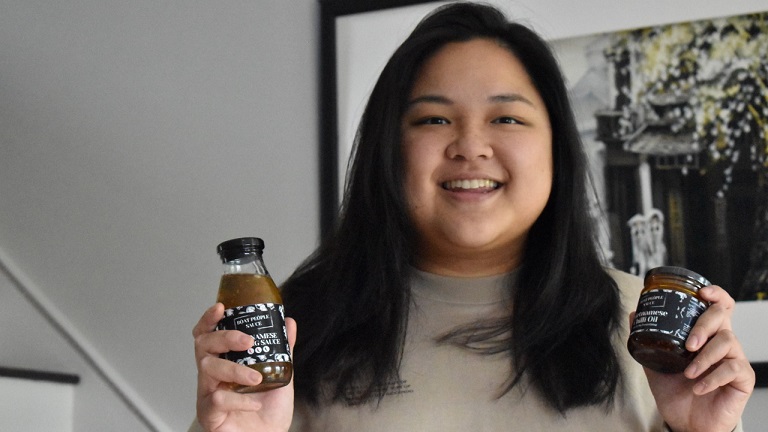 ---
Posted: Wed 24th Aug 2022
The Next Generation programme aims to give thousands of young people in London aged 18 to 24 the support they need to start a new business or grow an existing one.
Created in partnership with Launch It, the programme provides free training, events, content, access to advisers, peer groups, funding and much more. It's designed to help young people who might not have easy access to the finance and opportunities they need to go into business for themselves.
Here, we talk to Caitlin La, whose Vietnamese food business Boat People Sauce is prospering as a result of support, guidance and inspiration from Next Generation.
How have you benefited from the Next Generation programme so far?
I've really benefited! The programme has provided practical education in running a business but also given me the confidence to keep going.
The support and guidance I received has opened my eyes to a number of possibilities and opportunities that I'd never have considered on my own. I've met so many people in both similar and different sectors, collaborating ideas and simply enjoying everyone's progress.
How did you come up with your business idea and what are your plans for the future?
My grandparents' cooking and their story were the main inspiration for me coming up with Boat People Sauce. The name originates from the Vietnamese refugees in the 1980s, who were called "boat people".
For a long time, "boat people" has had such bad connotations. But I wanted to change this and make the story more meaningful by introducing products that come from my grandparents' dinner table.
We've started selling online using social media platforms to advertise the products and had a really successful pop-up event on Oxford Street. We're working towards selling on more online food marketplaces and attending local markets to sell to our customers face to face. We're also in the process of releasing a few more products to accompany our current ones so we can expand the range.
The dream will be to have our brand on the supermarket shelves. We also want to release fusion products using popular Vietnamese ingredients blended with current and familiar products. The idea is to bring Vietnamese food home.
How is your business unique?
The story behind the business originates from Vietnamese refugees like my grandparents and parents, and it inspired me to believe that anything is possible. They were made to leave their own country, forced to survive concentration camps, and fortunate to make a new home in a safer and more peaceful country.
Watching my grandparents struggle to find Vietnamese products and common condiments found back home was an eye-opener. It made me realise that they're not the only ones who don't have access to Vietnamese products. There's still a huge food market gap for Asian cuisine and I want to change this.
How have you financed your business?
The business is self-funded. I have a full-time job as a legal adviser at the Leasehold Advisory Service.
If you needed help getting your business up and running, where did you go for support?
A number of places. My partner James helped me read over documents, carried bottles of sauce and helped me design labels. Family and friends encouraged and supported me at events and pop-up shops. Business advisers and mentors via Enterprise Nation and Launch It. And my fellow Next Generation bootcampers who were with me throughout the programme.
What's the biggest challenge you've faced and how did you overcome it?
Getting people to be familiar with the product at first glance. It was a matter of educating them and showing them well-known recipes they can use at home. Changing their perspective and giving them values through recipes and videos to follow along.
What's the best piece of business advice you've received?
You're never ready so why not now?
When it comes to business, what do you need to learn more about, and how do you plan to do it?
Having your own business means you're paving your own way – there are no guidebooks or a 10-year plan. Things change and your plans change, so the best thing is to constantly adapt.
I'm constantly learning how to adapt and find new ways to spread the word about Boat People Sauce, whether that's on social media, on online marketplaces or going to events to network. I have a journal which reflects all the adaptations I've made, and that helps me narrow down what works and what doesn't work.
But sometimes this isn't enough, so I watch online webinars and speak to a mentor (who's familiar with the area of business) or to business advisers. They're great for providing insight, guidance and a second opinion.
What are your top tips for getting started in business?
Number one, start now! Number two, fail as much as you can. And number three, learn the industry you're operating in.
Need help starting or growing a business?

The Next Generation hub can help you with the education, inspiration and funding you need to achieve your business goals. Sign up to the hub today
Enterprise Nation has helped thousands of people start and grow their businesses. Led by founder, Emma Jones CBE, Enterprise Nation connects you to the resources and expertise to help you succeed.