BLOG
Help to Grow: Management – Meet the mentor, Fiona Minett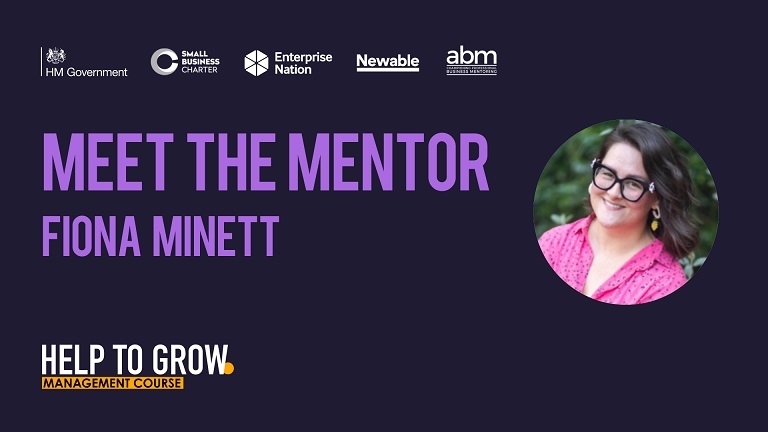 ---
Posted: Mon 26th Sep 2022
Enterprise Nation is one of the small business support providers tasked with delivering voluntary mentoring as part of the government's flagship Help to Grow: Management Course.
The programme is a 90% government funded, 12-week course with a combination of online sessions and face-to-face learning, delivered by business schools. It is open to businesses with five or more employees.
Here, we talk to Fiona Minett, one of the voluntary mentors involved with the course. Fiona talks about her background, explains some of the benefits that business mentoring can bring, and shares her hopes for the Help to Grow: Management Course.
Fiona, can you give us a summary of your professional background?
I have worked in PR for almost 15 years now, and for much of that time I've been self-employed as a business owner. I worked in agency and in-house before going it alone and setting up my own PR agency when I was 23. I spent a year or two studying at the PR Academy and building my portfolio and reputation and then started to grow.
After a few years, I had an office premises, a growing team and a great roster of small business clients across the fashion, beauty, interiors and lifestyle sectors. We were working on projects with brands such as GoCompare, Made in Chelsea and the Brit Awards.
Following a personal break from work, I decided not to return to the agency model of PR. Even though we'd been working to more 'affordable' monthly retainers than many typical agencies, I knew that a lot of businesses and entrepreneurs weren't able to access PR support. It was with this focus that I went about launching Boss Your PR.
Through this service, I teach, educate and coach small business owners and entrepreneurs in harnessing the power of do-it-yourself PR. I'm incredibly passionate about the power of PR and in supporting business owners in accessing it and making the most of it.
What made you want to become a mentor to other business owners?
Having built and run several businesses, I found myself becoming something of a sounding board for people in my network. I love to support other business owners by 'unlocking' potential, bringing a fresh and objective perspective, and supporting them in creatively fostering their own business success.
I saw that there was an opportunity for me to formalise this by working as a mentor, and I explored which avenues would work for me. I've since worked with Oxford Brookes University – mentoring on a number of their accelerator programmes – as well as the Virgin Start Up scheme and Small Business Britain.
What are the main attributes any good mentor will have?
A good mentor has to be able to listen and remain objective. Mentoring isn't about projecting your options and experiences in a way that will force mentees in any given direction.
Instead, it's about pointing out opportunities and potential pitfalls, asking the right questions, listening to the responses and opening up a mentee's thinking and perspective on their own business and corresponding entrepreneurial journey.
As a mentor, your experience and knowledge will direct you in asking the right questions and supporting the mentee's business and personal development.
I think it's also incredibly important to have a desire to support other people and encourage their success, as well as a genuine empathy for them. It's so helpful to be intuitively able to understand the pressures that a mentee might be under and help them to get a handle on the practical workings of their business.
Small businesses see significant development through mentoring: Become a mentor and provide 10 hours of one-to-one support. Find out more
Can anyone be a mentor? Or does it take a specific type of person?
I think anyone can be a mentor, yes. As individuals, we all, by default, bring our own skills, expertise and experience to any given situation, which brings value. However, I do believe that there are principles and best practice that, as a mentor, you need to follow.
It isn't a vanity exercise – it's always about the mentee, not the mentor. It's about sharing the resources, objective advice and support that will further a mentee's business or career.
As a mentor, you're a facilitator and cheerleader, giving the mentee a judgement-free safe space and encouraging the objectivity that will allow them to take the necessary steps towards achieving their business or personal goals.
How do business owners benefit the most from mentoring?
Mentoring offers an incredible sounding board. It can give either reassurance that you're going in the right direction or guidance when it comes to working out the best path forward.
However successful you are in business, there's always value you can gain from having the objective eye and broad experience of a business mentor to rattle away any complacency and encourage you to soar further.
A mentor can be a critical friend – a supportive and empathetic ear to listen to concerns and worries but an objective eye to encourage a confidence and assurance when it comes to dealing with concerns and worries.
It can be incredibly powerful to have someone completely on your team and in your corner in every sense, but who also challenges you to achieve more.
Having a mentor can also be a brilliant way to access other professionals, advisers or mentors who can further support your business in other ways. Many mentors will have pretty enviable networks around them that they will happily bring to bear when appropriate.
How do mentors themselves benefit from mentorship? What do you get out of it personally?
Mentoring is, perhaps selfishly, an incredibly rewarding opportunity. As a business owner, you can absolutely make an impact – you support the people who have a stake in your venture and connect with other business owners. But there's something about mentoring that feels even more expansive and impactful when you get to be a part of someone else's business journey.
It's a joy to get to know a mentee and learn about their business, how it works, what it exists to achieve and how it serves its audience, and to work with that mentee to amplify that business's success and impact.
What's the best thing about being a mentor? And what's the biggest challenge?
I enjoy making connections and building relationships. Seeing a mentee go on a journey through the period of mentoring and progressing personally and entrepreneurially is the by-product of the connection that builds between mentor and mentee.
However, I'd say that this is, in turn, one of the biggest challenges. The mentor has a weight on their shoulders when it comes to the mentee's success. A mentor's role can only stretch so far; the mentee is the one who needs to implement, do the work and move forward. A positive outcome is, in some ways, beyond the mentor's control.
What are your hopes for the Help to Grow: Management Course?
I've been working on a Help to Grow: Management Course with Oxford Brookes University and Small Business Britain. Having seen the incredible value that the participants receive in terms of teaching and resources, as well as the time that's allocated for the mentor-mentee relationship to evolve and develop, I'm so excited to see this in action with the Help to Grow: Management Course.
I'm looking forward to connecting with my mentee, exploring the programme of learning with them and supporting them in growing and elevating their business and entrepreneurial success.
Want to help a small business grow?
Being a mentor goes far beyond the rewarding feeling of 'giving back'. Mentors gain a range of personal development benefits from the experience.
Become a voluntary mentor for the Help to Grow: Management Course and commit 10 hours over 12 weeks to support businesses with their growth action plan. Sign up today
---
The national mentoring element of the Help to Grow: Management Course is being delivered by a partnership of Newable, Enterprise Nation and the Association of Business Mentors on behalf of the Department for Business & Trade.
Enterprise Nation has helped thousands of people start and grow their businesses. Led by founder, Emma Jones CBE, Enterprise Nation connects you to the resources and expertise to help you succeed.