BUSINESS NEWS
Making the most of the digital ecosystem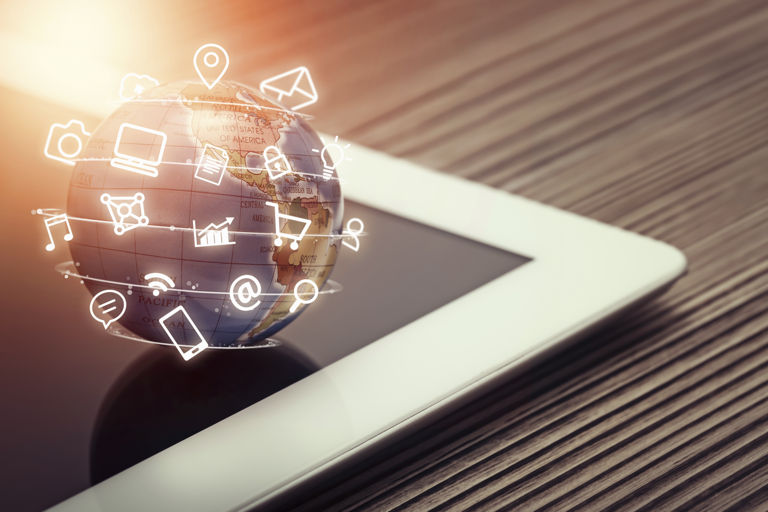 ---
Posted: Fri 10th Mar 2017
This article is sponsored by Verisign as part of the Enterprise Nation Go and Grow Online campaign.
Building an online presence is vital for every small business, helping to better engage with customers and offering new ways of selling or promoting services. Verisign takes a look at the different parts of the digital ecosystem, and how your company can use them to establish an online presence.
An online presence can mean different things to different people; some people think it means a website, social media, or a professionally branded email address. However, these are just the components of the digital ecosystem, with each representing different ways your company can establish itself online.
An online presence incorporates the different ways you represent your company on the web, using the tools above. For a small business, this is an important distinction to make; you don't want to adopt every online fad just because it's seen as the next big thing, as this would cost too much time and money.
Instead, you should investigate the different aspects of the digital ecosystem, figure out which components are best for you, and how you can use them to better establish your company online.
Why build?
First off, you may be asking why you need an online presence at all. For many, it's a no-brainer, but for some, the question of cost and time management weigh heavily on their minds, delaying their decision to get their company represented on the web.
Well, the reasons are plentiful. First, the internet was accessed every day, or almost every day, by 82% of adults (41.8m) in Great Britain in 2016*. For a small business, extending your reach so that you touch more customers can contribute to your ongoing success. The opportunity to reach even a fraction of the above number should have you running from your desk and demanding to get your business online.
A strong web presence also enables you to better engage with both existing and potential customers, with a multitude of channels available to be in contact with consumers, and offer personal, helpful feedback 24 hours a day, seven days a week.
While money and time are the two of the most valuable commodities of small business owners and entrepreneurs, building an online presence doesn't require a great deal of either one. So, what parts of the digital ecosystem are right for you?
Improve reach through a website
The most obvious aspect of an online presence is a business website. A website can help you showcase your business and its services online while increasing visibility and reach in a cost-effective way. Indeed, according to an online survey**, 94% of SMB respondents said that a website makes it easier for customers to find an SMB's business.
A website also enables you to stay in touch with customers, whether it's through an online portal or information pages like FAQs.
While there are many different parts of the digital ecosystem, the business website is the closest to a necessity and should be the hub of your online presence.
The first step in establishing your website is selecting and registering your domain name (or web address). This should include your company name, if possible, but if not, should include memorable keywords which reflect your brand. Equally important is the domain extension. .com is the standout option here, as it offers both local and international recognition, visibility and credibility for your company online.
Once you set up your website, it's important to ensure that content is constantly refreshed and updated, so that customers are always engaged.
Engage through social media
Another important aspect of the digital ecosystem is social media, something which is fast becoming a priority for blossoming SMBs.
Social media is a great tool to reach a wider audience online, with different social media platforms geared towards different audiences. LinkedIn may be best for networking, while Twitter and Facebook both reach consumers, provided you don't get lost in the noise. Facebook, after all, is one of the largest social network in the world.
Social media platforms are free to set up and typically take very little time to launch. Seeing as they offer consumers a variety of new ways to engage with your business, whether it's tweeting, posting or messaging, social media is a valuable tool in gaining popularity with new and prospective customers.
Social media also complements your website: by linking your social media platforms to your website, you can drive more traffic to your website, which acts as the central hub of your online presence. By linking the two, you're making two different parts of the digital ecosystem work for you at the same time.
Professional branded email
A professional branded email address makes your company appear just that; professional. If you were using a generic email account, prospects may be less likely to take your company seriously than if it had its own branded email address.
If you do opt for a professional branded email address, you should be sure that it's linked with your domain name, ensuring that your company's brand is further established online. By appearing professional, you may also inspire trust in potential customers.
The digital ecosystem
While there are other parts of the digital ecosystem, from online business directories to blogs, the above components are an excellent way to get your business started online. Indeed, used correctly, and with a .com website as the hub, these seemingly disparate parts can work like a well-oiled machine, and help your company make an impression online.
To get your business' online presence off to the best possible start, you need to get the right domain name. Check out Verisign's suggestion tool to get the best available domain name for your business.
This article is part of Enterprise Nation's Grow and Grow Online campaign, helping you build a better business on the web. Access content, offers and events here.
Related content: What are you going to call it? A guide to choosing a domain name
*Internet access, households and individuals: 2016, Office for National Statistics
**Verisign conducted an online survey in the UK in June 2016 with a sample size of more than 400 respondents who identified themselves as decision makers for companies with 25 or less employees
Enterprise Nation has helped thousands of people start and grow their businesses. Led by founder, Emma Jones CBE, Enterprise Nation connects you to the resources and expertise to help you succeed.