MEMBER STORIES
The family business making learning fun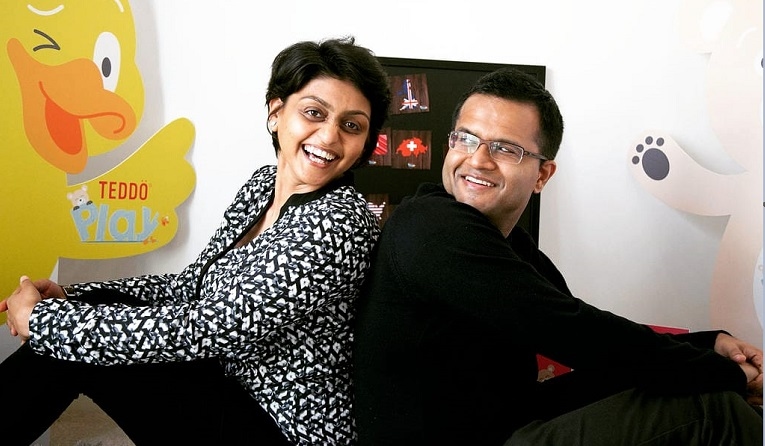 ---
Posted: Wed 17th Mar 2021
Keisha and Amit Shah are the husband-and-wife team behind Teddo Play, which provides play-based educational learning cards for children.
Keisha shares the story behind the brand and how the Amazon Small Business Accelerator e-learning programme has boosted her entrepreneurial skills.
The free Amazon Small Business Accelerator e-learning programme is advice from more than 30 business experts in 218 bitesize videos.   
 
If you're already an Enterprise Nation member, log-in to your learning dashboard to access the e-learning. If you're not an Enterprise Nation member, you can join the Amazon Small Business Accelerator for free here.
How did you come up with your business idea?
I am very passionate about all things learning and knowledge and have been providing education and language training to children and adults since I was 18. I have always been a huge advocate of giving accurate knowledge and information to children. When we show strange cartoon images to children, adults might find it cute but for children, they think that's the reality. You don't want your child to think that it's ok to go and give a cuddle to a rhino or a lion. Children are like sponges.
By the time they turn five, research shows that 90% of a child's brain has developed! We ought to make the most of the early years and give them the best possible experiences rich in play and learning and help lay a robust foundation for their future.
When I began to design our learning resources, I wanted to make sure that they contained real-life imagery, accurate and interesting information and are super fun and engaging for children. I also wanted to ensure that they have a much deeper learning and conversational element. My resources are full of prompts to encourage conversation and have varied themes to help increase children's attention spans. Being multi-purpose and open-ended, parents can use them to involve siblings and friends of different ages to all play together, all whilst the kids add to their knowledge.
What start-up challenges have you faced and how have you overcome them?
With no background in running a business, it has been a steep learning curve. From endless hours of research and learning along the way, it takes a lot more time to establish yourself and then to scale. I have never shied away from putting in the work and despite all the hardships from being a first-time parent to starting a business alongside raising a toddler, the appreciation and positive feedback that I have received from teachers, childcare providers, home educators, parents and families has all really helped me to keep going. It has given me the confidence that I am moving in the right direction and my educational products are indeed making a significant contribution to children's intellectual growth and development.
Burnout is almost inevitable in an entrepreneur's life. You need to find your coping mechanisms. For me it's surrounding myself with like-minded people and most importantly, writing my thoughts down so I can tick things off the list. My brain's always in overdrive thinking about new learning themes I can develop to cater to different subject needs, what new marketing ideas I can implement, finding content for social media, newsletters, creating artwork, emails, admin, customer service, keeping on top of communication with existing and potential customers, reaching out to new retailers, educational institutions, filing taxes and returns; the list is endless.
Celebrating both small and big successes is not only important but really vital to keep your sanity and motivation levels up!
How has the Amazon Small Business Accelerator e-learning programme helped?
I've been really keen to set up our store on Amazon and I've had a Seller Central account for over a year. However, the constraint of time and the overwhelm of information on the web has made me put it on the back burner.
Thanks to the Amazon Small Business Accelerator though, I have started going through the various modules and they are exceptional! They are perfectly bite-sized videos with easy-to-follow information. I particularly like how it takes you through a complete learning journey starting from the very basics of registering with Amazon to making the most of your listing. All the various promotional methods are simply explained which gives you the confidence that it is possible to stand out on such a competitive platform.
I also enjoyed some of the other videos.
We've been looking to fundraise in order to supply our educational resources to schools, nurseries, childcare settings and educational institutions across the country. The module on raising start-up funds was really useful in understanding the various methods out there, the risks involved and the amount of preparation necessary to make it a success.
I loved the tipS from Enterprise Nation founder Emma Jones around finding the right balance for your business. Splitting our week into manageable tasks and allocating specific days/hours for business development, business operations and business admin has really helped reduce overwhelm. The number of hours in the day are still the same but we're able to accomplish more with better focus.
What are your top tips for business success?
Self-care and being in the present! I have always been such a hard-worker and although I'm happy with my success and achievements, I wish I had lightened up a little bit at the start and enjoyed some nights out with friends or simply just had some chilled time. I am always juggling a million things and it's just become my nature to continually make sure that my plate is not only full but overflowing. This does get overwhelming and a bit of self-care and downtime is frequently required.
My second tip is love what you're doing and don't give up. Running a business is no mean feat. There are lots of ups and downs, twists and turns and an incredible amount of learning to do. It's even more challenging when you're balancing work life and bringing up a family. Having led a full-on corporate life for over 12 years, running a business was very new to me but I am very passionate about it all. I enjoy the adrenaline it gives me when I see our educational products making a significant difference in children's development and all the contributions we can make to our charity partner, Room to Read, for their mission to create a world free of illiteracy and gender inequality.
Being a mum to a pre-schooler alongside starting and running a business and standing true to our commitment to remain fully made in the UK; if I say life is hectic, that'd be a massive understatement! It's not healthy, sustainable or enjoyable to put your energy into anything and everything. Find out what's working for your business and don't compare as everyone's on their own unique journey.
Make lists, set time slots for dedicated activities and find the balance between the fun and the not-so-fun business tasks. Celebrate big and small wins and try and end your day with some relaxing music or a hobby. Life moves at a fast pace so take the time to be in the moment to appreciate the things and people you love and look after your health.
The free Amazon Small Business Accelerator e-learning programme is advice from more than 30 business experts in 218 bitesize videos.   
 
If you're already an Enterprise Nation member, log-in to your learning dashboard to access the e-learning. If you're not an Enterprise Nation member, you can join the Amazon Small Business Accelerator for free here.
Welcome to Teddo Play! We are an award-winning family-run British brand creating high-quality play-based educational learning products for children. As recently seen on TV on BBC News & in national press such as Daily Mail, City A.M. and recognised as the 'Best in Children's Development Products 2020/2021' by the England Prestige Awards, all our learning sets are highly engaging & interactive making them a loved resource across children and adults. At Teddö Play, you'll find many varieties of highly versatile sturdy visual learning cards sets & other educational products which include detailed high-definition real-life imagery/realistic illustrations in natural surroundings accompanied by easily absorbable pieces of information that help encourage conversations and make grasping and retaining of information easier in children. Each set is carefully thought-out & focuses on a specific Learning Theme. We have designed them such that they help promote knowledge and deeper understanding of various concepts and subjects to help boost children's IQ levels, build a robust visual memory & instil a natural enthusiasm for a life-long love of learning in them. UKCA & CE Tested, our educational resources are suitable for babies, toddlers, pre-schoolers, school-going, young people, there's something to suit children across all ages, needs and abilities. From concept to design, manufacturing, packaging, labelling, we're entirely & proudly made in the UK. With our Learning Sets & Educational Products, we hope to make learning fun and as screen-free as possible.