MEMBER STORIES
Member of the Month: Katie Prescott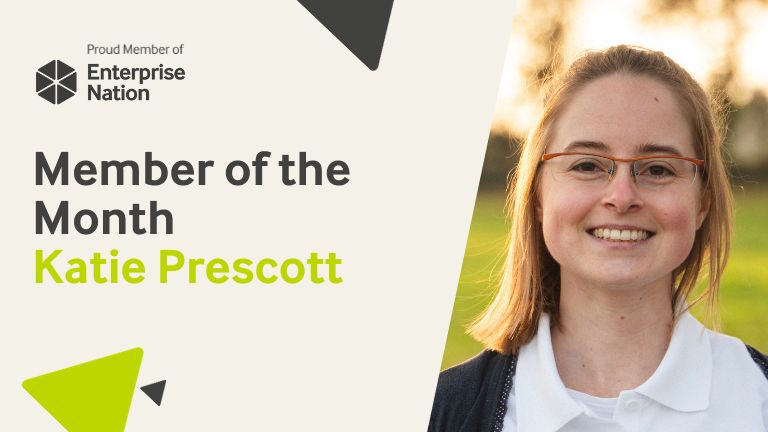 ---
Posted: Thu 28th Sep 2023
Congratulations to our Member of the Month for September, Katie Prescott, founder of Abridge Academy.
Katie started Abridge Academy in 2018 as a social enterprise running educational and cultural exchange programmes in Asia for students, young people and teachers.
After a successful summer camp launch to China in 2019, she officially registered the business in January 2020 and a few months later the world shut down with coronavirus.   
The pandemic forced Katie to switch her business model to online training, a pivot which proved successful as Abridge Academy never went back to organising in-person programmes again. To learn new business skills, the entrepreneur also signed up for free e-learning as part of the Amazon Small Business Accelerator.
Katie says:
"We had one great summer before COVID made us switch from in-person education programmes to online. It was the absolute worst time to be launching an educational travel business.

"It was challenging but we haven't looked back and are now helping over 30,000 teachers worldwide."
Katie, how did you come up with the idea for your business?
I joined a summer camp programme in China in the summer of 2017 with a group of students from my university. I had an amazing experience but found that there were aspects of the pre-departure organisation, logistics and communication that were disorganised and could be easily improved.
The following year, the school contacted me to ask if I could assist with finding more participants for the next summer, as it had lost its contact at the Chinese Society and was looking for a more stable, long-term partner in the UK.
I saw the potential to set up a company to support the school in promoting and organising its programmes while also offering an amazing experience to students from universities around the world.
I trained as a teacher and I've always been passionate about language learning and cultural exchange, so this perfectly combined my professional and personal interests while supporting a great cause.
Thanks to a start-up grant from my university, I launched Abridge Academy as a social enterprise with a trial programme in the summer of 2018.
How did the pandemic affect your business?
The pandemic was the biggest challenge I've faced to date as we had to cancel all our in-person programmes. However, we worked hard to keep incoming participants informed and up-to-date with the rapidly changing situation, resulting in many people choosing to defer their place rather than accept a refund.
I've always said that every challenge offers a new opportunity, and the lockdown enabled us to launch a new online programme.
There have been several major changes since, but we now have two main strands of products. One is the curriculum which is digital teaching materials for online teachers that are super interactive and engaging.
And then there's training support for online teachers who are looking to find their own students and launch their own independent teaching businesses. So, the teaching offering has completely changed from when I first started out.
Did you always want to start a business?   
It just happened. Entrepreneurship wasn't a life goal. For me, I was a teacher. I love teaching. I'm passionate about education and giving the best opportunities to students, especially in the public education system.
The education system in the UK has a lot of limitations in terms of how you teach, and I've always had ideas about what I wanted to offer. As mentioned, I kind of fell into it because people asked for it. And then things like the curriculum and the resources for independent teachers that we do now all came about because of changes in the marketplace and people reaching out for these services.
I did take part in some entrepreneurship-type programmes when I was at university and then doing my teacher's training at Cambridge. I was interested in it but it was never my life goal. I stumbled into it, which is why Enterprise Nation was helpful because I never had any formal training on how to start or grow a business.
How has the Amazon Small Business Accelerator e-learning programme benefited your business?
I first heard of Enterprise Nation through the Amazon Small Business Accelerator programme. The broader training that Enterprise Nation provides has so much advice on building your brand, establishing your online presence, using social media, content marketing, SEO for your website. All this that you have to be good at to be able to even launch your business in the first place.
I hadn't even realised that Amazon was more than just a place to buy books and electronics. Amazon Web Services has a whole bunch of tech tools for businesses that most people don't know about. And I only found out through its Accelerator programme. We now use the Amazon email service, which is so much more efficient and affordable than many other providers'.
I've found the e-learning course on building a community and fans truly invaluable. Previously, my business received significant informal support from previous participants due to their passion for our programmes. However, I struggled to know how to best harness that goodwill.
Since completing the e-learning course, I've revamped my approach to gathering testimonials and focused on providing a more structured and ongoing community through Facebook to connect participants in order to maintain contact and offer additional value.
Reflecting on the past few years - HUGE changes as we switched from in-person education programs to online during coronavirus. It was challenging, but we didn't look back and are now helping over 30,000 teachers worldwide. Thank you @e_nation and @AmazonUK for the support! https://t.co/xgwPYNxaAp

— Katie - Abridge Academy (@Abridge_Academy) September 7, 2023
What's next for Abridge Academy?
So many things. For now, our focus is very much on the online education market, and we've completely scrapped the whole summer camp offering. I want to expand our bank of teaching resources.
At the moment, we work with individual teachers but I want to start partnering with more agencies and even schools to offer the materials to groups of teachers.
Also, more structured support for online teachers in terms of establishing and growing their businesses. Currently, it's just marketing but I want to offer a more structured step-by-step programme to help teachers move away from exploitive companies that aren't sometimes even paying the UK minimum wage.
Finally, what are your tips for having success in business?
Be flexible, seek out and grasp new opportunities and don't be afraid to innovate. The business environment is continually changing, and you need to adapt in order to thrive.
During the coronavirus pandemic, it was by seeing the online opportunity, as well as committing the time and energy into exploring this potential that we were able to launch a whole new programme within just one month.
I'd also say that this applies to existing businesses too. Don't wait until it's perfect to launch but listen to your customers and adapt your products to best suit them. Our first summer camp programme was simply a minimum viable product which we used to test the approach, gain valuable feedback and begin building the business.
Over the past few years, that's evolved into a very successful and well-organised system, even if the first run had teething issues! Running a business should not be a static process but one of continual change.
---
The free Amazon Small Business Accelerator e-learning programme is advice from more than 30 business experts in 218 bitesize videos.
If you're already an Enterprise Nation member, log in to your member dashboard to access the e-learning.
If you're not an Enterprise Nation member, you can join the Amazon Small Business Accelerator for free.
I am a teacher, traveller and entrepreneur with a passion for international education, cultural exchange and language learning. Having previously qualified and worked as a teacher, I now run Abridge Academy, a social enterprise with the mission to "bridge East and West through education" - supporting online teachers and "teacherpreneurs" expanding their businesses to the Chinese market.  In particular, Abridge Academy offers teaching materials, courses and coaching to help you launch and grow your online teaching, coaching or education business.