MEMBER STORIES
Meet beauty entrepreneur and Seekology founder Rebecca Saunders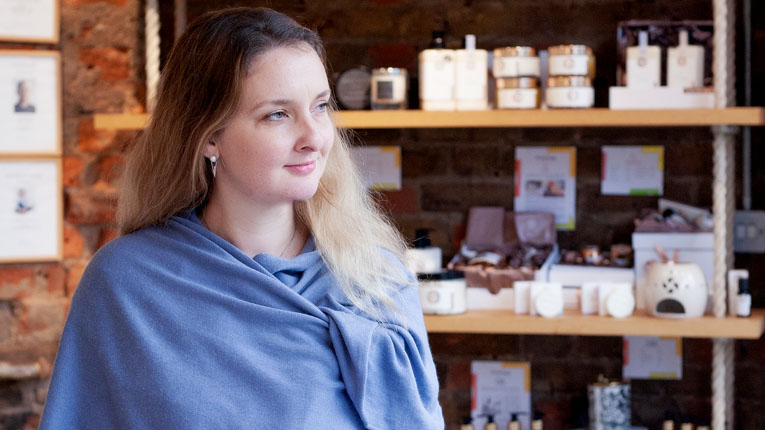 ---
Posted: Fri 1st Jan 2021
Physical retail has never experienced as challenging a year as 2020. But one person who remains optimistic about its future - and rightly so, having heard her argument as to why - is beauty entrepreneur Rebecca Saunders.
Ahead of her session at StartUp 2021, the Seekology founder - and our local leader for Richmond - told us how to build a community around your business, what it takes for small brands to be truly innovative, and why there's real cause for optimism heading into a new year.
Rebecca, I've seen you describe yourself as a 'reformed investment banker'…
That's right. I spent four years in investment banking covering retail and consumer before realising that actually, I was in love with retail as a sector and wanted to work within it.
After studying for an MBA at Columbia University, I worked for J.Crew and Tiffany in New York. I came back to the UK in 2008 and worked for John Lewis, Argos and Not On The High Street, and it was here that I started working with smaller brands.
Is this where you discovered your business idea?
It is. I felt there was a missed opportunity in the beauty category. From working as a buyer at John Lewis, I knew there were really exciting brands springing up with amazing, on-trend products like face masks with hyaluronic acid, vegan nail varnish, and completely natural products for babies.
Beauty was also being linked to wellbeing in a way that hadn't been done before. Supplements and tinctures were becoming more common. There was really great innovation from a product perspective, and a lot of these brands were selling online already.
But you want to smell beauty products, to feel them on your skin. Customers want to talk to somebody before buying. The pure play online model doesn't necessarily work for smaller companies. At the same time, it's very difficult for them to get into the likes of John Lewis. Some of them don't actually want to because the environment's not right.
Which is where Seekology comes in?
That's right. The Seekology store is a place to discover new brands, learn about their products and the ingredients they use, and get impartial advice - which can be difficult in traditional beauty retailers, where a lot of staff are provided by the brands.
We help smaller, innovative brands grow, while giving them an opportunity to tell their stories in a physical environment. Every brand has a storytelling element in the space, so customers can really learn about them.
The plan was originally to do lots of experiential events that bring together brand founders and customers. We held nine events in the first Seekology store, which was open from November to March. When we had to close, I launched the website and, through social media - particularly Instagram - tried to continue telling these brand stories.
We had a second store that opened in September, closed in November, opened again in December, and then obviously had to close again! All we can do at the moment is go with the flow, but I still believe that a great physical retail experience will be the backbone of Seekology.
Is it a case of curating the independent brands you work with?
Absolutely. Having been a beauty buyer, that curation piece is very important to me. Beauty can be quite intimidating, and at times confusing, for customers. If you're seeking out new brands and products, a curated experience - alongside impartial advice - is very helpful.
I personally vet all the brands we bring on, so I'm really confident that they not only have great products, but that they're commercially viable and appealing to consumers.
We often deliver sales for these brands very quickly. Getting into a chain or department store can take months, but we've launched some brands five days after meeting them. Quite often they make sales on their first day.
We're lucky in that we've been featured in Forbes and Stylist on the consumer side, and all the major retail and beauty magazines on the trade side. I was even called a local hero by Retail Week. Being able to deliver this positioning for brands is really helpful to them in the long run.
Give me a couple of examples of independent beauty brands with great stories…
Many come from the founders' own skincare needs. A really lovely example is No Secrets Beauty. Their founder has very sensitive skin; she was reacting to everything and couldn't use mainstream products.
When she started looking for natural products, they were not particularly luxurious, so she created luxurious products with luxurious packaging. They're very on trend - she uses rose gold, glass and the maximum safe quantity of essential oils, so they smell amazing.
Another example is LBB, or Life is Beautiful in Balance. The founder was also an investment banker. She was traveling all over the world, never getting enough sleep, and living in air-conditioned hotel rooms. Her skin suffered. So, she created a range of simple skincare products designed for people who are traveling, but also for busy women who need a really simple regime.
What are the biggest beauty industry trends right now?
Definitely continued trends around natural and organic - particularly with demographics looking to switch to things that are natural and effective. Not necessarily 100% natural, but more natural than what they're typically used to.
Whereas before there might have been brands that were natural but not that effective, we're now seeing brands with products that tick both boxes. An example is Elan, which was developed by a lady with a science background. She developed her products with a scientist's hat on, but they're predominantly natural.
A big thing with Elan is that its packaging is very premium. It doesn't feel like it's made of hemp. It's affordable luxury - it's made of glass and it's very nicely designed. It would make a great gift. We're undoubtedly going to see a rise in these premium natural brands.
We're also seeing more people looking to support their skin through these strange times, particularly when we're all wearing face masks. It's definitely impacting me personally. We've started selling silk face masks, which have been very popular. People are also buying masks to put on their faces in the evening to soothe skin that's been challenged.
Further, there's a huge crossover between beauty and wellbeing. Face masks are probably good examples, but things like supplements that help you sleep, or help with your complexion, are becoming prominent. We'll probably see a lot more of these over the next year or so.
How did you find being an Enterprise Nation local leader in 2020?
It's been really valuable, particularly at the end of the first lockdown when everybody had been cooped up inside for so long - and particularly for me, because retail is so community-based. I'm trying to build a community with Seekology, so having a structure to meet local people, and specifically other local business leaders, has been hugely helpful.
I love seeing people help each other and agree to take things offline, because that's the closest we're going to get in this virtual world to the in-person networking we had before.
I always come away feeling positive and energised. It's great to have this network of local people being built up, because when we can meet in person again we'll have this bigger group of people who know each other.
Enterprise Nation has helped thousands of people start and grow their businesses. Led by founder, Emma Jones CBE, Enterprise Nation connects you to the resources and expertise to help you succeed.