BUSINESS NEWS
Introducing the new HeadsUp! project: Free training worth £1,000 to boost small business performance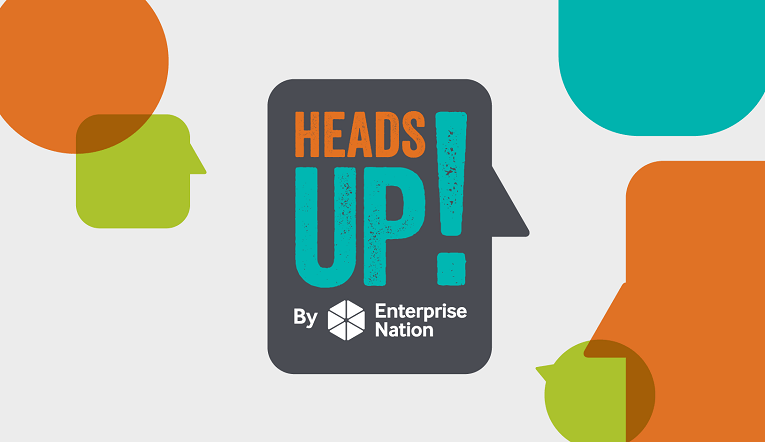 ---
Posted: Sun 17th Feb 2019
Enterprise Nation founder Emma Jones outlines the HeadsUp! project and explains how your small business can benefit.
Background
We are delighted to have been awarded funding from the government as part of nationwide efforts to drive up small business productivity and performance.
We are looking to work with businesses in Birmingham, London, Oxford and Lancashire with the the ultimate aim of creating a perfect productivity model that all small businesses can adopt to make more sales, work more efficiently, and achieve both with a happier workforce.
We'd love for you to get involved so we can build such a model and share with thousands more businesses beyond the project.
Essence of the funding bid
It was the work of Sir Charlie Mayfield and the government-commissioned productivity review that concluded productivity gains could be made if small business owners succeeded in slightly improving their skills as managers and leaders.
In short, the findings were that if every small business could operate just a little bit better, this would deliver significant productivity gains and benefit to the economy as a whole.
As a small business owner myself, I agree with this, but struggled with the idea that to become star managers and leaders, founders should take extended periods of time out of the business to attend high end educational courses developed by management consultants.
Instead, we simply want small business owners to raise their heads and take a moment to work 'on' the business, not 'in' it. That's what HeadsUp! is all about and explains the background to the name. We want you to pause for a while, lift your head, and consider how the performance of your business could be improved, with the help of experts.
What will the project deliver
We are looking to recruit a cohort of 600 small businesses in Birmingham, London, Oxford and Lancashire who will attend sessions focused on adopting and benefiting from digital technologies in the following key areas:
Accounting and finance

Sales and marketing

Collaboration

Time management
The sessions will be delivered by experienced and accredited trainers. The training is worth £1,000 but it will be delivered at no cost to the business owner.
Each participant will also receive a free month trial of Enterprise Nation membership plus special offers for digital tools from HeadsUp! technology partners including Microsoft, Xero, CharlieHR, Soldo, Basekit and Equipsme.
If you are a small business operating in Birmingham, London, Oxford or Lancashire, sign up to benefit from free support or if you're interested in supporting small firms, consider being a digital coach. Register your interest here.
Following a degree in Law and Japanese, Emma joined international accounting firm Arthur Andersen, where she worked in London, Leeds and Manchester offices and set up the firm's Inward Investment practice that attracted overseas companies to locate in the UK. In 2000, bitten by the dot.com bug, Emma left the firm to start her first business, Techlocate. After 15 months, the company was successfully sold to Tenon plc. The experience of starting, growing and selling a business from a home base gave Emma the idea for Enterprise Nation which was launched in 2006 as the home business website. The company has since expanded to become a small business membership community of over 75,000 people who benefit from events and support: online and in person. Enterprise Nation also presents a campaigning voice to government and the media on behalf of its members. In 2021, Emma was awarded a CBE for services to small businesses and entrepreneurs.