BLOG
How to unlock the power of corporate design for your brand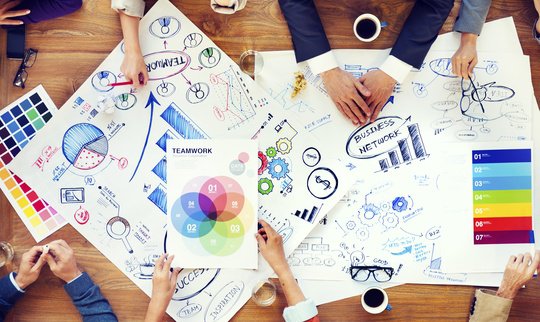 ---
Posted: Wed 8th Jun 2016
Corporate design is vital when communicating your brand to your potential audience. Laura McLeod, senior digital marketing manager at 99designs, summarises how design can be used to reflect your core business values effectively through your company identity.
In corporate design, the brand identity shows the core value of a company. No matter how good the product or how sophisticated the service, without professional branding, your value proposition can be weakened. The visual appearance of a logo demonstrates professionalism and trust. Consumers will more likely engage with someone they believe to be trustworthy and with whom they want to do business, so corporate identity really is the key to unlocking your audience's attention.
Show your colours
Strategic communications activities will draw attention to your brand, put it in a favourable light and thus help you acquire new customers. Corporate identity runs throughout communication like a beacon: a visual aspect which knits all the threads together. As part of the overall marketing strategy, a strong logo is your brand's calling card. This affects the public perception of a company, and therefore has the potential to influence with its style and design.
Creative continuity and stylish branding enhance the image and leave a lasting impression on your audience. The range of graphic design techniques which may contribute here are varied: Colours, typography, images, symbols and illustrations can all be used to form emotional bonds with customers and build trust in your brand. These are considered the two most important ingredients for success.
Tell a story
Making the right decision on your corporate identity is less about creativity and more about self awareness. The branding should reflect the integrity of its company and the position it seeks to occupy in the marketplace. No story is like any other; this also applies to corporate identity, it is wise to highlight benefits of working with you and to celebrate your uniqueness.
Think back to the time you decided to start your own business. What journey had you envisaged? What were the requirements of your target audience which you had sought to satisfy? What would characterise your mission statement? Which core values and ideals does your company stand for; ambitious and hard-working or passionate and creative? Where do you stand on the scale between classic and modern, between pioneering and traditional, between sophisticated and groundbreaking? These are all attributes which need to be considered and these attributes may be reflected in the shapes, colours and imagery of the brand's identity. By personalising your brand, it becomes the figurehead of itself: a strong statement to make.
Identify what your audience wants
Corporate communications are not one-sided. As well as its own character, it is important to consider what your clients want you to be, this can be reflected in your company's self-branding. Once you have identified your target demographic, consider their motivations, what they are looking to achieve (by working with your company) is every bit as important as what you are hoping for. Consider what other brands will inspire them too, this can inform your customer profile and will help draw an accurate depiction of your target group.
Find gaps
When considering what will make an authentic and strong brand identity, it is important also to consider your competition's strategy. Scrutinise this as it can influence that extra 1% which makes all the difference. Even when business models seem almost identical, a company's visual presence gives the opportunity to differentiate from the competition, thus enhancing the inherent value of your own brand. How do the others look? Where do you want to position yourself amongst the competition? By taking an opportunity to express your individuality you can trump your rivals. Discern what competitors' logos have in common and what differences there are. Are there any gaps you can fill? Your customers' eyes are more used to the global marketplace than ever before and strong corporate identity will help you to outmanoeuvre the competition. After all, surely you want to expand and grow as a company?
Design trends may also provide helpful inspiration. Fresh and modern work from yesteryear may appear dated today but don't jump on every bandwagon. Weigh up the pros and cons and decide whether it will suit your brand's outlook.
Create a cohesive whole
Corporate identity needs consistency. A uniform public image is one of the prerequisites towards running a successful business: one with acumen and credibility which will anchor itself in the consciousness of your clients. The first step is creating a meaningful, authentic logo for headed paper, business cards and your website. The brand identity should be the same throughout your outreach strategy, all of it should pursue the same overall ambitions and convey the same message. A stable, strong image adds longevity to your business.
Depending on the industry and marketing strategy, various styles of corporate imagery may be appropriate. According to the medium, each channel of communication has its own benefits and restrictions. Think carefully about whether your main identity will be online or in the real world and make sure that your logo is versatile enough for all its requirements. The core components of modern business include your logo, your website, social media profiles, company stationery, powerpoint presentations and premises design. Over time, the mix can be added to.
Once the corporate image has been decided, industry-specific elements can be expanded upon to suit. Investing in design at the outset gives a strong platform on which to build and enhance your distinctive company profile.
To help you unlock the potential of your corporate design, online graphic design marketplace 99designs is offering a £30 discount against any contest, plus a free Power Pack upgrade. Simply go here to redeem.
Enterprise Nation has helped thousands of people start and grow their businesses. Led by founder, Emma Jones CBE, Enterprise Nation connects you to the resources and expertise to help you succeed.