BLOG
How to plan your website for success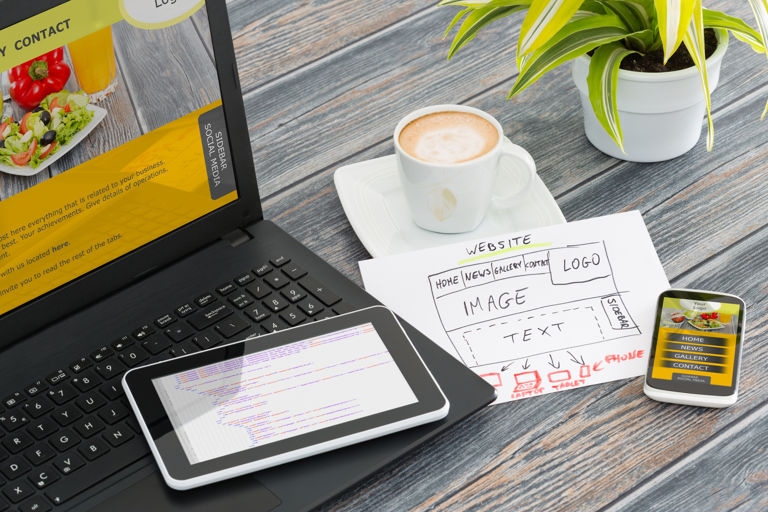 ---
Posted: Wed 7th Dec 2016
Failing to plan is planning to fail, as Alex Lakein once said. That is especially true when it comes to your website. Nick Leech from 123 Reg shows you how planning your website will ensure you end up with an essential tool for your business.
If you're launching a business website, having a plan is crucial. Without one, you're likely to spend much longer building your site, and even then there's no guarantee that you'll end up with something that's actually useful.
Planning ahead will help ensure that you end up with a site that looks good and does what it's supposed to.
Even if you're going to be relying on someone else to build your site, it's still worth taking the time to understand what you want from your site. That way, you and your web designer will be working towards the same goal.
So how do you go about planning a website?
Decide on the overall aim of your site
The first thing you need to think about when planning your site is what its overall aim will be.
This should be fairly obvious but if you're launching a site to sell products, then your site's overall aim will be to get people to buy.
If you're looking to generate leads, then the aim of your site will be to get people to input their details.
Although this overall aim may seem obvious, it's vital that you keep it at the front of your mind when planning your site.
Every page on your site should help guide people towards that overall aim.
Research the competition
Before you start thinking about what your website needs, it's a good idea to take a look at how successful websites in your sector are laid out.
While you're doing this, think about the following things:
How many pages does the site have?

What are the functions of these pages?

Are any pages more striking than others?

Is the site easy to navigate, or do you find it confusing?

Do you like the way the site looks?
Once you've examined enough sites in the same niche, you'll probably start to notice they have numerous similarities. For example, ecommerce sites will always try and steer people towards product pages.
Make a note of these patterns, and also of any sites that you particularly like. These will form the building blocks of your plan.
What will your website need to do?
At this stage, you should spend a bit of time noting down the key features you think your website will need.
Draw up two lists. One of must-haves and another of things that would be nice to have, but aren't crucial for your site's success.
The list of must-haves should feature things that are integral to your site's success. So if you're running a consultancy business, you'll want a way for potential clients to provide you with their details.
These lists will not only help you decide what pages you need on your site, but they'll also assist you when it comes to making technical decisions about your site's functions.
Start planning your site's pages
Now it's time to start putting some thought into what your website will actually look like and how its pages will be organised.
We can't go in depth on every possible page type and site layout here, so we'll cover the core pages that most sites are going to need.
Homepage
Your homepage is crucial. In general it'll be the first point of call for anyone seeking more information about your company. But resist the urge to use your homepage as an "about us" page. A good homepage will include the following where appropriate.
Information about a company's work

Product details

A lead generation form (or a link to one)

A link to the company's about us page

A link to a blog (if there is one)

A link or links to product pages

Testimonials

A search box
That's a lot to fit on one page. The key to a good homepage is getting your priorities right.
Think about the overall purpose of your website and which homepage feature is most likely to guide people towards your goal. Then make sure that feature really stands out on your homepage.
About us page
The about us page is there to provide potential customers with more information about what you do, and to help reassure them you're on the level.
As the name suggestions, the focus here should be on the company and the people behind it.
It pays to include as much detail as you can. So talk about the history of the company, and include bios and pictures of the people who work for it.
You should also include contact details and a real world address which helps assure people that you are who say you are.
Product pages
If you're selling a physical product, then these pages are absolutely crucial. Your focus should be on including high-quality images of everything you sell, along with all the information a potential customer needs to make a purchasing decision.
All good ecommerce solutions will help you build product pages that contain this data. But they can't take photos or write product descriptions for you.
You'll also need to make decisions about how you plan to organise your product pages and how many products you'll display on each page. The aim is to make it easy for people to navigate your site in a logical manner.
Lead generation pages
If you're offering a service rather than a product, then you'll need lead generation pages. The aim of a lead generation page is to convince someone to provide you with their details so you can move to the next stage of your sales process - that could be offering a quote, or simply ringing up to discuss a person's needs in depth.
For businesses that offer more than one service, it's a good idea to have a page for each service and to make sure that each of these pages has a way to capture people's information.
A simple contact form is usually enough to get those vital details.
Plan out site navigation
If you're aiming to launch a large site, then this is probably going to be the biggest challenge you'll face during the planning stage.
On the other hand, if you're only launching a small brochure site, then navigation should be easy to plan.
There are two key concepts behind good site navigation.
The first is that people should be able to navigate to your most important pages from any page on your site.
The second is that every page on your site should be linked to by at least one other page.
In practice, this means that you'll need to decide on your most important pages and then ensure there are links to them in a header that appear on every page of your site.
You'll also need to draw up a comprehensive site plan that details how your pages will be linked together. What you end up with will look something like a flowchart.
From this plan, you should be able to see a clear and logical journey that your potential customers will be able to follow. Try and think of different situations involving potential customers and then use your plan to work out how easy it will be for them to find what they're looking for.
For example, if someone lands on your homepage and wants to learn more about the business accounting service your company offers, how many clicks will it take them to end up on that page? Ideally, it should be one. Perhaps two at most. If it's more than that, you may need to re-plan your site.
Putting your plan into practice
By now you should have a strong idea of what you want your website to look like. Whether you're building your own site, or having someone else do it for you, it's crucial that you implement your plan as thoroughly as possible.
Although you may find you have to make changes, or compromises along the way, you must ensure that these don't change the site's ability to achieve its overall aim.
Whether you're just starting out or you've been online for years, 123 Reg's free online courses will help you create your website, engage with your customers, and increase your visitors. Find out more here.
This article is part of Enterprise Nation's Grow and Grow Online campaign, helping you build a better business on the web. Access content, offers and events here.
Enterprise Nation has helped thousands of people start and grow their businesses. Led by founder, Emma Jones CBE, Enterprise Nation connects you to the resources and expertise to help you succeed.