BLOG
How to pitch products to retailers: Insider tips from a Selfridges buyer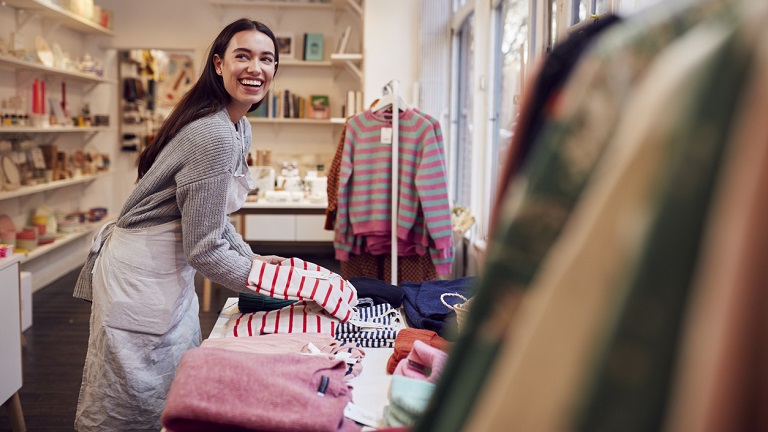 ---
Posted: Tue 1st Aug 2023
For many start-ups, getting a product stocked in a high-street store is the ultimate endorsement. It doesn't just help to boost sales and brand awareness – showing that you've filled shelf space with your product gives you clout when pitching your business to investors and other buyers.
If you make your own products, you'll know how important it is to find outlets who will sell them for you, whether online or off. But how can you make sure your pitch to potential stockists is as good as it can be?
Every shop and retail outlet will have different criteria and expectations when looking to stock a small business's products. In this blog, we explain how to pitch your products and present them to retail buyers in the best possible light.
We'll also hear from Adrian Boswell, who's been Selfridges' fresh food buyer for over seven years. After initially starting out as the store's fishmonger, he worked as a merchandiser and buyer's assistant before working his way up through the company. He knows exactly what works for Selfridges' brand and customer base. He explains:
"We're always looking for innovative new products that align with our business branding. We want to see 'something you wouldn't regularly find in supermarkets."
Pitching small business products to retailers: Top tips
Get up to date with the latest industry trends
To make sure shelves stay fresh and exciting, buyers need to stay ahead of the curve. It's important to keep track of trends and make sure you have items in stock when the mass market starts looking for them.
Adrian says:
"The biggest trends at the moment are in sustainability and ethical trading. The sustainability angle has been really popular for a while, whereas ethical trading has been on and off.

"Food has become a lifestyle – the type of food you eat is now similar to the type of clothes you wear and the type of beliefs you have."
Looking ahead, Adrian expects health to remain a dominant trend. In particular, he thinks the current range of protein powders, CBD products, vegan items and "gut stuff" will continue to thrive. However, he emphasises that he's not exclusively looking for products that fit into a trend.
"The beauty of the role is that there's a lot of freedom and creative energy. We can push the boundaries with what we choose."
Find the right buyer and approach
It's important you track down the right buyer for your product. You could simply call a retailer's head office and ask who the relevant buyer is. Alternatively, you can go on LinkedIn and search for the most appropriate contact.
Regardless of how you approach, figuring out what to say can be nerve-racking. Adrian's advice is simple: buyers are people too, so speak to them the way you'd want to be spoken to.
To have the best chance of success with a buyer, you have to work by their schedule. If your product is seasonal, approach a buyer months in advance.
Consider the best timing for your own business, too. Before you approach a buyer, dedicate some time to boosting your profile first. A successful new product launch or social media campaign can stir up some excitement among your customers and create a buzz about your start-up.
Adrian advises:
"Get yourself out there so your name is on the tip of peoples' tongues. Word of mouth is still so important."
Build your proposition
Before putting together your retail pitch, you need to work on your proposition. This means thinking about why the retailer should be interested in what you sell.
Getting a retailer to stock your products will hopefully be a long-term commitment, so take a little time to do some research and understand how they work and what they're looking for.
Consider the following:
What other lines do they carry?

Do they have a strong online presence, or are they a bricks-and-mortar store only? Or do they have both?

Where does your product fit on the shelves? Is it alongside a premium brand, or is it a slightly cheaper product?

How does your product integrate with the retailer's strategy for growing its product ranges in the future?
It's vital that you articulate your unique selling point (USP) clearly and make sure it's different from products sold in store already. With that in mind, it's very important you have detailed knowledge of the products the retailer stocks already.
Check out their social media activity by joining their social channels.
Take good photos of your products
It's really important to include clear photographs of your products, especially if you're pitching to a buyer whose company sells exclusively online. You don't have to get a professional to take your photos, but the images do need to show detail and be in focus!
In this webinar, brand and retail expert Wizz Selvey demonstrates how to deliver the perfect pitch to retail buyers. Wizz has been pitched to thousands of times, so she knows what works.
Use influencers and social media
Retail buyers receive hundreds of pitches, so one way to stand out is to use influencers on social media to endorse your products.
In times gone by, the ways to get a retailer's attention were quite limited – graduate fashion weeks, or getting in touch through the post. Those are still viable, but the field is so much wider now and you'll have plenty of competition.
So it's important for emerging brands to not only look to retailers directly but also contact a broader range of influencers. Make use of social media to convey your brand story and your true personality, as well as your pricing and how you make the product.
It's rare for buyers to pick up a brand from a look book sent through the post; it's more likely from seeing you at a show, getting a recommendation, or reading about you in the media.
If you can get a wider mass of support around you, you're much more likely to see success. If you've have had press coverage or influencers wearing your products, that's definitely worth mentioning.
Many buyers will look at a brand's Instagram account as a standard course of action, and will be particularly interested in any endorsements.
Be upfront with your pricing
Make sure you've set the correct prices, then include them in your pitch. Be aware that pricing a product either too cheaply or too expensively can be off-putting to a retail buyer.
If you sell your work through other outlets, make sure your prices match. Stockists and customers need to have consistency – if you're having to increase your retail prices by 20%, you may need to rethink your pricing.
Set your selling terms
Before you contact potential stockists, you need to decide whether you want to sell your items on a wholesale or a sale-or-return basis.
For wholesale, stockists will typically want to pay no more than 50% of the retail price. For consignment, there is generally a 60/40 split (in your favour).
Prepare your pitch deck
A pitch deck is a presentation (often a collection of slides) that gives buyers an overview of your business, what it does and how you expect it to develop.
Think of it as more of a sales document than a business plan. It's all about showing off your business to its fullest potential.
Put any information that you can get hold of in your pitch deck, such as:
how many customers have tried your product

what they've told you

how many social media followers you have
If you need some help with putting your presentation together, read our guide on how to create a killer pitch deck.
Now pitch!
When that all-important pitch meeting arrives, it's vital that you talk about your product and, if you're approaching Selfridges, presenting a product that's truly premium.
Adrian tends to seek business owners who have a good personality and with whom he could strike up a working relationship. But, above all, he looks for some background: "I want to see a story. We love a great story."
Be careful to tell the retailer what they need to know succinctly and convincingly. Retailers always like to see passion from small brands, but you also need to bring the reasons to believe and provide data to back up everything you say.
In Adrian's experience, many small businesses get nervous and try to push their product too hard. A claim that a product is "the best thing ever" is likely to be an immediate turn-off. But Adrian admits that each buyer is different, saying:
"I always think, let's just have a discussion. But that's me – other buyers might want a six-page presentation or pitch deck. So much of it comes down to personality, but there's no real way of knowing what will work for each buyer. It's scary, but you just have to put yourself out there."
Be persistent when it comes to following up but be respectful too. Buyers are very busy people and often part of small teams. So expecting an immediate reply to an email is perhaps unrealistic.
If your business has been fortunate enough to win awards or secure press coverage, you might want to include that information in emails, to nudge the buyer's response.
Getting ready for the launch
If your pitch is successful, well done, you've secured a listing!
A lot of brands think this is where the process finishes but it's actually where the hard work begins. In many major retailers, there are a number of teams that work together to make a launch happen. It's not just the buyer – there's also the supply chain team, invoice and finance team, and others.
Making mistakes in any of the admin documents you're asked to fill in will delay the process and cause frustration on both sides. Know what a good supplier looks like and be sure not to make avoidable errors.
After the launch
Understand that you'll be one of hundreds of products your buyer is handling. It's likely you won't be the highest-selling product in the first few months, so do the data-crunching.
Get as much information from your buyer as you can about how your product is performing. Find the key insights and show the retailer what in the data proves that your products should stay on the shelves. Help the retailer to help you sell by suggesting ways to optimise sales and profit.
How to pitch to a food, health or wellness buyer
Adrian explains:
"We don't want a generic experience, something we've seen thousands of times. We're looking for things that are on-trend, but also things that could be the next trend.

"It doesn't have to be ground-breaking: it could be a twist, a unique flavour or something from a different continent. We don't just want another kombucha, for example. It has to stand out."
While the product you're pitching has to be good, buyers like Adrian will also be assessing you, as the person behind the business. He appreciates honesty and likes to see a connection between the founder and what they sell.
As for a checklist of specifics you should include? Adrian believes founders should pitch the information they think is important. He says:
"A business should come with the information they think I need to know. It's your product, it's your business, it's your passion. Ultimately, you have to make these decisions.

"Do what feels right and not what everyone is expecting you to do. The food industry is a creative industry, so think outside the box. There are no rules.

"Be strong what about what you're doing and why you're doing it. Don't let anyone distract you from what feels right about your business and your product."
10 quick tips for successfully pitching your products
Knowledge and passion: Make sure you know your product and customers inside out and excite the buyer so they feel the same.

Differentiation: Understand your product's unique selling point, what sets it apart from others, and why customers would want it.

Know who you're pitching to: If the buyer's company has physical premises, visit them before you pitch to demonstrate your understanding of the existing range, price structure, retail space, customer base, and how your product can add a different and credible dimension.

Competitor landscape: Understand your competition and be prepared to talk about what gives your product a competitive advantage over long-established existing products.

Think commercially: Try to make sure your product is commercially viable by researching costs and volume potential or sharing sales successes to date.

Bring it to life: Prepare mock-up (ideally a full prototype) props and visuals. They don't have to cost very much but can make all the difference to us sharing your vision.

Marketing know-how: How will your product or brand have a voice? Understand the marketing levers available to support sales and have a clear plan to drive awareness.

Be creative! Products conceived because you've needed to find a solution for something the market can't satisfy are very often winners. Share the journey you've travelled.

Be confident: Don't be too scared to ask for feedback, help or advice.

Preparation, preparation, preparation! Practise your pitch, believe in your product and deliver it with confidence.
Relevant resources
Enterprise Nation has helped thousands of people start and grow their businesses. Led by founder, Emma Jones CBE, Enterprise Nation connects you to the resources and expertise to help you succeed.