ESSENTIALS
How to create a sales strategy for your small business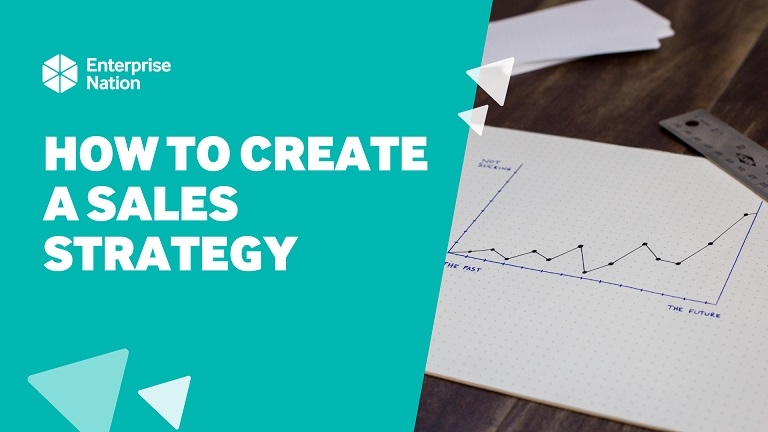 ---
Posted: Tue 19th Apr 2022
Sales strategies explain how customers move through your sales cycle, from awareness to consideration to making a decision. It systemises your approach so that you can be more effective and increase your revenue.
Creating a repeatable pattern of sales is essential if your business is going to grow and thrive. It's common for small businesses to rely on the owners' network to make sales or get trapped in a cycle of selling when it's quiet and putting all their energy into delivery when work comes in.
This guide will help you understand the different elements of the sales process and develop your own strategy. It's an exercise that's important whether you've just started trading or are looking to grow to reach the next milestone.
Buyer personas
Sales strategies start with your customers. Understanding who they are, how they find information and what they want is a crucial first step.
Customer personas provide a useful way of defining the characteristics of the people you're targeting. They include information like age, gender and location, average spend and key challenges.
For example, a bike shop might have three customer personas:
Parents buying a three-to-eight-year-old their first bike

Local office workers who want repairs or upgrades completed while they work

Bike riding enthusiasts who shop at weekends
The marketing, product set and sales process will be different for each of those groups.
Creating personas helps solidify what you know about your customers. Writing everything down tests your assumptions about sales and marketing, highlighting opportunities for improvement.
Try writing three to six personas that explain the features of your main groups of customers (you can fit everything you need into a single slide) and keep working on them as your sales strategy develops.
Get your value proposition right
People are time-poor and bombarded with options, so your product or service needs to have a strong unique selling proposition (USP); why should people get excited about what you're selling?
USPs often include elements of cost, time or quality.
In effect, you're making a promise to your customers: buy our product or service because it'll do X. For example, our bike shop might boast 'Bike repairs ready before you finish work.'
It's important that you don't try to appeal to everyone. If your target is too broad you generally have to water down your USP to the lowest common denominator and that might leave it too weak to convince people to buy.
It also helps if customers have a problem, are aware of the problem and have the means and desire to pay someone to fix it. If they aren't aware of the problem, you're going to spend lots of time educating potential customers. If they don't have the means and desire to fix something, it's unlikely they're going to buy your product.
Audit your sales process
Once you've got more clarity on your value proposition and customers, it's time to look at your current sales process. Talk to your team and start writing down details in the following three sections.
1. Marketing: How do people find out about your business?
People find your business through marketing channels. This includes everything from your shop window and referrals to social media and partnerships.
Create short summaries of how your key marketing channels impact the business. Think about the cost and time investment they require and what you get from them. Some might provide leads (more on that in a moment), others could add kudos or build trust.
Marketing needs to support your sales process. It sounds obvious, but it's easy to fall into the trap of maintaining a promotional channel because other businesses have one or you heard an inspirational talk that recommended it.
Understanding the time and money invested and what you get for it allows you to prioritise.
2. Leads: When do customers engage with your business?
Marketing activity helps generate awareness. That needs to be converted into conversations, so you or your sales team can convince people to buy something. That intent and the customers' contact details are sometimes called a 'lead' or a 'prospect'.
Knowing how many leads are being generated and where they come from is important to your sales strategy. Marketing metrics can be deceptive. It's great to have a big reach, but the activity needs to convert.
3. Conversion: How well do you turn conversations into sales?
What happens when you get that information? How good are you at turning conversations into sales?
You're probably already noticing that the three things in the auditing section of this guide relate to a sales funnel or pipeline. We'll get into more detail on that in a moment.
Set realistic sales goals
Your sales strategy is informed by your business goals.
It's great to have a big goal, but you need to break it down and understand what changes to your sales strategy will unlock that growth.
Start by thinking about how you want your business to grow and break this into manageable steps. From that, you can identify your sales goals. Make sure they are specific, measurable, achievable, realistic and timely. This is easily remembered in the handy acronym SMART.
The target is to grow annual revenue from £100,000 to £250,000

Each client spends an average of £15,000, so we need to add 12 new clients (assuming some existing customers stop using the service)

One in four sales meetings result in a new client win, so we need to talk to around 50 new companies

We are running 10 webinars, investing in a partnership and doing X amount of cold outreach to book those meetings
The process also highlights what investment is needed to move forward. You might need marketing support to run the webinars or to free up more of your own time to go to meetings.
Look for opportunities to hold yourself and your team accountable. For example, a weekly meeting to go through the pipeline and monthly team meetings and one-to-ones to evaluate progress against your goals.
Get a CRM in place
Customer relationship management (CRM) systems store data on customers and track conversations.
Implementing a CRM is a key part of developing your sales strategy. Paper records quickly become difficult to manage. Spreadsheets can work but it's hard to track the touchpoints you have with customers and it's difficult to manage more than 100 contacts. Hubspot's Francois Plattard explains when the time is right to switch from spreadsheets to CRM.
The information that your CRM records should be based on your sales strategy. The data it collects is going to give you insight into how to improve:
Customer information: Contact details and basic information from your customer persona, e.g. region.

Deal sources: Track how potential customers first heard about your business

Pipeline stages: Define your pipeline and how deals are qualified to each stage

Conversation notes: Track meetings, phone calls and emails

Deals won and lost: Record the reasons people said "yes" or "no"
Develop a pipeline
A sales pipeline shows where every conversation – or deal – is in your sales funnel. Marketing activity generates interest in your company. That interest turns into leads and, generally speaking, is added to your funnel when a salesperson has a successful call or meeting.
Potential customers drop off at each stage of the funnel; that's what creates its shape.
Sales funnels vary from company to company. They generally include stages relating to awareness, interest, consideration, evaluation and purchase.
It's common for a company to add conversations to their pipeline once a discussion has been started, so a pipeline for a web development agency might look something like this:
Discussion started: A phone call or meeting has taken place. The potential customer is keen to carry on the conversation.

Initial proposal: The customer's needs and budget have been qualified, and the salesperson has shared a proposal explaining the deliverables and costs.

Final proposal: Customers may come back with suggestions or negotiate, so a final proposal stage may be necessary.
Tracking the progress of deals helps you understand how they move through your funnel and identify areas you could improve. You might notice a lot of deals are being lost at the initial proposal stage, for example, and think about pricing and customer qualification.
Start with your existing customers
It's a good idea to start at the bottom of your sales funnel when you're prioritising sales activity. Existing customers are often the most likely to buy something. Make sure you're doing a great job of delivering your service and look for ways to encourage them to purchase again.
How to prepare for a sales call
This guide focuses on how to create a sales strategy for your small business. Sales calls and meetings are a key part of the process and we wanted to share some advice on how to make winning calls to customers.
Jackie Wade, who is the managing director of Winning Sales, has developed the 'Ready, Steady, Go and Grow' approach:
Ready: Preparation and focus are key. Start with a call list and clear objectives: which business or household and who specifically are you calling (decision maker)? Are you clear on your message? What benefits do you offer?

Steady: Feel confident, think positive. What's the worst thing that can happen? They may say "No"… so what? Not everyone out there will want you, but someone will. Tone is more important than words, so feel and sound confident and positive.

Go: Be natural, be you. Have a good opening 'hook' to grab attention – something interesting, new or different and make it relevant to the person you're calling. Avoid rambling – focus on a two-way conversation, not a fixed script. Develop a list of open questions that will allow you to engage with the person at the other end of the line. For example, "What do you currently do, how does it work and what might you like to improve?" Listen for opportunities and engage.

Grow: Agree action and follow up promptly or agree to a call-back. Tenacity counts, a 'no' today may be a 'yes' tomorrow. Remember, smile and then dial. Your aim is to spread the word about you and your business.
Preparing for calls and meetings is crucial.
"Do your research! With new customers, check out their website and social media accounts to better understand their unique brand and needs. With new niche markets, check out the market trends and conditions associated with that sector, so you are better informed and can adapt your value proposition accordingly."

Paul Durrant, founder of PDT Sales Consultancy
How to write a sales strategy
To write a sales strategy you need to:
Create customer personas

Get your value proposition right

Understand how marketing activity raises awareness and generates leads

Set SMART sales goals that drive company performance

Implement a CRM to store customer information

Develop a pipeline to track deals and monitor performance
The sections in this guide provide a structure for your sales strategy. Creating a written document makes it easier to implement and communicate best practice. Think about it like a business plan for a particular function of your business.
And keep working on it! Once you're set up, you can learn a huge amount from tracking how conversations develop and why you win and lose deals. Keep sharing information and updating your strategy as you go.
Keen to brush up on your sales skills? Check out School of Sales – a free programme that gives small business owners access to interactive workshops, e-learning and specialist trainers. Discover more >

Enterprise Nation has helped thousands of people start and grow their businesses. Led by founder, Emma Jones CBE, Enterprise Nation connects you to the resources and expertise to help you succeed.