MEMBER STORIES
How a gluten free start-up got into Tesco only months after launching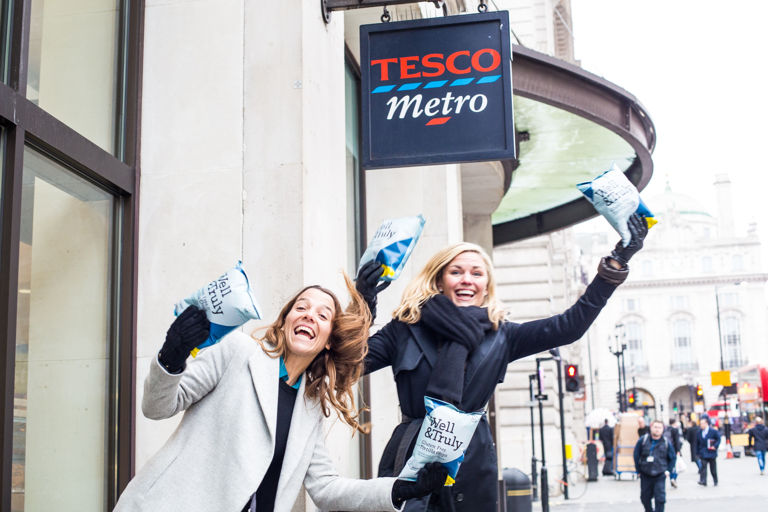 ---
Posted: Mon 9th Jan 2017
Less than a year after launching a business, Sara and Maria Trechman got their allergen free products stocked in more than 1,000 Tesco stores across the UK. Sara shares the story behind her brand, Well&Truly.
How did you come up with the idea for Well and Truly and turn that idea into an actual business?
We saw a gap in the market for a brand with excellent tasting snacking products that were also better for you. With 55% of the UK's population buying into 'FreeFrom' we knew that allergen free products were extremely important, but so were additional benefits such as lower fat or lower sugar.
We created Well&Truly to offer consumers a better (healthier!) alternative that didn't compromise on taste.
To turn our idea into reality we did a huge amount of consumer testing to make sure there was a market for our products. We then did a Seed Enterprise Investment Scheme (SEIS) funding round which allowed us to go into production with our Well&Truly 40% Less Fat Tortilla Chips.
What key start-up challenges have you faced so far and how have you dealt with them?
As a start-up you face challenges on a daily basis. You need to juggle so many roles and tasks which you don't always have experience in, but being co-founders has helped us a lot as we always have someone to bounce ideas off and challenge each other. Two of our biggest challenges at the moment are always being on top of our cashflow to ensure we can continue to launch new products and building the right team to help us grow.
How did you convince Tesco to stock your products despite being such a new brand and what's your advice to other small business owners for pitching to big retailers?
It's all about persistence! Sometimes you'll just be lucky and a buyer will will give you their time early on otherwise you'll have to try much harder. We found that having a unique product/proposition and a brand built on the wants and needs of the UK consumer helped us grab the attention of the buyer.
Our Tesco listing was a huge moment for us as it was our first listing and the first time we saw our product on the shelves in store. Building and nurturing relationships with the different buyers is key and you need to maintain a good dialogue with them and let them know about new trends, new products you are developing, positive consumer feedback and good press coverage.
Your business is in a very competitive market. What's your strategy for standing out?
Our aim is to offer consumers tasty and better for you alternatives to everyday snacks. Gluten free food has come a long way in the last five years and encouragingly, there are more and more artisan producers making wonderful gluten free products but we still have trouble finding items that we can grab in the morning and take with us to work as a snack, or gluten-free snacking products that taste good enough to treat friends and family to at get togethers without breaking the bank. This is the gap in the market we are aiming to fill.
Our defining USP is that our products taste delicious, are gluten free and have at least one further secondary health benefit! As an example, our crunchy Tortilla Chips are certified gluten free which is extremely important to anyone with coeliac disease (we produce in a dedicated gluten free facility so there is no risk of cross contamination) and they also contain 40% less fat. We only use all natural, real ingredients and the W&T guarantee is that our range will never contain trans-fats, artificial additives or preservatives, GMO or MSG; basically, no nasties of any kind.
What are your three top tips for starting a business?
Do it! It's the best thing we've ever done but make sure you have a good network and team around you to help guide you and offer advice when you need it. We both say that we couldn't do it on our own, being able to share the journey with someone has made all the ups and downs so much better.
Make sure you have a product or idea that you believe in and that's been tried and tested. It sounds obvious, but if you have a great product/idea and you know it's better than the competition, the journey will be so much easier!
Build a good network of other start-ups who you can meet for a chat or coffee. The start-up scene in London is very supportive and always happy to share any advice or tips. We've also enjoyed partnering with other start-ups for competitions and sampling to help raise our brand awareness to different consumer groups.
Enterprise Nation has helped thousands of people start and grow their businesses. Led by founder, Emma Jones CBE, Enterprise Nation connects you to the resources and expertise to help you succeed.