BLOG
Great tech solutions to grow your online store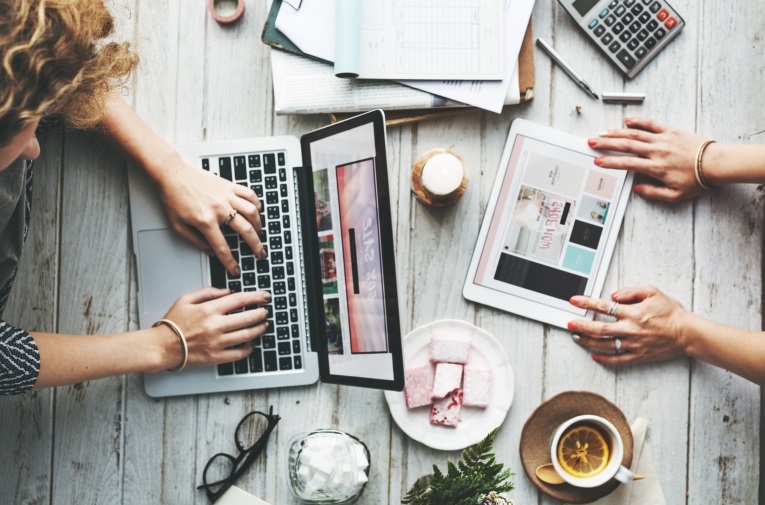 ---
Posted: Fri 21st Dec 2018
Online stores of all sizes have access to phenomenally powerful tools, which help increase conversion and boost sales. Chris Goodfellow looks at some low-cost tech solutions that will help you sell more online.
This post is sponsored by Klarna.
Schedule social media with Buffer
Customers will have multiple touch points with a brand before buying online. They may read reviews, look at your social media following and check out alternatives. Having a cohesive online brand will help increase conversions.
Buffer allows you to schedule posts on Facebook, Instagram, Twitter, Pinterest and LinkedIn. Keeping your social channels in one place saves time creating and scheduling content, and encourages you to get value out of the channels you have.
Build your email list
Email remains to be one of the most powerful tools for selling online. You own the data and can target customers accurately and response rates are great.
Pay as you go email services like Mailchimp and Constant Contact offer low-cost, easy to use and powerful solutions. Here are five tech-enabled tactics that will help leverage these platforms.
1. Target people based on behaviour
Connect your online store to your email software to target customers based on the actions they take in the buying process.
Picking an opportune moment to send email communication will dramatically increase conversion. You can send customers an automated email 24 hours after they visit a site with bespoke product recommendations or offer money off something they added to their cart but didn't buy.
2. Provide value through interesting content
Think about your customers and what interests they have that are related to your product. An online bike shop could share maps of interesting trails. A bespoke framing company can talk about interesting artwork. Sharing content that isn't purely a sales message improves email open rates and helps build your list.
3. Automate emails based on customer interactions
Record how customers sign-up to your mailing list and personalise the thank you note they receive when they join. If they're signing up from a pop-up on your blog you can send content recommendations. Pop-up shop contacts can be sent details of products you offer at these locations.
It sounds complicated but email platforms like Mailchimp allow you to create automated emails or onboarding sequences for sign-ups. Filtering by segment allows you to identify subscribers that match certain conditions such as answering a question on the sign-up form about where they first found your brand.
4. Talk in the voice of your brand
Your brand has a personality. You love talking to customers about your products and sharing your own unique style. Make sure this comes across in your emails. Share stuff that you find funny and relevant pop culture references.
Introduce flexible payments
There are a variety of ways that you can reduce the barriers to purchase and helps boost sales.
Klarna Pay later is a service is known for increasing average order values and converting more customers at checkout. It allows customers to 'try before they buy', letting them pay for a purchase up to 30 days later and only pay for what they keep. Whilst customers can Pay later, you get paid upfront!
Klarna's Slice it in 3 allows customers to pay in three instalments with no interest or consumer fees.
It's great at helping conversion, particularly for items from £250 to £800. The feature plugs into most ecommerce platforms.
Improve your integration with Google Analytics
Google Analytics allows you to track how customers interact with your website. This helps to discover how people are finding your site, what pages are popular and identify any issues, such as pages with high bounce rates.
The standard ecommerce set-up adds transactions tracking including average order values and time to purchase. Enhanced ecommerce includes whether items were added to shopping carts and customer segmentation. Google has simple instructions on how to set up both of the more complicated approaches on your site.
Choose a web platform that provides flexibility
There are a number of powerful web platforms that allow you to develop amazing ecommerce experiences with little technical knowledge.
Shopify is a cloud-based, multi-channel platform designed for small businesses. Retailers can design, set up and manage stores across different sales channels including online and brick-and-mortar locations.
WooCommerce is a plugin for popular website builder WordPress. It has an easy to install interface and an entry-level free option.
Magneto is an ecommerce platform that manages shopping carts for every channel including email, mobile, in-store and more. It offers in-depth customisation options for people with technical skills.
Klarna is also running a competition for new businesses & has partnered with retail power couple Millie Mackintosh and Hugo Taylor to hunt out the best fashion, lifestyle and accessories ecommerce brands. The winning business will receive free mentoring, one year of Klarna's Pay later method & a £10,000 cash prize! Have you got what it takes? Enter here.
Chris has over a decade of experience writing about small businesses and startups. He runs Inkwell, a content agency that helps companies that sell to small business owners grow their audiences through content marketing. You can find him on Twitter at @CPGoodfellow.