BUSINESS NEWS
What the government's new export strategy means for small businesses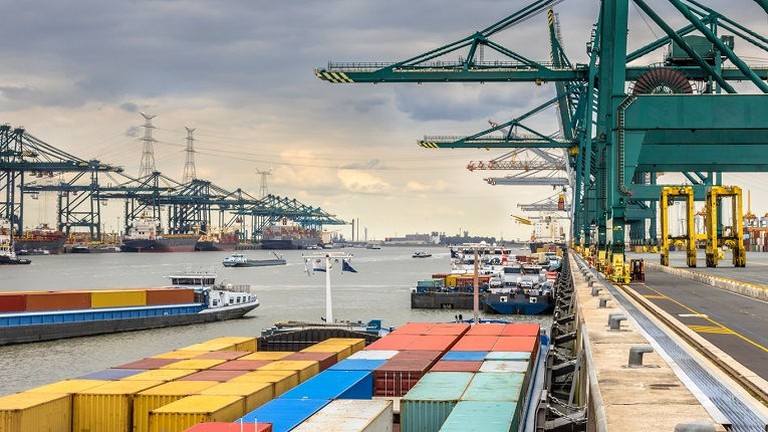 ---
Posted: Wed 17th Nov 2021
The government has unveiled a new international trade strategy aimed at increasing UK exports to £1 trillion by 2030. Here's what the plan means for small businesses.
Launched under the new brand 'Made in the UK, Sold to the World', the government describes its strategy as an "ambitious...plan to help businesses across the UK double exports and sell their world-class products around the globe".
The target is not a new one though. In 2012, former prime minister David Cameron set the same £1 trillion ambition by 2020. It was also in the Conservative Party's 2015 election manifesto.
The export strategy is the first since Brexit which means businesses exporting to and importing from the European Union have to deal with new regulations.
The government is negotiating new trade deals with several countries and ministers are keen to show the benefits of Britain leaving the EU.
International trade secretary Anne-Marie Trevelyan said: "This is a defining moment in our national trading story. As we agree ambitious new trade deals around the world, it is more vital than ever that businesses across the UK take advantage of these opportunities and unleash their full exporting potential.
"Our export strategy will help more businesses start exporting and help those who already export to sell more products to more countries. Reaching £1 trillion worth of exports by the end of this decade means more jobs, more opportunities and higher wages helping the UK to level up and build back better."
See below for the key points of interest in the new export strategy for small businesses.
For support and information on importing and exporting, visit Enterprise Nation's International Trade Hub in collaboration with Deloitte. Find out more here.
Internationalisation Fund
Originally announced in December 2020, the £37.8 million Internationalisation Fund provides match-funded grants of between £1,000 and £9,000 for businesses in most parts of England to spend on help and advice related to international trade.
The Fund is currently available throughout England except Cornwall and the Isles of Scilly, which has its own similar scheme. Applications for businesses in London have now closed.
Business owners need to fund a proportion of the costs themselves. It will be either 40% or 50% of the total cost depending on where you are based.
Examples of support areas that the grant can be spent on include the following:
Market research

Intellectual property advice

Translation services

International social media/SEO

Trade fairs (where no funding through another government scheme is available)

Independent market visits

Consultancy and other international commercial services
You can connect with expert advisers in the majority of the above areas via the Enterprise Nation platform.
The eligibility rules are as follows:
The company must be based in the areas of England where the fund applies.

The company must be a small or medium-sized enterprise with up to 250 employees.

No more than 25% of the business is owned by an enterprise which is not a small or medium-sized enterprise.

Annual turnover does not exceed €50 million or annual balance sheet does not exceed €43 million.
For more information about accessing a grant through the Internationalisation Fund, contact your local Department for International Trade office.
The scheme aims to help 7,500 SMEs in England. The strategy document says: "We have £23 million set aside to support exporters in 2022 and are considering how best to enhance our support offer from 2023 onwards".
UK Tradeshow Programme
The strategy announces that it replacing the Tradeshow Access Programme (TAP), which provides grants for businesses to exhibit at international trade shows, with the new UK Tradeshow Programme (UKTP).
The government says the new scheme, run as a pilot until April 2023, will be "better-tailored to help businesses, particularly those outside London and the South East".
It will provide training and grants for businesses to "attend tradeshows as a precursor to making the decision to exhibit there". Businesses that decide to exhibit will receive advice from experts on how to make the most of tradeshows.
The strategy document says businesses will be able to apply through "a new, simplified digital platform".
UPDATE:
Enterprise Nation contacted the Department for International Trade for more details about the scheme. We were provided with the following information:
To be eligible for UKTP, you need to:
be a small to medium-sized enterprise with fewer than 250 employees

be based in the UK (excluding the Isle of Man or the Channel Islands)

be UK VAT-registered

have an annual turnover of between £250,000 and £5 million

be exhibiting for the first time, or wishing to venture into new markets
"Strong applications" from business owners who decide to exhibit at a trade show may receive a grant of either £2,000 or £4,000, to help with the costs of exhibiting.
The government provides funding to attend or exhibit at a selection of approved events. To see a list of events and apply, go here:
UK Export Academy
The government launched the Export Academy last year to help businesses navigate the technicalities of exporting and finding new opportunities in overseas markets. It is now being expanded across the UK.
The academy provides a range of courses including webinars for those new to exporting, sector-specific events, masterclasses and virtual trade missions.
Export Support Service
The new Export Support Service launched in October 2020. Through a phone line and online service, you can get advice on:
exporting to new markets

paperwork you need to sell your goods abroad

rules for a specific country
The November 2021 Spending Review allocated £45 million for the Export Support Service.
Export Champions
The government says it is expanding its community of Export Champions. The Champions are more than 400 business owners and executives who share knowledge and personal experiences about exporting.
The Champions participate as speakers and in programmes such as the Parliamentary Export Programme and Export Academy and feature in Department for International Trade campaigns and media opportunities.
Made in the UK, Sold to the World
The new campaign engages with businesses through trade promotion activities. It includes events, masterclasses, webinars, trade missions, 'Meet the Buyer' events, businesses roundtables and ministerial visits.
---
#FutureofCustoms webinars
Need a little help navigating the updates in UK imports and exports? Join the #FutureofCustoms webinar series, where Deloitte customs specialists explore the ins and outs of trade and up-and-coming solutions for businesses like yours.
Relevant resources
Support and information on importing and exporting, provided by Enterprise Nation in collaboration with Deloitte.
A step-by-step guide to defining your small business export strategy
I'm a freelance content creator and event host who helps small businesses and the organisations that support them. I'm also Enterprise Nation's Local Leader for Bristol. I have 19 years of experience as a small business journalist having interviewed hundreds of entrepreneurs from billionaires like Sir Richard Branson to the founders behind brand new start-ups. I've worked for a range of leading small business publications and support groups, most recently as head of content at Enterprise Nation where I was responsible for the prolific output of content on the company's blog and social media. I now freelance for Enterprise Nation including hosting the Small Business sessions podcast. I'm based in Bristol where I run and host regular events with the local small business community in my role as Enterprise Nation's Local Leader for Bristol. I also have strong connections with other major business organisations in the south west region. In total, I've hosted over 100 events including conferences with an audience of hundreds for international brands like Xero and Facebook and live web chats from inside 10 Downing Street. With my partner, I co-run Lifestyle District, a lifestyle blog focused on culture, art, theatre and photography.