ANNOUNCEMENTS
Nine entrepreneurs who will inspire you to start a business in 2022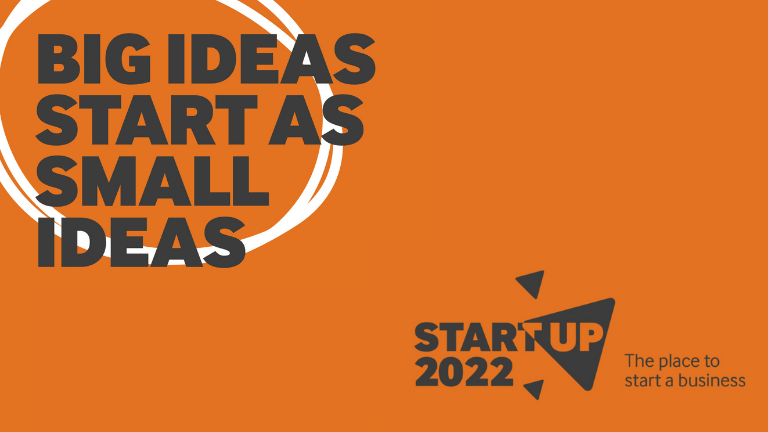 ---
Posted: Fri 8th Oct 2021
One in five UK adults say they want to start a business, with that figure rising to over one in three of 18 to 34 year olds.
If you fit that category of someone who is feeling they have more potential with their career and dreaming of becoming their own boss, there is no time like the present to get started!
There is an abundance of support for individuals with entrepreneurial ambitions and if you're getting tired of staring in front of a screen, we've got a high-energy in-person event for you!
Join us at King's College for StartUp 2022 on Saturday 22 January and enjoy access to over 100 inspirational entrepreneurs and small business experts across 9 different zones.
Here is a flavour of some of the inspiring speakers that will be sharing their expertise on the day.
Simon Squibb, founder, Purposeful Project
Simon started and successfully sold a media business in Hong Kong before returning to the UK to become a start-up influencer. Simon is on a mission to help 10 million people around the world to become their own boss. His advice is based on business basics and real-life experience.
Nick Telson, founder, Designmynight and angel investor
Nick is obsessed with the whole entrepreneurial world, marketing and brand building. Nick will outline how he achieved start-up success and what he looks for when investing
Cemal Ezel, founder, Change Please
The social founder who is tackling homelessness through offering homeless people the opportunity to become self-employed baristas. Cemal's vision has been super-charged this year through the acquisition of 55 AMT coffee sites across UK & Ireland.
Nancy Cullen, founder and CEO of SpaceandPeople
The company was founded in 2000 with venture capital was later listed on the London Stock Exchange. The company is now the largest seller of promotional space to brands with spaces in all major shopping centres and railway stations.
Matt Clements, founder, Sculpd
Matt started the business with his friends, Giles and Guy. Hear their story of rapid scale as they've leveraged the opportunity of lockdown to springboard their clay kit business to the masses.
Sam Akinluyi, founder of business accelerator, Psalt
Sam is supporting black owned businesses in the food and drink sector to get stocked. As a former Mars grocery sales director, Sam has all the right credentials for the role.
Nicole Compen, founder, raye the store
Raye the store is a traveling showcase of emerging food, drink and wellness brands. If you're a product maker, curator and enthusiast – you want to hear Nicole speak at StartUp 2022.
John Hoyle, founder, Sook
John is the entrepreneur helping online sellers to test physical retail in spaces and places across the UK with Sook stores in London, Edinburgh, Cambridge and soon to go global.
Warren Richmond, founder, Situ Live
Want to know more about how experiential retail in Westfields is being opened up for small businesses? Warren will answer that call.
StartUp 2022 is your chance to not only discover everything you need to know about starting and growing a business, book your ticket today.

Enterprise Nation has helped thousands of people start and grow their businesses. Led by founder, Emma Jones CBE, Enterprise Nation connects you to the resources and expertise to help you succeed.