MEMBER STORIES
The Glastonbury singer turned spicy sauce entrepreneur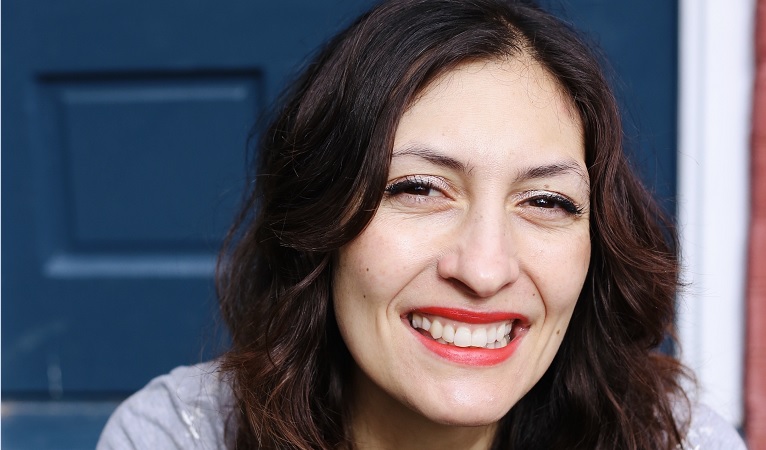 ---
Posted: Wed 23rd Dec 2020
Dominique Woolf has had a varied career. After working in sales and a successful spell as a singer-songwriter, she now runs Thai-inspired sauce brand The Woolf's Kitchen.
Dominique launched the business as the coronavirus pandemic took hold but she has still managed to get her sauces stocked in delis around the UK and, with the help of an Amazon Small Business Accelerator Bootcamp for food businesses, is now selling her products on Amazon's online store. Here, she shares her story.
How did you start the business?
I used to be a singer-songwriter. I was gigging all over London and played at places like Glastonbury. I then had kids and fell out of love with music. Before singing I had about 10 years of sales experience and that has stood me in good stead for doing what I'm doing now.
When I had my first child my Thai aunty would visit with gifts of curries, noodles and jars of sauces. One was a tamarind sauce and I remember thinking it was amazing as I'd never had anything like it. It was a few years later that I finally thought 'what should I do with my life? I haven't got a career. Food, that's it. I love food, I love creating. Maybe I could do sauces'.
I didn't go straight into making sauces as I decided to go to Leith's Cookery School to train. I then spent a year writing recipes for other websites and honing my photography skills.
Last September I decided it was time to start the business and I gave myself the deadline of creating three sauces by December.
I was planning on doing it on my own but I quickly realised it was not going to be possible with three young kids at home. I found a small manufacturer and used Canva to create my own labels. I took the bottles with the Woolf's Kitchen name to my local farmers' market. Over two days I sold 250 bottles. It proved to me that people really liked it. Watching customers' responses, seeing them taste it and say 'wow' before buying all three bottles, I knew I was onto something good.
In January I found some people to do my branding, the design and the copywriting. We had it all planned for a 1 April launch but COVID-19 hit. In the end, the break was quite fortuitous because I realised that the branding wasn't quite right. By June, I had new branding and the products were ready.
How have you made sales?
I started locally. I run a networking group for entrepreneurial women with 600 members and before COVID-19 we would meet in my local pub twice a month. The pub turned into a deli during lockdown and the manager asked if he could stock my sauces. He was my first customer and the pub sold out of 42 bottles in a week. I went to other delis and it built from there.
I also promoted the sauces in Facebook groups. I used the fact that I'm a local mum with a business. People have always been receptive to supporting local but even more so now.
For the first few months I did my own deliveries in the local area. My 3, 4 and 5-year old children came on deliveries, went to the Post Office with me and came to some meetings which was interesting!
I then asked my manufacturer to take over the fulfilment. You've got to do it to realise how hard and time consuming it is to wrap a box of sauce and fulfil it. You need to do the nitty gritty to know what you need to outsource. I realised it wasn't the best use of my time. As soon as I started outsourcing, I could be stocked anywhere. I've now got stockists in Edinburgh, Dartmouth, Wales and Norfolk.
How did you find your manufacturer?
I was very lucky to find the manufacturer so quickly. I searched on the Food Hub Facebook group and found lots of conversations with food entrepreneurs discussing food manufacturers.
Why did you decide to apply for the Amazon Small Business Accelerator Bootcamp?
I've been going to Enterprise Nation events for a while. I'm signed up to the newsletter, I'm on the site often and I recommend Enterprise Nation regularly to my entrepreneurial group so I came across the Amazon Small Business Accelerator that way.
When I saw the Bootcamp, I thought I absolutely had to apply. Amazon is crucial to food businesses. It enables me to reach potentially millions of customers I wouldn't be able to reach without being on there.
What were the benefits of the Bootcamp?
There were step by step instructions on how to set myself up as a seller, how to add products and other practical information on areas like the Brand Registry and A+ content. You need to have a trademark for that, so it was a useful tip for something I hadn't done that I needed to start tackling.
The Bootcamp also had details on how to be fulfilled by Amazon, sponsored advertising, the difference between various promotional tools and tips on social media. That was interesting as there was advice on how you need to have a business plan with your objectives which will help you create the content that you need.
The good thing about the Bootcamp is that I have access to that information. I can go back and refer to it whenever I want.
What are your plans for selling on Amazon's online store?
I'm going to focus on advertising and sponsorship. The Amazon Small Business Accelerator e-learning videos are another useful resource which breaks down the advertising. I've got not only my Bootcamp information but also the e-learning modules I can refer to. It makes it seem completely achievable. Before the Accelerator, I was little bit scared about doing advertising
I've had my first overseas order from an upmarket supermarket chain in Slovakia. That has made me think about exporting and the European fulfilment side of Amazon is really appealing. It would enable me to get into Europe in an easy way.
What are your tips for running a successful food business?
If you're thinking of setting up a food brand, fully research your market. Make sure people like your product. I took it to the farmers' market and that was real validation that I had a product people wanted to pay for.
Network like crazy. Facebook and LinkedIn are brilliant tools and Enterprise Nation has a lot of events. Immerse yourself and do as much learning as you can on your food category and the latest trends.
Ultimately you need to just go for it. I'm also launching a range of nuts. I could have procrastinated for a year before doing that but I just did it.
Which other entrepreneur inspires you and why?
Sara Blakely, the founder of Spanx. I heard her on a podcast with Tony Robbins and I loved it. I felt really motivated. The key thing I picked up was that it's all about the sales. She was proactive. She didn't just get her product into a department store and hoped it sold itself. She did guerrilla marketing. She got on the side of the sales assistants. She called all her friends and got to them to go and buy her product in the shops. I loved that.
When you're a food entrepreneur, it's easy to think it's all about lovely food but it's a sales job at the end of the day.
---
The free Amazon Small Business Accelerator e-learning programme is advice from more than 30 business experts in 218 bitesize videos.
If you're already an Enterprise Nation member, log in to your learning dashboard to access the e-learning. If you're not an Enterprise Nation member, you can join the Amazon Small Business Accelerator for free.