MEMBER STORIES
The beauty entrepreneur inspired by memories of salon visits with her mum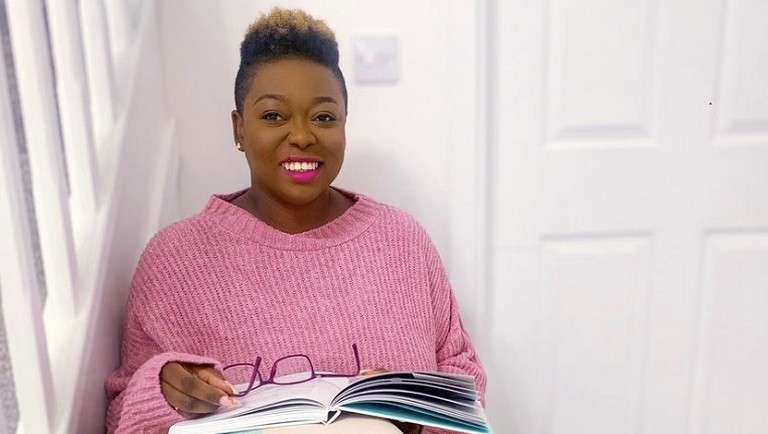 ---
Posted: Tue 25th Jan 2022
Dami Adewole is the founder of "natural haircare and nail varnish brand" LOG Cosmetics. Memories of her mother's love for hair and skincare prompted the entrepreneur to develop her own passion for beauty which led to the launch of the brand.
Dami is now selling products on her website and Amazon's online store.
To help with the growth of her business, she joined a Bootcamp for Black-owned businesses and accessed e-learning videos through the Amazon Small Business Accelerator.
Dami shares her story below.
How did you come up with the idea for your business?
My first experience with beauty was growing up when I would watch my mum meticulously dress herself for events. She always wore a particular shade of rouge burgundy lipstick. It was part of her signature look.
She took us girls to the salon every other weekend to make sure our hair was always neat and ready for school. She taught me about beauty; hair, skin, and nails. I fell in love with it.
Fast forward to me living on my own and I developed my passion for beauty and decided to explore it by getting as much experience as possible. I worked with a few notable beauty retail stores and quickly learnt how consumers relate with beauty, their routines and which types of products were their must haves. Bursting with knowledge and enthusiasm, I knew I needed to go back to school to learn how these products are made.
That didn't happen very quickly because I was soon diagnosed with a medical condition which led me into a world I wasn't prepared for. However, I was later able to get my degree in organic skincare formulation.
This opened the door to research where I discovered concerns about how some beauty products that we put on our skin get into our bodies and potentially affect our health.
I decided that if I was going to create my own products, it had to be a brand that puts the health and wellbeing of its clients first. LOG cosmetics was born out of this idea. It has been eight years of creating health-conscious beauty products that meet the needs of our clients and we haven't looked back since.
Why did you decide to manufacture overseas and how did you settle on the US?
At the time, I couldn't find the right manufacturer in the UK that catered for people of colour and was also using natural and safe ingredients.
Reports by Mintel were a good starting point to find market insights on the personal care consumers and manufacturers. The insights suggested that the US had one of the biggest markets and it made sense to start my manufacturing research from there.
As the business has developed, some of my products are now produced in the UK.
How did you find the perfect manufacturer?
I started by searching on Google for US manufacturers of beauty products. I then narrowed it down to manufacturers of beauty products for women of colour.
I made a list of three manufacturers with an ethos and use of ingredients that resonated with my brand. I then contacted each one, asking specific questions about how flexible they were with accommodating my ingredient formulation and how best we could work together.
At the time there weren't any specific websites or guides, so Google was my starting point. Today there are a few directories, such as thomasnet.com, that can help in finding some manufacturers for beauty products in the US.
What advice would you give to other UK entrepreneurs for making a success of manufacturing overseas?
Think about your shipping costs. Start with a few products rather than a full range to test the market and then build it up from there.
You should also build a strong relationship with your manufacturer so that they can understand your brand's needs. Finding a manufacturer that could accommodate the quantity of products that I wanted to produce was a challenge but I was able to build a relationship and convinced the manufacturer that we were in it for the long run.
What other start-up challenges did you face and how did you overcome them?
Not investing in a solid marketing strategy. In the early stages of my business, I thought I could simply have a website and attend a few trade fairs to get the word out about my new brand. It was only a small start-up and new to the market so it help to keep my costs low but I got used to the idea of having a low key brand.
I underestimated the power of marketing, having a solid social media presence and using PR. We learnt the hard way, but we have evolved and so has our strategy.
Over the years, we have worked on our social media presence, attended webinars and accessed other advice such as the Amazon Small Business Accelerator, which has helped shaped the way we show the brand to current and potential clients.
What is your marketing strategy for engaging with customers and making sales?
It's a multi-channel concept, combining a wholesale with a temporary kiosk retail space strategy, e-commerce, and a consumer catalogue. I attend as many exhibition and trade shows as I can because it brings me closer to my clients.
I use Facebook advertising and Instagram tools to get more insights to be able to provide an enjoyable brand experience.
How has COVID-19 affected your business?
At first, it forced us to take a huge step back because people were stocking up on essentials, and shampoo or nail polish was the last thing on many people's list. Also, our manufacturers took a hit which meant some of our products couldn't be made.
The pandemic taught us the value of having an online presence. We used our blog and social media channels to educate our members on wellness and taking care of themselves at home.
It wasn't about selling products; it was about letting them know we as a brand understood the situation and wanted to be there to help. I am glad things are looking up for us now but we're still learning how to navigate the new normal as a brand.
Why did you decide to join the Amazon Bootcamp?
I felt I had only scratched the surface for selling on Amazon's online store and I wanted to understand how I could maximise all the tools to help boost engagement and sales for my business. I also wanted to ask questions about the challenges we face as a growing brand.
What were the key benefits of the Bootcamp and what actions did you take a result?
Listening to other entrepreneurs about how they run their business online was a real revelation. I learnt more about the need for consistent PR and how it improves brand awareness. I also picked up tips on how to use social media to boost client engagement.
The entrepreneurs explained how coverage in the media may not lead to immediate sales but it gives your brand credibility and draws good attention to your products. Being able to say "as seen in" after getting media coverage is a good way to build credibility.
They also explained how using advertising on social media gives your brand a wider audience than just relying on your organic followers. They explained how to plan your content and emphasised that you need to be consistent and show up at least three times a week.
After the Bootcamp, I invested in social media marketing and partnered with a few lifestyle magazines to help boost our brand awareness.
Why did you decide to start selling on Amazon's online store and what is your strategy for making sales?
We wanted to reach a wider network and have a reliable service. Having our brand on Amazon's online store connects us internationally.
We have access to tools such as reviews which allow us to hear directly from our clients and 'Amazon's Choice', which highlights highly rated, well-priced products available to ship immediately.
We use sponsored advertising to reach a wider audience looking for our type of products. It means our brand stands out so our clients can get to know more about us and why they should choose us.
What is your advice to other people wanting to sell on Amazon?
My advice would be to read all the training resources and familiarise yourself with all the tools that can help get your business out there. Use clear images and detailed product descriptions. This will give your audience reasons for why they should pick your products over others.
What tips have you picked from the Amazon Small Business Accelerator e-learning programme?
Watching the How to create content that works video, I learnt that creating content for my brand shouldn't be solely about selling. It should be about understanding my customers' needs, pains and desires.
It's about building their trust and letting them know that we are a brand that cares and understands.
The video, How to match your marketing with your growth needs, was so insightful because as a growing brand, marketing is important for us to drive sales but also understanding the metrics and knowing what channels or platforms to invest in to give us a better opportunity for profit is key to our growth strategy.
What are your top tips for business success?
Have a clear strategy, be consistent and evolve as your business grows. Focus on why you started the business, because it will be your driver on the days when things don't go to plan. Whatever you do, don't give up.
The free Amazon Small Business Accelerator e-learning programme is advice from more than 30 business experts in over 200 bitesize videos.
If you're already an Enterprise Nation member, log in to your learning dashboard. If you're not an Enterprise Nation member, you can join the Amazon Small Business Accelerator for free.
Enterprise Nation has helped thousands of people start and grow their businesses. Led by founder, Emma Jones CBE, Enterprise Nation connects you to the resources and expertise to help you succeed.