BLOG
StepUp September: 30 days to change your mindset and your business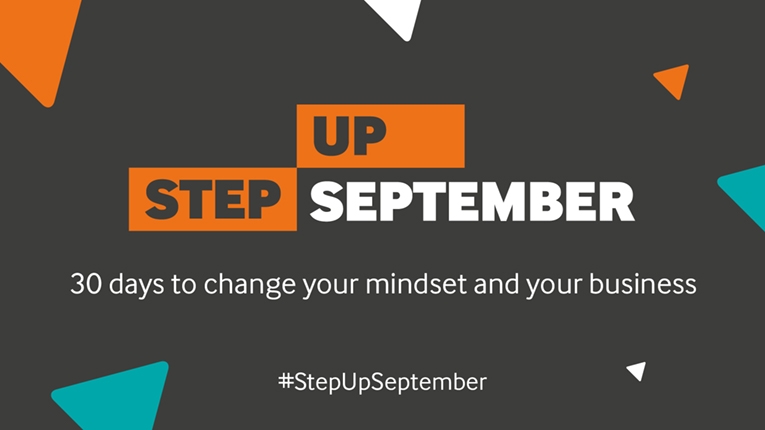 ---
Posted: Mon 31st Aug 2020
September provides a chance for entrepreneurs to reinvent themselves and their business.
Our advice packed StepUp September campaign will share daily bitesize business lessons that can make a difference to your business.
Over the next month, we'll be encouraging you to make learning intentional and we've invited Enterprise Nation friends and members to share their top business lessons.
We will be publishing them each day on our blog as well as creating a conversation on Twitter, Facebook and Instagram. Get involved!
Monday 31 August
Tip of the day: Enjoy the Summer Bank Holiday!
The life of a small business owner is fast-paced and to ensure that everyone is energised for a successful September, the Enterprise Nation team recommends that you take time off today. Breaks can restore motivation and increase creativity, which will boost your entrepreneurial performance.
Tip provided by all the team at Enterprise Nation :)
Recommended resource: Take time to switch-off! Let us know how you best relax as a small business owner. Is it by reading a book or entertaining with friends and family? Pictures encouraged so we can see what the community is up to this bank holiday!
Tweet us with the #StepUpSeptember hashtag.
---
Tuesday 1 September
Tip of the day: Write out your goals for the month ahead
What is it that you want to achieve by the end of the month? Make sure your goals are SMART so you can quantify whether you've hit your target.
Tip provided by Emma Jones, founder of Enterprise Nation.
Recommended resource:
---
Wednesday 2 September
Tip of the day: Outsource a task to an expert
Don't take everything on yourself. If there is something someone can do more effectively and efficiently than you - get them to do it. Trying to do everything yourself is a false economy.
There are more valuable things you can spend your time on.
Tip provided by adviser member Alison King, MD of Bespoke HR.
Recommended resource:
---
Thursday 3 September
Tip of the day: Get free PR for your business
The #JournoRequest hashtag on Twitter is a brilliant way to get your company in the media. Search the hashtag and find local, regional and national journalists looking for businesses to feature. Reply and you might make the headlines!
Tip provided by Dan Martin, freelance journalist.
Recommended resources:
---
Friday 4 September
Tip of the day: Identify your target persona for social media marketing
Knowing who your audience makes your marketing efforts more effective. Personas can be used as a reference when crafting social media copy and creative.
Tip provided by founder of Avviso Media, Lucy Hall.
Recommended resources:
---
**We hope these practical business tips will inspire you to take on new challenges and learn new skills this September.
If you have a business challenge that you'd like to recommend to the community, engage with us on social using the #StepUpSeptember hashtag and we'll be sure to share!**
Head of Marketing at Enterprise Nation. I specialise in community growth and engagement - email and content marketing - social media strategy - and building collaborative partnerships. What do I love doing? Connecting with start-ups and small businesses and shining a spotlight on them.