BLOG
Six inspiring business lessons from Festival of Female Entrepreneurs 2020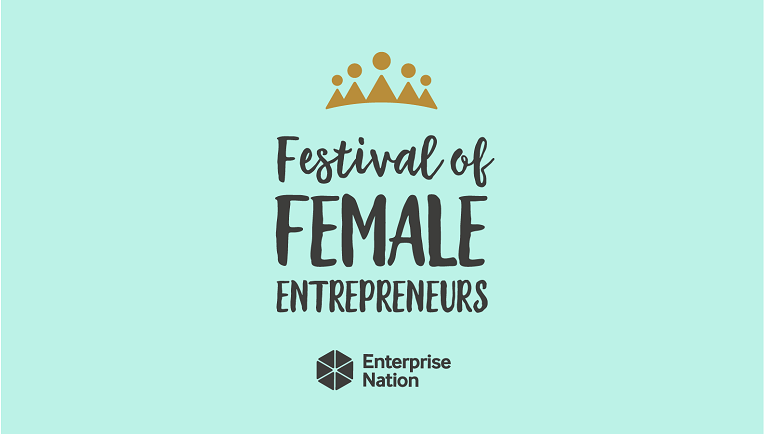 ---
Posted: Mon 26th Oct 2020
Every October the Enterprise Nation team usually descends on Bristol for one of our flagship events, the Festival of Female Entrepreneurs. The annual gathering of more 300 female founders in one place is always an amazing day. 2020 is not a normal year though and we sadly can't all get together.
But with FFE celebrating its ninth year, we were determined for the festival to still take place so on 23 October we enjoyed an online version.
While we missed the face-to-face interaction, the big benefit of doing it virtually is the opportunity to get more speakers involved and reach a wider audience.
The eight hours of #FFE20 were jam-packed with inspiration and advice but here are some common themes.
Be fearless
Bami Kuteyi opened the festival by inspiring attendees with her mission to create a community of "fearless females".
"Put your hand up if you've ever walked into a room and no-one else looked like you. Keep your hand up if you've had to keep doing that every day from 9-6. Imagine doing that every single day for two and a half years."
That was Bami's powerful opening statement as she shared her excitement of starting a high-profile job at Google but finding that a lack of diversity took a toll on her mental health and leading to a bad case of imposter syndrome.
To help combat the issues, Bami started going to the gym but she still felt the same lack of diversity.
So Bami took action. She quit her job and launched Bam Bam Boogie, twerk-inspired exercise classes. After growing a successful business offering in-person classes, Bami pivoted to deal with the impact of COVID-19 and switched the company online. Over the past six months, 3,000 women have twerked with Bami via Zoom.
Even though it was 5am in Canada, where the entrepreneur was talking to us from, her intense passion still shown through. She may have had no music and was not able to see the audience, but she led a group fitness session!
If you have the same level of passion that Bami has for her business, you won't go far wrong!
Keep calm, carry on and pivot
Business always has its challenges but particularly this year. Several speakers spoke about the ability of entrepreneurs to deal with stumbling blocks and 'pivot' was one of the words of the day.
In a session with Kaushayla Somasundaram from Square, Kate Enright talked about dealing with the impact of the coronavirus restrictions on her London cafe and co-working space CAYA. The pandemic is one of the biggest challenges we've all faced but being an entrepreneur is a journey through lots of them.
"There's always going to be something. Keep your head and you will figure it out. There's a lot of fire-fighting but you need to learn to not panic. Keep calm."
Seema Malhotra, founder of fashion brand Forever Unique, had similar advice. As a business known for occasion dresses to wear at events in a year where many events can't take place, the star of TV's Real Housewives of Cheshire had to pivot.
"We didn't panic. We had to learn to think smart. Instead of creating glamorous dresses, we're now creating the most glamorous lounge wear and knit wear. All of business is a challenge and a test. It's about how you react."
It was actually suffering from coronavirus and taking several months to recover that made sales and business development strategist Lara Moloney change her approach.
During a panel hosted by Maria Fernandez from O2 Business, Lara said:
"When you realise that your business is completely reliant on you, it makes you think 'what am I doing here?. And when you look into the eyes of your child and ask 'have I left a financial legacy for you?', it really makes you think.

"It made me ask a lot of questions about the business and I thought there is a now a way to be digital and take all the things I've done and put it online. I've built an online course."
Innovate, innovate, innovate
If there has ever been a year where innovation has been important, 2020 is it! It was a subject that was referenced during several of the sessions.
Innovation comes in many forms. Whether you're a running a huge global business or a small, local company, innovation is key.
One such local entrepreneur is Elizabeth McKenna, who you'll recognise as 'the bonkers florist' from BBC's The Apprentice. She joined us live from her flower shop in Nottingham for an inspiring chat with Enterprise Nation founder Emma Jones.
Elizabeth is in a market with huge players with massive marketing budgets to match so how does she compete?
The entrepreneur told us how she has learnt lessons from the likes of Bloom and Wild and their letterbox flowers to create her own version with 'Doorstep Bundles' through her Lizzie's Bundles business.
"We've used the lessons those big companies have given and organically bootstrapped our place in the market. Take a lead from the big guys and use their coat tails."
At the other of the scale, Margarete McGrath, chief digital officer at Dell Technologies, gave insights into the company's continued focus on innovation.
Despite being a 36-year-old business that generates billions in revenue, Margarete said founder-led innovation from Michael Dell, who started the company, remains at the heart of operations. That has been particularly true during the COVID-19 pandemic which led to a massive increase in remote working.
"It has accelerated the digital journey which is positive but it has also showed some gaps for companies - security of data, not having the right devices etc.

"We have an innovation team that works with customers and innovates with them. We've moved from being a vendor to a partner, definitely over the last seven months. We build a proposition by working with customers."
Accounting software company Xero has also been focused on innovation during the pandemic. EMEA marketing manager Matt Wate says:
"More new businesses registered in June this year than in any other month during the last 10 years. We're analysing what those industries are and making sure we fit our services to those products. We've seen a big market progression that doesn't normally happen, it's a big step change."
Understand what success means to you
"What makes a successful business?," asked Elizabeth McKenna during her interview with Emma Jones.
"Is it one with 50 cars in the car park and the boss has a Jag or is a successful business someone at home sat on a pine bench making face masks?

"Successful is a person who can go home and feel they've achieved. Provided you're happy in what you do, that is the mark of a successful business."
Elizabeth discussed how at one point when her business had more outlets, she wasn't in a happy place.
"I was being run by my business which isn't a great place to be but now I'm happy and I'm enjoying my life and doing the right thing for me and my family."
What does success mean to you?
Productivity and self-care
Small business owners wear many hats and the pressure can easily have a negative impact on your life. That's why it's vital to look after yourself as well as your business.
Jess Heagren, founder of That Works for Me [who was crowned Female Start-up of the Year 2020 at the festival], said she blocks out time every day to create a definite split between home and work life.
"You won't get a work text or email from me between 3pm and 7pm. That's the time I spend with my children. Having boundaries in place really helps me. I know when I can get mentally ready for work."
In the final panel for Festival of Female Entrepreneurs 2020, Jess Gosling from the Growth & Grace Collective said being able to switch off is vital.
"I've started to have digital free days. I try to read more and do less stuff that involves a screen."
Stay close to your customers, contacts and community
Without customers, you don't have a business so, as Enterprise Nation founder Emma Jones said during the festival, "you need to stay incredibly close" to them.
In this challenging year, customers are still buying but many are changing their behaviour and looking for goods and services online. How can your business respond?
One business that has stayed very close to its customers is gohenry, a payment card and pocket money app for children that teaches good financial habits. It now has over one million users.
Founder Louise Hill and her team spotted children were increasingly making donations to charity. The business responded with a savings feature that allows users to send money to charitable causes. In the past six months, £100,000 has been donated, which is impressive given the donations are mostly 2p and 5p amounts.
Louise says:
"Never mind what the next shiny thing is. What is the next thing customers want? What do they wish we had? What do they like?"
Staying close to your other contacts is important too. In a session hosted by Laura Kinghorn, regional manager for North England at TSB, Farah Kabir, co-founder of Hanx, explained how she secured £1 million in funding for her sexual wellness brand.
"It's a stressful environment when seeking investment. You'll get a lot of no's and you have to have a thick skin. Build a relationship with the investors you meet. They might not invest immediately but they might in the future if you keep them updated."
Kate Enright from CAYA said communication with suppliers such as landlords, food suppliers and loan companies during the coronavirus pandemic has been super important for her.
"Don't bury your head in the sand. You have to speak to them, you need to explain and work with them and for the most part you'll find everyone is willing and wonderful."
Relevant resources
I'm a freelance content creator and event host who helps small businesses and the organisations that support them. I have 18 years of experience as a small business journalist having interviewed hundreds of entrepreneurs from billionaires like Sir Richard Branson to the founders behind brand new start-ups. I've worked for a range of leading small business publications and support groups, most recently as head of content at Enterprise Nation where I was responsible for the prolific output of content on the company's blog and social media. I'm based in Bristol where I run and host regular events with the local small business community and have strong connections to major business organisations in the south west region. In total, I've hosted over 50 events; from intimate meet-ups to conferences with an audience of hundreds including events for international brands like Facebook and Xero. I'm also a big fan of podcasts having hosted Enterprise Nation's Small Business Sessions as well as lots of online events including Facebook Live interviews, webinars and three live web chats from inside 10 Downing Street. With my partner, I co-run Lifestyle District, a lifestyle blog focused on culture, art, theatre and photography. I'm here to help. I'm volunteering free advice calls of up to an hour as part of the Recovery Advice for Business scheme, over the next 6 months. Please get in touch to see how I can help your business.