BLOG
Bam Bam Boogie went online in 48hrs and changed the future of the business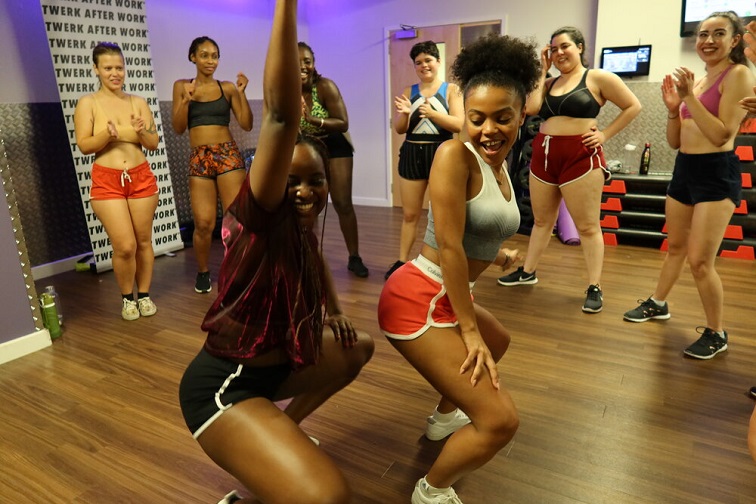 ---
Posted: Thu 30th Apr 2020
Bam Bam Boogie was about to embark on a Twerk After Work world tour when the crisis hit. Founder Bami Kuteyi has built a business around offering twerk-inspired exercise classes and managed to move online in 48 hours.
Not only have they kept their existing clients, but the lockdown has given them an opportunity to try out new ways to deliver the service that will shape how the business moves forward.
Using Lean Startup principles to launch fast
Before the crisis started, the business was running 17 classes a week with about 200 to 250 people attending, including through franchises in Holland, Ireland and Ghana.
"We went to have a class on 18th March and only a few of the attendees showed up. All classes were closed after that," said Bami.
Bami's a fan of the The Lean Startup methodology, which advocates for rapid, customer-led improvements. She moved the business online within 48 hours.
"I spent the first few hours freaking out," she said. "After that, I realised I had some suggestions from clients that had to quarantine early. I had to listen to my audience. They wanted live classes because that was what they were used to."
The online offering would help to retain existing members. They got the branding in place, Bami turned her living room into a pop-up studio and they held 110 classes with 1,757 bookings in the first four weeks.
The brand aims to make people feel confident, so Bami targeted potential customers that had been impacted by the crisis like teachers, freelancers and creatives, mums and NHS workers.
"It helps us understand our new clients better. Online is a different customer persona. Teachers and freelancers were popular, but classes for supermarket employees weren't. It told us about our audience," said Bami.
The product is still the same, but Bam Bam Boogie's now competing with people that have an online presence.
Marketing was updated to put the online offering at the forefront of everything the business does. This included changing paid and organic digital advertising, keywords and the website. Bam Bam Boogie's strapline now reads, "SELF-ISOLATION DOESN'T HAVE TO BE BORING! 👟🍑."
@letsgetfloridafit every Wednesday 7pm (BST) LIVE from LA 🇺🇸... These classes sell out every week so book your spot for next week nowwww 🔥🔥🔥🔥

A post shared by LOVE YOURSELF FIRST ❤️🥰 (@bambam_boogie) on Apr 22, 2020 at 11:34am PDT
Developing the pricing for the new proposition
Setting the pricing for online events was tricky. People can view exercise classes on YouTube for free, but Bami knew people were still looking for a sense of community. The solution was to cap the number of people in each session, usually at 15, and lower the price of a class to £5.
"In dance and fitness, a lot of people are going online and doing free stuff. That's unfortunate because it drives prices down and devalues what we do," added Bami.
If you're interested in tips from experts and small business owners' experiences, we recently wrote about what small businesses are doing in response to price pressure.
Bam Bam Boogie's app, which you can find on Google Play and Apple's App Store, has seen a big increase in demand too. In the last 30 days, impressions are up 123% and downloads 769% compared to the previous period.
Changing the future of Bam Bam Boogie
The move online has highlighted opportunities for the future and changing how the business works. Bami's wanted to do an online studio for ages; the crisis has provided the opportunity to test it.
The worldwide instructors' tour has been cancelled. However, they have their second online course this week and are thinking about sticking to that approach or offering in-person sessions at a premium price point after the lockdown ends.
Bam Bam Boogie already works with clients like Facebook and Eventbrite and they're pitching
corporates for online courses in the future.
It means a change of role for Bami too.
"In terms of the classes, when Covid is over we're most likely going to split things up between online and offline. I'm still fine-tuning but, as the founder, it looks like I'll be focused online.
"These are the times to obviously put yourself and your mental health first. When you are being productive, be as creative as possible with the time you have."
She's Got This
This interview is part of the She's Got This series, powered by Enterprise Nation, TSB, O2 for Business, UPS and Xero to support women start and grow a business in 2020, on their own terms.
You can watch Bami talking about building confidence with her morning mantra below and more videos and masterclasses here.
Chris has over a decade of experience writing about small businesses and startups. He runs Inkwell, a content agency that helps companies that sell to small business owners grow their audiences through content marketing. You can find him on Twitter at @CPGoodfellow.