MEMBER STORIES
Nora Irwin: How I started my fragrance business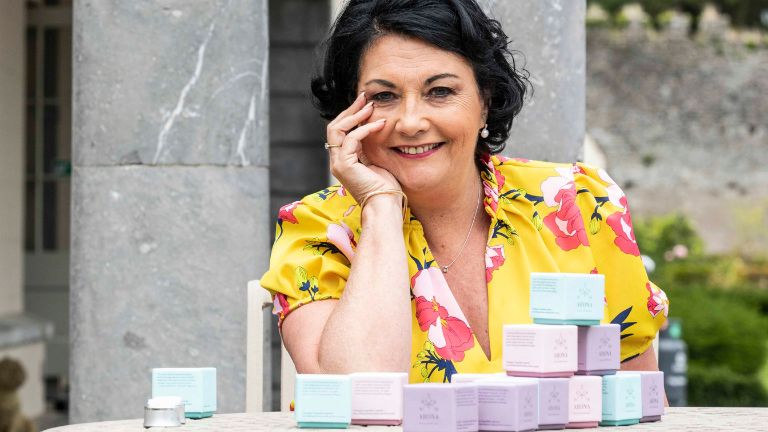 ---
Posted: Thu 21st Jul 2022
Nora Irwin tells us why starting Arona, her fragrance business, makes perfect scents.
No stranger to the business world, Nora and her husband have run a successful electronics and communication company in the Co. Cork town of Youghal for over 30 years.
In 2017, Nora decided to attend a course in London which brought a new business into her portfolio and set her on a path of sustainable scents.
Training the nose
Fragrance has been in Nora's family since she was a child. Her mother's cousin was a formulator for a big fragrance house in New York City. He used to send his fragrances home to the family, and Nora and her sister began training their noses from the age of seven or eight.
"Those perfumes at the time were synthetic. I always knew I was going to end up in skincare or fragrance, it's just a love I have. I totally love it," Nora says.
Five years ago, Nora decided to study fragrance in London. The course was initially online but the workshops involved traveling to the capital. And this was the beginning of Nora's journey into Arona.
"I finished that in 2018 and applied for a female entrepreneurial accelerator program here in Cork in The Rubicon Centre – the Exxcel Woman Entrepreneurship," she says.
After the Exxcel programme, Nora was accepted onto Enterprise Ireland's New Frontiers programme. She says: "I consider myself very lucky because that was the start of my business. The support I got from them was amazing."
Launching the business
In 2019, Nora launched her Irish solid perfume, made with beeswax and natural essential oils, at Showcase in the RDS, Dublin, a few months before COVID put all businesses into cyberspace.
Nora thinks herself lucky because she was already selling online and didn't find the adjustment too difficult. She had, however, planned to sell her fragrances in airport retail outlets. But COVID obliterated any chance of that happening at the time.
"My product was made specifically for people travelling and people on the go. So, I had sit back and take stock of what I was going to do." She decided to take the time to go for certification for her products. "My products are all natural and organic but to claim that, you need certification."
Sourcing new manufacturing
Unfortunately, this wasn't going to happen with the manufacturer she'd been outsourcing to, so the hunt for a new one was on. That took 12 months. Nora is now working with perfumers in France, and everything is going well.
"We're now in a position to go for certification. It took a lot of time, but it was well worth it," she says. "On top of that, I also did some new product development with my new manufacturer. We're launching five products in Autumn in time for the Christmas season."
Upskilling online
Nora has spent a good bit of her time researching and developing her skills online through the Enterprise Nation platform. She's watched many of the Lunch and Learn webinars and attending bootcamps run in partnership with Amazon and The Beauty Exchange.
Lately, Nora has been attending the Go and Grow Online sessions on keywords and SEO. "I'm thrilled you're in Ireland now because I've done a lot of the UK courses and I found them excellent."
Go and Grow Online
Enterprise Nation is working with Microsoft, Klarna and Vodafone to support 20,000 small businesses across Ireland to improve their digital skills.
Enterprise Nation has helped thousands of people start and grow their businesses. Led by founder, Emma Jones CBE, Enterprise Nation connects you to the resources and expertise to help you succeed.