BLOG
How building customer loyalty can increase your small business sales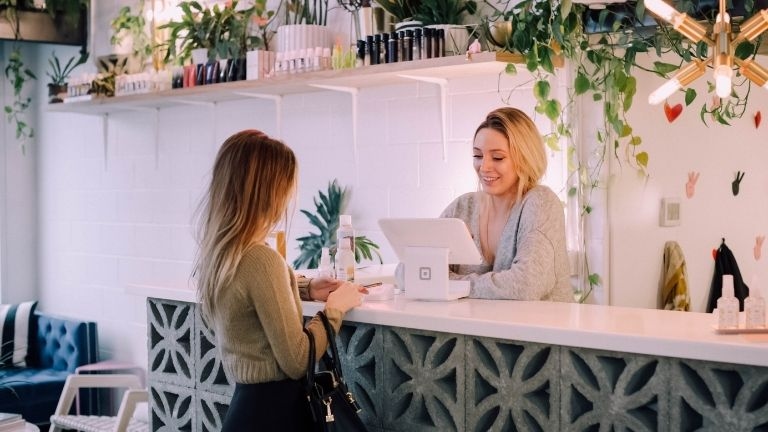 ---
Posted: Tue 21st Feb 2023
Growing sales and revenue isn't just about bringing in new customers – but about retaining them, too. Retaining customers will drive much more revenue for your business than a conveyor belt of new ones, and means you waste much less effort and time.
For instance, the probability of selling to an existing customer is 60% to 70%, but this drops to between 5% and 20% for a new customer.
Customer retention also goes hand in hand with customer loyalty. While customer retention measures how many customers make repeat purchases, customer loyalty determines how satisfied customers are with your brand.
So, if you focus on increasing customer loyalty, you'll naturally notice an improvement in the number of customers you're able to retain.
How to strengthen your customer loyalty: Advice from industry experts
Introduce customer loyalty schemes
A customer loyalty scheme is where you provide rewards for customers who buy from you frequently. It's a relatively simple change to your marketing strategy that can prompt your customers to stay loyal to you.
Loyalty programmes work too – a report from Yotpo found that 83% of consumers will be influenced to make a repeat purchase from a brand if they're on one of their loyalty programmes.
Here are some different types of loyalty programmes you can implement:
Refer a friend: Customers get a reward with every friend they refer to your brand.

Points programmes: Customers gather points with every purchase they make, which they can eventually redeem.

Mission-driven loyalty programmes: These include partnering with a non-profit organisation that aligns with your mission (for example, planting a tree with every purchase).

Subscription programmes: Offering an exclusive discount to customers who have subscribed to your business or marketing.
Create content that your audience will enjoy
Great content will provide value to your customers. If you're not answering your customers' pain points or giving them some form of entertainment, customers are unlikely to feel a connection with your brand.
Enterprise Nation adviser Susana Marambio explains how content has to resonate with its audience, otherwise people simply won't engage with it.
"By creating content that solves their problem and gives them information, customers will resonate with your company and see you as the business to help them. We need to create an emotional engagement with them and make them feel supported."
There are many mediums out there for you to deliver content to your customers, including social media, emails, written blogs and video. Consider which options best suit your business and its customers, and what topics you want to cover on each.
It's also important to make the content visually appealing. There are a number of beginner-friendly graphic design tools at your disposal to help you do this.
Interact and communicate with your audience
As a business, it's easy to forget that you should be having a two-way communication with your customers – particularly on social media.
However, if you dedicate some time to communicating and interacting with your audience, customers will perceive your brand as more human and personable.
You can communicate easily with your customers in the following ways:
Responding to direct messages on social media

Starting, or seeking out and joining, relevant discussions on social media

Asking customers for feedback

Sending out a regular newsletter
Making it easy for your audience to reach you will deliver an improved service for your customers, and in return you'll get better customer loyalty. Even if customers are reporting a negative experience with your business, by responding compassionately and responsibly you're still able to change their mind (before it's too late).
As Susana confirms:
"If your customers feel like you take care of them, they will continue buying from you. People don't leave because of a problem, they leave because of how it was solved and/or dealt with."
Make your business seem as trustworthy as possible
Trustworthiness is vital to a business's revenue. A report by Adobe found that 71% of UK customers will no longer buy from a company that has broken their trust. On the flip side, customers are also 61% more likely to recommend a brand they trust to a friend.
Enterprise Nation adviser Matt Burton notes how inconsistency is one of the main ways that businesses lose trust from customers.
"If you aren't consistent and people get a jarring touchpoint, they'll start looking for more failings. Make sure your touchpoints are consistent to build trust, authenticity and loyalty."
Other than remaining consistent, you can increase brand trustworthiness in the following ways:
Making it easy for customers to contact you: Have your contact details easily accessible on your website and respond to messages promptly.

Sharing customer testimonials: Potential customers are much more likely to believe and trust comments from customers about your business's products and services.

Practising what you preach: Nothing is worse than a business not taking its own advice. For instance, if you're a business selling sustainable products, customers will expect proof that you're also making efforts towards sustainability.

Maintaining consistent communication with your customers: Keep them posted about any changes with your services – for instance, a change in delivery times. By doing this, customers can be more prepared and won't feel so disappointed in changes to their experience.  
Relevant resources
Enterprise Nation has helped thousands of people start and grow their businesses. Led by founder, Emma Jones CBE, Enterprise Nation connects you to the resources and expertise to help you succeed.